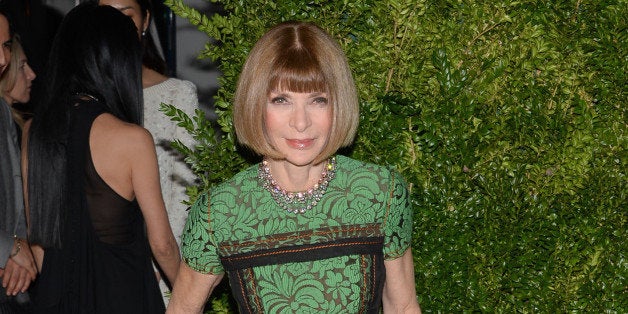 NEW YORK -- Vogue was named Magazine of the Year at Monday night's National Magazine Awards dinner, the industry's biggest event, while The New Yorker and New York tied for the night's biggest haul, with three prizes apiece.
The New Yorker won for general interest, fiction, and essays and criticism, the latter award going to Roger Angell for his moving look at aging. Angell, 94, beat out Ta-Nehisi Coates' much-lauded "The Case for Reparations," in The Atlantic, to win his first National Magazine Award.
New York won for design, magazine section, and columns and commentary for the work of art critic Jerry Saltz.
The awards, commonly referred to as the Ellies, are given out annually by the American Society of Magazine Editors in association with the Columbia Journalism School.
Both National Geographic and Nautilus, a science magazine launched in 2013, took home two awards. Nautilus, which was eligible for the Ellies for the first time this year, won for best website and in the literature, science and politics category.
Some other newcomers made their mark at this year's gala, which were hosted by ABC World News anchor David Muir and held at the New York Marriott Marquis.
Vice News, Pacific Standard, The Texas Observer and The Hollywood Reporter were all first-time winners.
Vice News won the video award for "The Islamic State," which featured unprecedented access inside the extremist group now controlling large swaths of Iraq and Syria. Vice News drew ample praise for the film, but also faced criticism and pushed back in September against charges of "colluding" with the Islamic State.
Amanda Hess' much-discussed Pacific Standard piece on online harassment, "Why Women Aren't Welcome on the Internet," won for public interest. The Texas Observer, in partnership with Guardian US, won the multimedia award for their investigation into the Mexico-U.S. border crossing. The Hollywood Reporter took the prize for special interest magazines.
Time photojournalist James Nachtwey was honored with the Creative Excellence Award for his three decades of distinguished work at the magazine.
Here is the full list of winners:
Magazine of the Year: Vogue

General Excellence, General Interest: The New Yorker

General Excellence, Service and Lifestyle: Glamour

General Excellence, Style and Design: Garden & Gun

General Excellence, Active Interest: Men's Health

General Excellence, Special Interest: The Hollywood Reporter

General Excellence, Literature, Science and Politics Magazines: Nautilus

Design: New York

Photography: National Geographic

Single-Topic Issue: San Francisco for "The Oakland Issue," June

Magazine Section: New York for "Strategist"

Website: Nautilus

Tablet Magazine: National Geographic

Multimedia: The Texas Observer in partnership with Guardian US for "Beyond the Border," by Melissa del Bosque, August 6

Video: Vice News for "The Islamic State," by Medyan Dairieh, August 15

Public Interest: Pacific Standard for "Women Aren't Welcome Here," by Amanda Hess, January/February

Personal Service: O, The Oprah Magazine, for "Ready or Not: The Caregiver's Guide," November

Leisure Interests: Backpacker for "The Complete Guide to Fire," edited by Casey Lyons, October

Reporting: GQ for "Inside the Iron Closet," by Jeff Sharlet, February

Feature Writing: The Atavist for "Love and Ruin," by James Verini, February

Feature Photography: Time for "Crime Without Punishment," photographs by Jerome Sessini, July 24

Essays and Criticism: The New Yorker for "This Old Man," by Roger Angell, February 17 and 24

Columns and Commentary: Winner: New York for "Zombies on the Walls: Why Does So Much New Abstraction Look the Same?," June 16-29, "Taking in Jeff Koons, Creator and Destroyer of Worlds," June 30-July 13, and "Post-Macho God: Matisse's Cut-Outs Are World-Historically Gorgeous," October 8, by Jerry Saltz

Fiction: The New Yorker for "The Emerald Light in the Air," by Donald Antrim, February 3
Popular in the Community