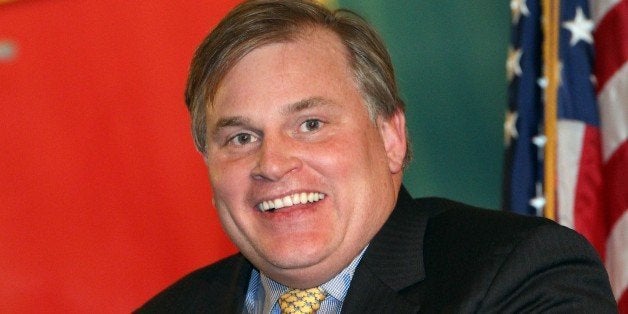 Oh, those heady days of 2012 for the National Organization for Marriage (NOM) at the Conservative Political Action Conference (CPAC)! That was the year that Maggie Gallagher, the former president of NOM, walked the corridors of CPAC like religious-right royalty, a warrior princess marching into battle against the encroaching homosexual invaders. She moderated a panel in the main ballroom, a major event that included 89-year-old Eagle Forum founder Phyllis Schlafly, the Christian right's very own Queen Mum, and was focused on how to "protect marriage" from the homosexual assault.
And last year Brian Brown, NOM's current president, sat on a panel focused on defending "traditional marriage" that was moderated by Cleta Mitchell, the archenemy of GOProud and all things gay, and an influential board member of the American Conservative Union (ACU), which hosts CPAC.
I spoke with Brown that day in National Harbor, Md., at the Gaylord National Resort and Convention Center, where CPAC was held this year and last, and he was positively giddy. We chatted while seated on a bench next to a faux 19th-century-style general store in a Disneyland-like "old town" center enclosed in a giant, 19-story glass atrium of the hotel. It's an artificial, hermetically sealed environment, with banana plants and hydrangeas that bloom every day, out of season. It was an appropriate locale for a conversation with a man who wants to keep the world perfectly preserved in the past, seemingly oblivious -- or doing a good job of faking it -- to what's happening outside the bubble.
"We are going to win at the Supreme Court!" Brown exclaimed with a beaming smile on that day in March 2013, declaring that taking California's Proposition 8 and the federal Defense of Marriage Act to the Supreme Court will have been "the biggest strategic mistake" of the gay-rights movement.
Well, we all know how that turned out. And this year at CPAC there was no panel focused on the evils of gay marriage, nor were Maggie Gallagher or Brian Brown anywhere to be found. NOM, which has reportedly been having major financial issues, operating with a $2-million deficit, did have a small table in the basement of the hotel with the other exhibitors, though nothing as grand as the massive, expensive booths and tents of the gun-rights groups or the anti-tax activists. At the NOM table two chirpy 20-somethings handed out fliers as very few people stopped by. When I was there, one of them was being challenged on marriage equality by a 20-something CPAC attendee.
When I asked for a NOM spokesperson, they called upstairs, and NOM's Chris Plante, who'd once said that gays "turn children into little teacup dogs" as an "accessory," came down. He was quite disturbed about the lack of any panel on "traditional marriage" at CPAC.
"There is an obvious absence," he complained. "And that is a mistake. It's not representing true conservatives across this country. ... CPAC ... is not representing what we would call the Republican Party of this country." He added, "I've already spoken with several [conservative Christian leaders] who are concerned with that absence. There are certainly things that are going on within the organizations that back CPAC up. ... For CPAC to step away from [marriage] is quite surprising."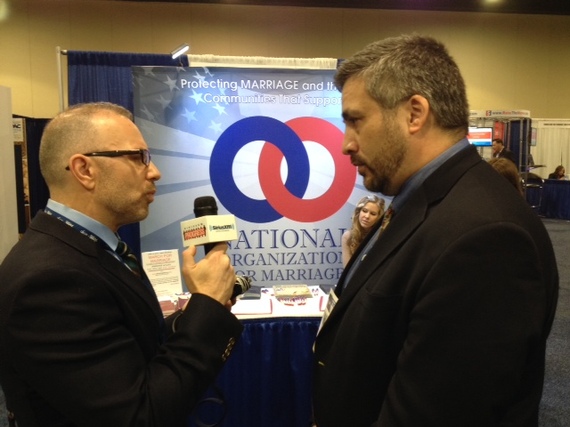 NOM's Chris Plante, standing in front of his organization's table in the basement exhibition hall, talks to me about the lack of a marriage panel at CPAC 2014
The signs of things to come for NOM were actually quite visible in those heady days of 2012, as I reported at the time. Maggie Gallagher's panel with Schlafly included mostly people over 60, and the audience was mostly over 50, while the vast majority of CPAC's young, new members didn't attend. And last year a breakout pro-gay-marriage panel hosted by the libertarian Competitive Enterprise Institute and featuring GOProud co-founder Jimmy LaSalvia was standing-room-only, while the panel featuring NOM's Brown was practically empty.
Don't get me wrong: There were plenty of of ugly attacks on gay equality coming from the stage this year during the three days of CPAC. Rick Santorum talked of "reclaiming marriage," while Dr. Ben Carson blathered on about not giving gays "extra rights" -- like "marriage." Ralph Reed blasted "left-wing bullies" for allegedly forcing Arizona Gov. Jan Brewer to veto an anti-gay bill and said that Attorney General Eric Holder had engaged in a "brazen act of lawlessness" for counseling state attorneys general not to defend marriage-equality bans (though Reed did concede to me in an interview that a federal marriage amendment is a dead issue).
Still, while there was no panel focused on defending "traditional marriage" from the gays, there was a panel in the main ballroom -- quite well-attended -- titled "Can Social Conservatives and Libertarians Ever Get Along?" Much of the panel was a discussion of gay marriage, as well as marijuana legalization. There's been a lot of focus on right-wing radio host Michael Medved's idiotic outburst on the panel, in which he claimed that it is "a liberal lie" that many states have banned gay marriage. But what was perhaps more startling was the actual presence of two panelists who support marriage equality out of five people on the panel. I think that had to be a first for a main-ballroom event at CPAC.
Matt Welch of Reason magazine presented what some might call the pure libertarian position, in favor of gay marriage but also in favor of allowing a wedding photographer to turn away a gay couple. But Alexander McCobin, president of the libertarian Students for Liberty, sounded like a gay-rights activist, talking about "sexual orientation" and the equal-protection clause of the Constitution and how we just couldn't tolerate discrimination in any form.
What a big change. While NOM was banished to a card table in the basement, an exuberant young man on the main stage of CPAC was promoting the idea that gays are protected under the equal-protection clause of the U.S. Constitution.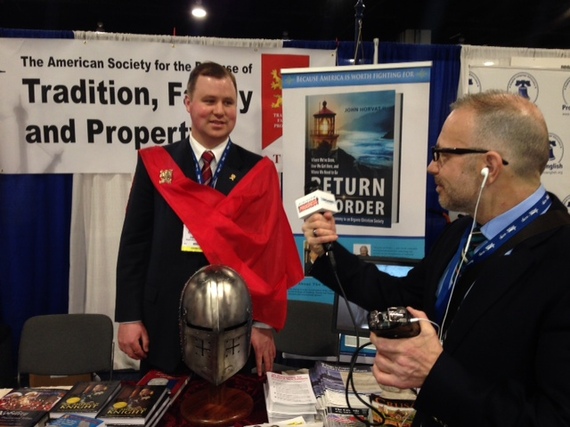 A representative of Tradition, Family and Property, the anti-gay Catholic group, in the exhibition hall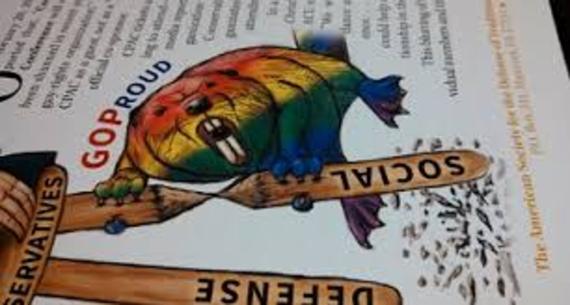 Tradition, Family and Property's anti-GOProud flier (photo courtesy of RightWingWatch)
However, it seemed to me that the majority of 20-somethings at CPAC just don't care about the issue and, quite frankly, don't want to be bothered by it. In polling, many of these young people might in fact say they support gay marriage, but it's not something they're passionate about, nor is it going to stop them from supporting an anti-equality, anti-gay candidate whose fiscal policies or foreign policy they support.
Furthermore, when Mike Huckabee took the stage and railed about "religious liberty" being under attack and warned of God delivering the "fiery judgement" of "Sodom and Gomorrah" on America, there was a standing ovation and raucous applause, including from the great many young people in the packed room.
As Christian-right leaders try to morph the anti-gay-marriage push into a "religious liberties" and "religious freedom" issue -- and despite what happened in Arizona, don't think they're not continuing to try to hone that message -- many of these young people will gravitate toward that message, or perhaps support it out of loyalty or see it as more reasonable. The tension over LGBT rights among conservatives and the exploitation of homophobia, amid the factionalism over a variety of other issues, will be present in the conservative movement and the Republican Party for quite some time.
CORRECTION: An earlier version of this post erroneously referred to the Gaylord National Resort and Convention Center as the Gaylord Hotel and Convention Center. It has been updated accordingly.
Calling all HuffPost superfans!
Sign up for membership to become a founding member and help shape HuffPost's next chapter