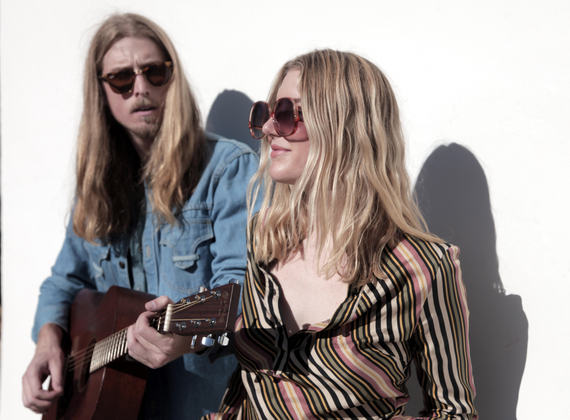 The American South has always been a rich source of musical talent throughout history. Classic rock, jazz, blues, country, bluegrass, and soul are all threads of the south's sonic tapestry. Even now, young artists are keeping the musical roots of this region alive by combining classic sounds with reinvented sensibilities. The result is a deeply textured and multi-faceted sonic experience that is as familiar as it is brand new.
Hailing from Los Angeles, bluesy-soul-pop duo Björn and the Sun have woven the threads of the South into their own unique sonic tapestry, creating a sound that is modern with a touch of nostalgia. As collaborators and lovers, Amanda Björn and David Donaldson have poured their passions into their music. To get in touch with the places that deeply influenced their sounds, they ventured on a road trip to Nashville where their final destination would be The Bomb Shelter, a recording studio owned by Grammy-winning producer, Andrija Tokic, who is best known for his work with Alabama Shakes and Hurray for the Riff Raff.
Björn and the Sun's mission to the Bomb Shelter was not just about the destination but also about seeing the country and discovering new music, as well as writing their own. This journey greatly influenced their work as the final product was a fusion of 1960s California folk and Southern gospel soul. Their 6-track EP titled Young and Restless is a sonic manifestation of the American road trip, traversing through long, uninhabited roads adorned with pastel landscapes and desert sunsets. Much of their adventure was captured on a Super 8mm camera, a stylistic film medium that was made famous between the 1960s to the 1980s, capturing places like White Sands, Florida and the swamps of Louisiana. When the duo returned to Los Angeles, the 8mm film was edited into the music video for the album's title track, "Young and Restless."
Young and Restless is full of thick, bluesy sounds, soulful singing, flawless instrumentation, and nostalgic sentiments. The EP features Björn's velvety and dulcet voice, belting goosebump-raising melodies that stir the soul. Combined with Donaldson's guitar and vocals, the two are a deliciously blissful mix of love and music, which is very apparent in the vibe they set during their live performances. Dave Racine (drums), Ben Alleman (keys), Jon Estes (bass, cello, pedal steel) and Alicia Threkeld and Alexis Saski (backup singers) also contributed their talents to the album in the Bomb Shelter's recording studio.
Björn and the Sun have a sound that speaks to the spirit of the '60s and sounds like the soul of the American south. Even in style, the couple look as if they were plucked from the past, perfectly preserving the iconic imagery of a bygone era. Having already played venues such as Hotel Cafe and the Echoplex in Los Angeles as well as Rockwood Musical Hall and the Living Room in New York, Björn and Donaldson hope to expand their reach by appearing in the quickly-growing festival circuit. With love in their hearts, lyrics on their minds and melodies in their souls, Björn and the Sun are new artists from a classic epoch.
REAL LIFE. REAL NEWS. REAL VOICES.
Help us tell more of the stories that matter from voices that too often remain unheard.