CONCORD, N.H. -- Sen. Bernie Sanders' victory over Hillary Clinton in the New Hampshire Democratic presidential primary all but guarantees the party what it wanted to avoid: a long, costly, and potentially damaging primary fight to determine the nominee.
Both campaigns on Tuesday night pledged their readiness for the prolonged election. But there was a fresh jubilance in the voices of Sanders' aides, speaking more confidently than before about the prospects that they could end up winning the nomination.
"My question to them is: When are you gonna join us? OK!" Sanders' top strategist Tad Devine said shortly after the senator's victory address in Concord. "Them" being Clinton campaign workers.
Overconfident as that may sound, the Sanders campaign is now actively gaming out the next major opportunities on the electoral map. A robust advertising blitz is in the works, with the campaign going on the air in Colorado, Minnesota, Oklahoma and the Massachusetts markets, where it hasn't yet used television advertising. Sanders will meet Wednesday morning with Al Sharpton in Harlem in attempt to shore up one of his chief vulnerabilities: his deficit with minority voters.
"We are coming out of here with money and momentum, two commodities pretty valuable in politics," said Mark Longabaugh, another top Sanders aide. "They are going to hit a wall and we are going to continue to be able to re-fund the campaign. It's one of those things that people are impressed with what we've done, but they don't understand the strategic import of it."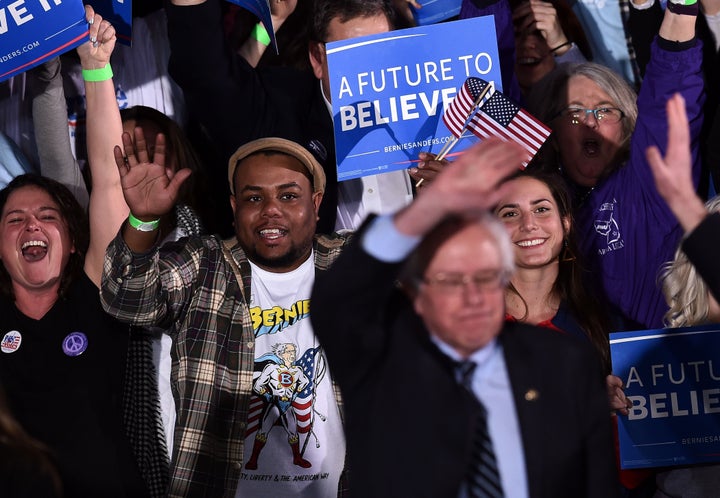 But money can get a candidate only so far, as the once well-stocked Jeb Bush campaign can attest. Though Sanders does indeed leave New Hampshire with a convincing win, the primary schedule doesn't necessarily work in his favor. Clinton has a significant lead in both Nevada and South Carolina, the next two states to vote.
In the Clinton campaign, even amid the dour news on Tuesday night, there was confident talk.
"We'll do well in March. And that's where the ballgame is," Clinton campaign Chairman John Podesta said.
Sanders' team insisted the next few weeks aren't as tough as they appear. That's not just because Sanders can ride the momentum of New Hampshire. Devine boasted that the campaign had more staff in Nevada than Clinton, and Longabaugh argued that the caucus elections in March (there are 10 of them) favor Sanders because they tend to draw out a more liberal electorate.
It was also noted that Sanders' enjoys a particular luxury: He does not have to change his campaign message, since part of his pitch to voters is that he is almost monomaniacal in his focus on his core issues.
"He doesn't have to do anything," said Charles Chamberlain, executive director of the Sanders-backing group Democracy for America. "He just has to continue to nail it like he has been doing for the last five months."
But there are already subtle signs that the campaign is embracing -- not shifting toward -- new rhetorical notes. During his victory speech on Tuesday night, Sanders made several overt general election appeals, trying to assume the status of general election contender.
"We will need to come together in a few months and unite this party and this nation because the right wing Republicans we oppose must not be allowed to gain the presidency," Sanders said.
This was by design. As Devine noted, the campaign is attempting to present Sanders not just as an insurrectionist, but as a potential president.
"If we are going to win, this it is not just because we win the support of primary voters," Devine said. "It is going to be because we convince the establishment of the Democratic Party that Bernie is the strongest candidate. And so, to do that, we've got to show them we can bring people into the process and Hillary Clinton cannot."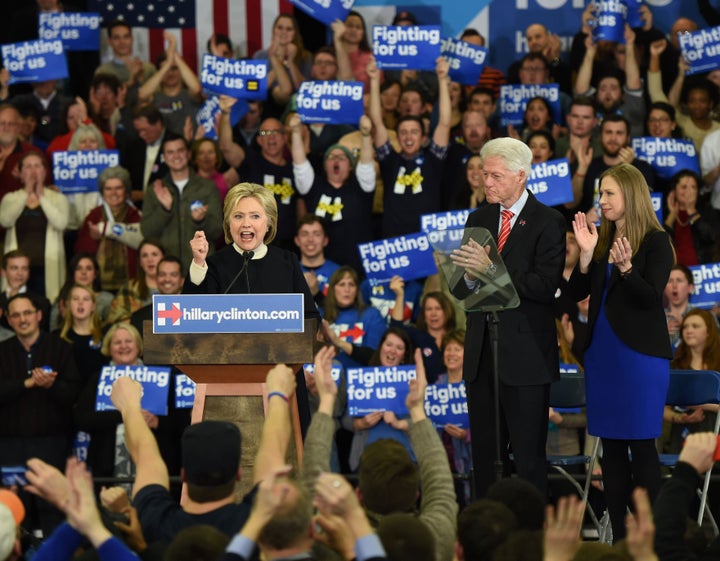 For the Clinton campaign, there are multiple questions about what comes next, too. There have already been rumors that the campaign might undergo a shake-up after New Hampshire, with some officials unhappy that there isn't "a more forward-looking message," according to Politico. Clinton herself told MSNBC's Rachel Maddow that she didn't know what these reports were about, and Podesta said Tuesday night there was no truth to them.
The campaign released a three-page memo shortly after Tuesday's results were announced, touting Clinton's strength in the upcoming states and noting, rightly, that there were far more delegates to gain there than in the first two.
"From a mathematic perspective, it's clear why March is so important: voters in large states with large delegate allotments will cast their ballots," the memo read. "In total, 1,875 delegates will be awarded in the first 15 days of March, including nearly 900 on Super Tuesday alone. When you take into account the large number of Super Delegate commitments we've secured, as well as Hillary's commanding lead in the polls in delegate-rich states, she is in a very strong position to become the nominee."
That Clinton's team has to rely on sharp analytics and delegate math-crunching to make the case for her winning the nomination is, in and of itself, remarkable. She wasn't supposed to be in this type of protracted struggle, certainly not against someone who wasn't even a Democrat.
The former secretary of state's team had no shortage of explanations for how we got to this point.
"We've had eight cycles since John Kennedy ran for president where somebody from next door -- either Maine, Massachusetts or Vermont -- has run in the New Hampshire primary. Eight times. Seven of those eight times, the candidate from next door has won," said Terry Shumaker, a New Hampshire lawyer who co-chaired both of Bill Clinton's presidential campaigns in this state. He also chalked Sanders' win up to a "very liberal part" of the Democratic Party that was present in the state that may not be such a big factor in upcoming states.
"We came in here thinking that we were going to lose," Clinton communications director Jennifer Palmieri added. "I think that she feels like she got a lot out of this week. Even though the outcome isn't what she wanted, this is a place where she's come and found her voice before."
The next face-off between Clinton and Sanders will be a debate Thursday in Wisconsin. The last debate showed a heightened level of attacks that will no doubt continue as the race gets tighter. And now that Sanders has won a state, Clinton supporters say they want to see him vetted more fully.
"I think for a long time, ya'll didn't take his candidacy that seriously -- felt he was more of an issue candidate instead of a serious contender. ... He needs to be put under the same level of scrutiny that Secretary Clinton's been put under," Shumaker said.
But if, as Sanders warned in his speech, Clinton and her campaign (or perhaps "the establishment") are about to empty the kitchen sink on him, his team is ready. "If she comes in with the super PAC, she has proven a lot of the point we have tried to make, which is billionaires ought not to be buying elections," Longabaugh said. 
The next few weeks are not going to be the election the Democratic Party envisioned.  
PHOTO GALLERY
Declared 2016 Presidential Candidates
Calling all HuffPost superfans!
Sign up for membership to become a founding member and help shape HuffPost's next chapter