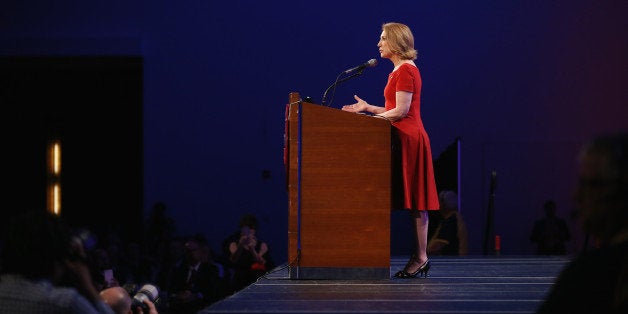 WASHINGTON -- A slew of current and former members of the New Hampshire Republican Party, unhappy with the criteria and format of the Aug. 6 GOP presidential primary debate, sent out a letter Wednesday urging the debate's host, Fox News, to change course so as to present a more inclusive and diverse field to its national audience.
In a strongly worded open letter addressed to Roger Ailes, the network's chairman, and Reince Priebus, the chairman of the Republican National Committee, the party members expressed concern that the network's approach to the debate -- limiting the number of participants to 10, and choosing them based on who ranks highest in an average of various national polls -- is "unnecessarily narrow and risks eliminating potentially viable candidates based on unreliable national polling that is rarely predictive of primary election outcomes."
"The first televised debate of the 2016 election cycle should place all candidates on even footing and allow each to make their case directly to the voters and your viewers. Anything less would prematurely suppress the candidate field, and arbitrarily elevate candidates who benefit from preliminary notoriety and fundraising," write the letter's signatories -- a group that includes New Hampshire Executive Councilor Chris Sununu and former New Hampshire Governors Craig Benson and Stephen Merrill.
The large 2016 Republican field, expected to balloon to as many as 15 candidates by the end of this summer, poses logistical problems for the party. Providing enough space and time on a debate stage for each candidate would be extremely difficult. But limiting the field to just 10 people could have a devastating effect on the handful of candidates who don't make the cut. What could prove especially embarrassing for the party is if the only woman in the field, former Hewlett-Packard CEO Carly Fiorina, fails to make it into the top 10.
The New Hampshire Republicans would address those concerns by changing the debate's format. One possibility would be to divide the debate into two panels, appearing in the same night or on consecutive nights. Each panel would include three randomly selected candidates from the top six based on public polling data. The remaining candidates would be randomly drawn to fill out the rest of the panels.
"The field of Republican candidates is perhaps the deepest we've seen in history," the letter reads. "It should be embraced as a positive sign of civic engagement and political leadership for the nation."
Spokespersons for Fox News and the Republican National Committee did not immediately return a request for comment.
Read the entire letter from the New Hampshire Republicans below:
REAL LIFE. REAL NEWS. REAL VOICES.
Help us tell more of the stories that matter from voices that too often remain unheard.
BEFORE YOU GO
PHOTO GALLERY
Declared 2016 Presidential Candidates