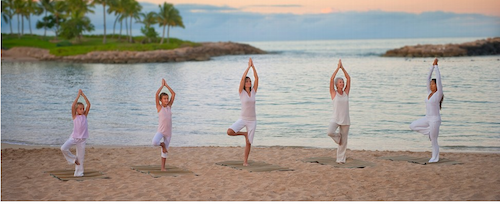 A new trend in travel and spa is family spa-ing together. Spas have traditionally been for grown-ups, but now there is an increasing demand for parents to bring their children along for the spa adventure. Familes spa-ing together is becoming more popular and spas are finding creative ways to welcome the whole family to engage in activities together. With more wellness resorts offering inclusive kids clubs and programs, parents are also able to enjoy "me time" during their family vacation. Below are a few top spa resorts that offer wellness offerings for the younger spa-going set as well as their parents.
One of the only true luxury, family wellness retreats, Laniwai at Aulani offers spa, relaxation and spectacular Hawaiian experiences for ages newborn and up. The Hawaiian word laniwai (lah-nee-vai) means "freshwater heaven," and the spa lives up to its name with more than 150 treatments, including the only outdoor hydrotherapy garden on the island of Oahu. Laniwai offers 15 treatment rooms including a couples room and a flex room for treatments for two-plus guests, including families. Treatments include body polish, vitality baths, massage, body treatments, facials, outdoor treatments. Signature therapies include Lomilomi massage incorporating lomilomi "pressure point" sticks and warm river stones; and Kilikili, including exfoliation and massage with coconut oil under streaming jets of warm waters.

Experiences that children can delight in:

Family Massages
The 'Ohana: Designed for three to six family members, this experience utilizes the healing touches of lomilomi (ages five and up).
The Makana: During this soothing therapy for parents and their infants (one-year-olds and under), one parent enjoys a treatment while the other learns the art of baby massage from a certified practitioner.

For Teens (Ages 13 to 17)
Painted Sky -- the only teen spa in Hawai'i -- offers spa treatments, a yogurt bar, computer stations and other enticing experiences. Teens can also enjoy salon services and the 'Ohana family massage. If accompanied by an adult, Guests ages 14 and up are welcome to relax in the main spa area, which includes Kula Wai, the outdoor hydrotherapy garden.

Keiki Wahine Experience (Ages three and up preferred)
Little ones are transformed into modern hula dancers at the salon with the keiki wahine experience, which includes Minnie Me manicure and pedicure, hair styled and sprinkled with pixie dust, shimmering makeup and Keiki aloha wear.

Parents and children will also enjoy the The Pulu Bar, which allows guests to create their own signature body polishes and scrubs by blending authentic Hawaiian fragrances, sugar cane sugar, sea salt and oils, like macadamia, kukui and jojoba.
Rancho La Puerta is the original "fitness resort" and spa, and welcomes some 140 guests each week to its 3,000 private acres of gardens, mountains and meadows in Baja California, Mexico. It's a unique escape for women and men offering over 80 fitness classes including TRX, yoga, pilates and advanced hiking trails as well as spa treatments and therapeutic sessions. This summer, Rancho La Puerta will host their third-annual Family Week - Camp Kuchumaa on August 2 through August 9.
Rancho La Puerta opens its doors to families with special activities including:
1. Hiking and bird watching among the Ranch's mountains, forests and meadows
2. Harvesting fresh ingredients from the six-acre garden and cooking classes at La Cocina Que Quanta
3. Music classes that include drumming, dancing and family sing-alongs
4. Outdoor recreation including volleyball, swimming, yoga and tennis
5. Story telling, Spanish classes, painting, drawing, photography workshops, martial arts and more
A great line-up of presenters and a promise that Rancho La Puerta has carefully planned the week to provide families with opportunities to spend quality time together, active and relaxing, but also with plenty of time for adults and children alike to explore their own programs at their own pace.
The Omni Homestead Resort in Hot Springs, Virginia has new Spa featuring family friendly treatments for all ages. Kids from ages five to 13 will be pampered in Family Spa Suite will specially catered treatments, while teens can get away with a range of services from massages to fitness classes. Parents can escape to the adults-only Spa Garden, which features walking paths a therapeutic geothermal mineral bath and neighboring river reflexology bed. In addition to the Spa, families can make the most of their stay with seasonal outdoor activities including: hiking, horseback riding, kayaking, fly fishing, archery and much more.