 Brewery Ommegang of upstate New York fills more than 30,000 barrels with beer every year. The primary component of the popular Belgian, wheat and amber ales: water.
"If chemicals from fracking get into the water, we're done," said Bennett, a spokesman for the Middlefield-based business.
The town is one of four municipalities in New York currently waging court battles defending local bans on hydraulic fracturing, or fracking -- the process of injecting pressurized fluids into the ground to fracture shale rock to release natural gas. They face lawsuits from the industry as well as from some landowners. Opponents of the bans see the gas industry as an economic boon and say local bans spoil that potential if Gov. Andrew Cuomo (D) lifts New York's four-and-a-half year moratorium and opens the state to natural gas drilling.
More than 150 New York cities and towns have temporary or permanent bans on fracking. Supporters said they hope to keep the bans intact around their borders no matter what Cuomo decides. The governor's decision is due by Feb. 27.
Brewery Ommegang, along with cheese and chocolate companies, a fly fishing guide, a winery, and organic farms, has filed a "friend of the court" brief in the Middlefield lawsuit, filed by the Cooperstown Holstein Corp. in 2011. Jennifer Huntington, a local dairy farmer and president of the corporation, had signed a lease with a gas company and argued that Middlefield doesn't have the right to keep them out. A city or town ban, she and others said, is pre-empted by state law designed to uniformly regulate the oil and gas industry.
"I'm not sure we will prevail statewide," said Ommegang's Bennett. "But we firmly believe we will prevail in this case."
A judge initially upheld the Middlefield ban, but that decision is now under appeal, with oral arguments slated for March. Cooperstown Holstein declined to comment to The Huffington Post.
HuffPost asked the New York State Department of Environmental Conservation about challenges to town fracking bans, including a lawsuit from the natural gas industry against the DEC itself for not rescinding a ban. "This issue is before the courts," DEC spokeswoman Emily DeSantis said, "and we will let that process progress."
The Rev. Brian Conover, a pastor in Chenango County, heads the Property Rights Defense Fund with the Central New York Landowner's Coalition. The group is fighting local bans, beginning in Oxford, N.Y. As a December post on the group's website states -- atop a request for donations -- the fund will "support a legal challenge" to the village "moratorium efforts."
"This moratorium must be quickly defeated as it is being created to be a model for all villages and all towns," reads the post. "We must stop this now to keep it from creeping to your town, stripping your land rights and devaluing your land."
Conover said he hears lots of concerns from folks in his community about the fracking moratorium. Last month, he said, a coalition member who owns 108 acres of land went bankrupt, despite "hundreds of thousands, potentially millions, of dollars" in gas deposits underground.
"Two farmers in our region sold their farms because they couldn't make ends meet, another says he has about a year left," added Conover. "Our area is hurting. There's a lot at stake."
Last week, Rochester Channel 13 WHAM interviewed Michael Joy, attorney for Lenape Resources, which is suing the town of Avon over a moratorium on fracking.
"Not everybody is opposed to or supports natural gas development," Joy told the station. "And you have the power as a property owner not to sign an oil and gas lease."
"They can basically ride right over the other people regardless of their wishes," said Charles Geisler, a professor of development sociology at Cornell University, who faces the potential of being forced to go along with fracking under his home, woods and streams in Dryden, N.Y.
In addition to sharing an aquifer with the lease-holding dairy, Bennett noted that Brewery Ommegang may face the potential for direct contamination as a result of this law. When the brewery first started paying attention to fracking, Bennett recalled its property being "slowly encircled by leases."
"Depending on how they draw the districts," Bennett said, "we could be integrated whether we like it or not."
Ellen Harrison, a retired environmental scientist in Ithaca, said there is another group of residents who are "incredibly screwed:" People stuck in leases they signed years ago, before they knew about potential risks of fracking, including air and water contamination.
"The only thing that's going to protect people with valid leases are town or state bans," said Harrison, noting she is one of these unfortunate folks. "That's it."
Dennis Holbrook, a spokesman for Norse Energy Corp., said such concerns are naive and irresponsible. Norse is currently in litigation with the town of Dryden over its local ban.
"You and I have to give up a little every day if we're to be part of society," said Holbrook, referring to compromises to allow electric lines, pipelines, sidewalks and highways to serve the greater whole.
"Some of the people who have problems with this seem to have no problems consuming natural gas for heating and cooking," Holbrook added.
The New York fracking debate is often painted as a question of the environment versus the economy. Both sides suggest that depiction is too simplistic.
"We view ourselves first as environmentalists in this," said Conover of the landowners coalition. "We still live here. We want to drink water here and breathe air here. And we were on the scene four years ago, working with lawyers to draft environmentally-responsible leases -- long before the environmental movement and activists."
Brewery Ommegang's Bennett, who said he's done his research and doesn't believe fracking can be done safely, said natural gas production doesn't make good business sense for upstate New York, whose economy relies heavily on recreation, tourism, organic agriculture and small businesses like his.
"Businesses like us are much better models than gas extraction, where a few people would make a lot of money while the rest suffer," Bennett said. "We employ 100 people, year-round. And we pay pretty good wages."
Related
Before You Go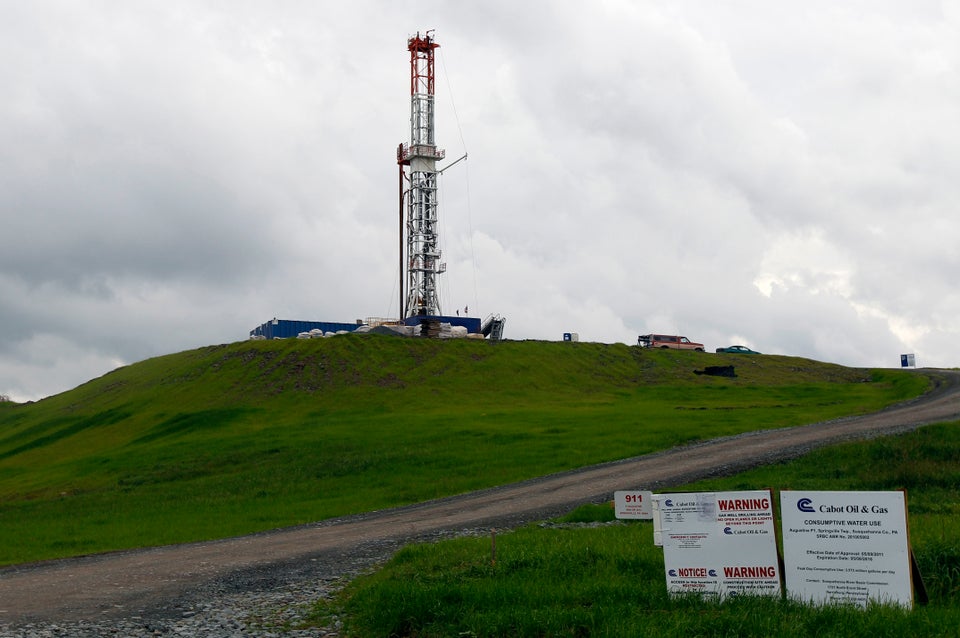 Drilling And Fracking Photos
Popular in the Community