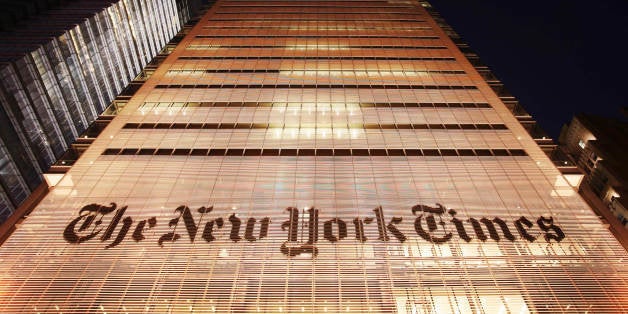 NEW YORK –- The New York Times reported across the top of Sunday's front page that Congress is doing little to oversee the CIA's targeted killing program. In the process, the paper identified three high-ranking CIA officials with key roles in secret drone operations.
The CIA asked the Times to withhold the names in its report, a request that executive editor Dean Baquet told The Huffington Post on Monday that he took seriously, but decided not to honor.
Baquet said the officials are not undercover agents carrying out clandestine operations in the field, but rather figures with significant roles in "one of the major issues in modern American warfare." The CIA is now playing a "quasi-military role" through the drone program, a departure from its traditional functions that deserves scrutiny. In order to debate the program, he said, the public needs to know who is making key decisions. In addition, as the Times wrote in its article, the CIA officials' "roles are known to foreign governments and many others."
"It would have been weird to not name the guys who run it," Baquet said. "They're not undercover. They're not unknown. They're sort of widely known."
A CIA spokesman declined to comment to The Huffington Post.
Baquet's decision shows the news organization's increasing willingness to push back against government requests to withhold information, unless officials provide specific reasons why doing so may damage national security.
In the aftermath of the Sept. 11, 2001, attacks, major news organizations, like The Times, routinely were pressured by the Bush administration to withhold information on national security grounds.
But last year, the Times reported that the U.S. government was considering a drone strike against an American citizen in Pakistan, even after the government had asked editors not to identify the location. Washington bureau chief Carolyn Ryan told The Huffington Post at the time that government "requests to withhold information have become almost blanket policy."
Baquet acknowledged Monday that the press "was sometimes too quick to withhold information at the request of the government" in recent years.
But that has changed, Baquet said, since national security disclosures through WikiLeaks and former National Security Agency contractor Edward Snowden "kicked off a big debate about surveillance and privacy." Also, he said, "it's become clearer over time that a huge percentage of foreign policy is now conducted in secret."
"I think that it puts more pressure on us to break down these secrets and make them public to people," Baquet added. "It puts more pressure on us not to hold stuff back. I think the secrecy is now part of the story."
In Sunday's report, the Times identified Michael D'Andrea, a former head of the CIA counterterrorism center, as "architect of the targeted killing program." While D'Andrea has managed a large bureaucracy at CIA headquarters in Langley, Virginia, and his identity was revealed last year online, his name remains classified. For that reason, the CIA has long requested that news organizations refrain from publishing it.
Other news organizations have honored this request in the past. In 2012, The Washington Post profiled D'Andrea, detailing his conversion to Islam, chain-smoking, and "dark-suited wardrobe of an undertaker," but used the pseudonym "Roger."
The CIA official's name was first revealed last year on Cryptocomb, a website that publishes information about the agency. But it wasn't widely repeated in the media. Last month, Gawker's John Cook asked why The Washington Post wasn't publishing D'Andrea's name in a more recent story that referenced him. Cook argued that the name of such a high-level official at Langley, even if he technically still given undercover status, should be made public for the sake of accountability.
Baquet said the Times would not reveal names in a gratuitous way, but Sunday's drone story demanded it.
"The whole story was about accountability," he said. "In a story about accountability, how could you not mention the guys who run the program?"
While mainstream news organizations may not follow Gawker's lead in publishing still-classified names, a front-page Times story has the potential to open the floodgates and prompt establishment outlets to do so.
Baquet said he's "not on a crusade to get these names published" by other media and suggested that news organizations should have their own discussions. At least one TV network was still withholding the names on Monday morning.
When Times reporter Matt Apuzzo, who co-wrote the CIA drone story, appeared on MSNBC's "Morning Joe," co-host Mika Brzezinski signaled at the start that the segment wouldn't veer into the agents' identities.
"There's a couple of different angles on this story," Brzezinski said. "We're going to not name names here."
Calling all HuffPost superfans!
Sign up for membership to become a founding member and help shape HuffPost's next chapter