The idea of the city skyscraper, of building up instead of out, was first dreamt up back in Chicago's frontier days. But to those, like me, who spend a lot of time squinting up at these towers to the sun, Manhattan has the richer and more varied crop of spires that are not shy about seeming decorative or grand--that, like New York, itself, are not afraid to show off.
Think of the word "skyline" for example, and only Manhattan can come to mind, for it is here that skyscrapers cluster together like straphangers on a train, looming over shadowy avenues and side-streets, and adding their spectacular layers, cupolas and points to the silhouette of the city as a whole.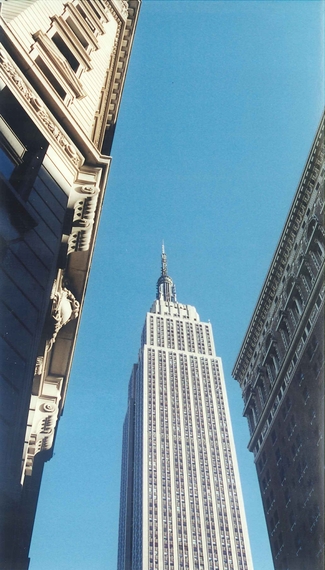 My grandfather's family were builders of New York apartments and hotels, and one of the first things he taught my brother and me was how to get views of the best of the tall buildings, and how to paint these on the pocket-sized canvases he set up for us in his studio, 14 stories above Seventh Avenue. And paint them we did: rocket-topped structures that looked like they were ready to take off, and sometimes, to his delight, skyscrapers shown after dark with lemon-yellow windows shining out like beacons in the night sky.
In honor of those times, here is a New York City skyscraper tour of the type my grandfather, H.R. Mandel, might have given, sketchpad in hand. The city's truly classic skyscrapers, most of which rise more than 50 stories and were built prior to 1965, can be chopped up into three manageable afternoon walks: one in midtown, one downtown, and one in the Wall Street area.
Classic Skyscrapers: Midtown
A good way to ease into looking at skyscrapers is to start with one that is not too famous, not too austere, and, well, not even all that tall. The Fred F. French Building at 551 Fifth Avenue (between 45th and 46th Streets) is worth a visit though because of the crayon-colored brick that jazzes up some of its upper stories and because of the strikingly beautiful stamped-metal decoration in the portico and lobby. Built in 1927, the building's style is recognizably Art Deco, but with enough Middle Eastern and Moorish twists to make a sultan feel at home.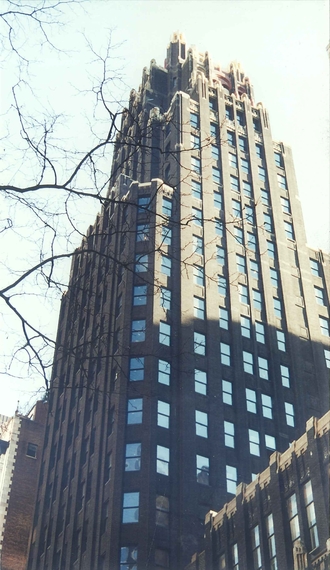 From here, head downtown a few blocks, dodge the hot-dog carts and pretzel men in front of the public library, and turn west on 40th Street until you see the ominous, black-brick American Radiator Building (40 W. 40th, between 5th and 6th Avenues). Glowering in its gold-painted trim, this ebony giant packs a punch that few modern buildings can match and, come to think of it, looks a bit like a radiator itself. Designed by the firm of Hood & Fouilhoux in the 1920s, it's an eye-popping example of how zoning laws passed early in the 20th century squeezed New York's taller buildings into wedding-cake shapes with narrower and narrower layers towards the top.
Just a few blocks north and east of here looms what may be the swankiest skyscraper of them all, the pointy-tipped Art Deco Chrysler Building at Lexington and 42nd which, for several months after it was finished in 1930 (and before the Empire State Building was topped off), reigned as the tallest building in the world. Although no longer owned by the car company, this William van Alen landmark is decorated with winged radiator caps and metal gargoyles shaped like hood ornaments, and its gleaming marble lobby was, for many years, used as a showroom for fresh-off-the-line Chrysler cars. The chrome-nickel spire may have nothing to do with automobiles, but its spiky sunbursts (lighted at night) say plenty about progress and the power of the Industrial Age.
Still on 42nd Street, but a block-and-a-half further east, is the longtime Daily News Building (220 E. 42nd) which isn't much to look at from the outside, but whose lobby offers not just elevators and polished floors but a head-scratching array of wind and temperature gages, time-zone clocks from far and near, and a giant revolving globe which is surrounded by Ripley's Believe It Or Not-style signs which say things like: "If the SUN were the size of this GLOBE and placed here, then comparatively the EARTH would be the size of a WALNUT and located at the main entrance to Grand Central Terminal."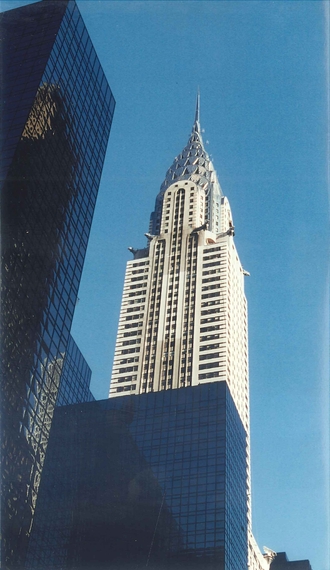 To round out the midtown section of your tour, head back to Lexington and turn north to 51st Street where you won't be able to walk past the original General Electric Building at 570 Lexington. Another skyscraper layered like a cake, this one was built in 1931 with soothing orange brick, rounded corners, and a proud central tower that rockets out of its base to rise another 20 floors. Inside, there's a sparkling Art Deco lobby that's as bright as day, and old-style elevators soaring and descending with the howl of a haunted wind.
Classic Skyscrapers: Downtown
Scrunched into the narrow triangle where Fifth Avenue meets Broadway at the corner of 23rd Street, the Flatiron Building looks a lot like an old-fashioned iron (which, of course, explains how it got its name). Built by the noted architect, Daniel Burnham, in 1902, the Flatiron is Manhattan's oldest skyscraper and one of its most dramatic, because of its rakish angle and because there's nothing crowding it on either side. Stand smack in front of it, or back off to stare at its prow from across the street. There are few views like it. The old saying, "23-skiddoo," was born here when wind currents kicked up by the Flatiron along 23rd Street flipped up women's petticoats and policemen had to "skiddoo" leering gentlemen.
Just across Madison Square Park to the east is another New York landmark, the Metropolitan Life Insurance Tower (One Madison Ave., between 23rd and 25th) which, for four years after it was completed in 1909, had its moment in the sun as the tallest building in the world. Modeled after the famous campanile in Venice's Piazza San Marco, the tower was known to my family as "the Faraway Clock" as we could just catch sight of its distant hands and face at night from our dining room to try and keep tabs on our approaching bedtimes. The lobby has a superb series of murals of "Pilgrims at Plymouth" by the famous children's book illustrator, N.C. Wyeth, although the security guards don't want to let you past their station to get a good look.
The Empire State Building at 34th and Fifth is visible from every corner of Manhattan and visited by almost every tourist, but if, for some reason, you've never ridden up to the observation deck, you should. It's fun to try and jump up at the exact moment the high-speed elevator begins to slow, for what can be a second or two of weightlessness. Completed in the depths of the Depression by the firm of Shreve, Lamb & Harmon, this longtime height champion was topped off by a mooring mast that was supposed to be used to tie up dirigibles.
Classic Skyscrapers: Wall Street
Only steps away from Ground Zero is the little-known New York Telephone Company Building at 140 West Street, between Barclay and Vesey Streets. Although the current owner has cluttered it up with modern insignias and flags, you can still snag a sense of Art Deco grandeur and then duck inside the lobby to gaze up at the tapestry-like ceiling murals of North and Central American Indians. Among the bas-reliefs that you can hunt down are some showing off bears, babies, grapes, parrots and panthers.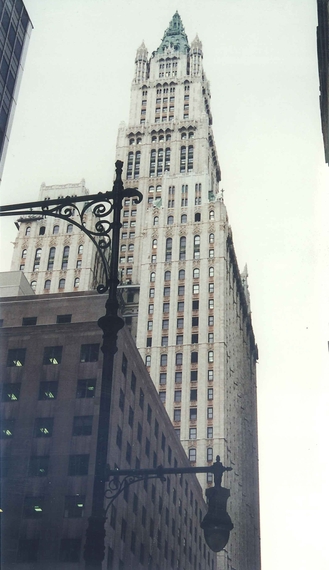 A few blocks east of here looms one of the most lavish and energetic buildings ever built. Nicknamed "The Cathedral of Commerce," the delightfully gothic Woolworth Building (233 Broadway) was commissioned by five-and-dime king F.W. Woolworth to deck out his corporate offices in the details and doo-dads he so admired in European architecture. Rather than being morose like some gothic stuff, this light-colored landmark even has a sense of humor about its nearly nutty elegance, with oddball owl and frog gargoyles and carved caricatures in the lobby depicting architect Cass Gilbert and Woolworth, himself, in the act of counting out his nickels and dimes.
Think the small change didn't add up? Think again. This is perhaps the only tall building in New York that was riveted and bricked without a mortgage. Woolworth paid for his skyscrapers in cash.