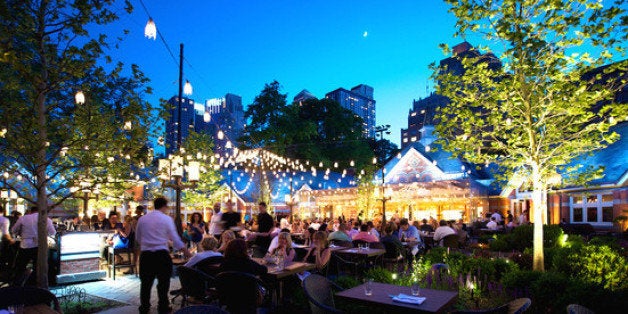 There are no iconic restaurants left in New York with a history like that of Tavern on the Green, which began in 1870 as a sheepfold, designed by Calvert Vaux, and became a restaurant in Central Park as of 1934, ever since under license to the City of New York.
In 1974 the property was leased to master showman Warner Leroy, who, pouring in a phenomenal $10 million, turned the place into circus-like, grandiose, extravagant crystal palace that reeked both glamour and kitsch at the same time. Upon re-opening two years later, Tavern on the Green became one of the city's prime locations for everything from weddings and premiers to ad presentations and movie locations. Indeed, more than a dozen movies were shot at the Tavern, including Arthur, Ghostbusters, Wall Street, Beaches, and The Out-of-Towners. In 2005 The Barilla Marathon Eve Dinner pre-race pasta party for 10,000 runners and guests was held at the restaurant.
I know that millions of New Yorkers and out-of-towners have fond memories of the Tavern as it was in the 1980s -- a swirling, over-the-top reverie of Tiffany glass, crystal chandeliers, huge bronze stag statues, twinkling lights, and, in the a la carte dining room, damn good American food. I recall going there on dates, dressed up just for drinks, while in college, and later took my two young sons there every year at Christmastime, just as faithfully as I brought them to FAO Schwarz, Rockefeller Center, and Macy's.
But time and crime sprees in Central Park took their toll on the vast restaurant and, after Leroy's death in 2001, the theatricality was gone out of it, despite his daughter's attempts to keep it going. In 2009 the grande dame of a restaurant closed, filing for bankruptcy two years later, its tarnished décor sold off.
Nevertheless, the property was still extremely valuable to the City, which sought a new partner, but unreasonable union demands waved off a slew of the country's finest restaurateurs. The place was left to decay until the Emerald Group, out of Philadelphia, headed by Jim Caiola and David Salama, reached an agreement with the City and the union, poured money into the property, and, on April 24 of this year, opened a grand but not ostentatious new version of Tavern on the Green, much to people's applause.
For if some may miss the former flamboyance, most sensible visitors will find its more classic New York tavern look just about right, its Central Park Room done with 1930s art deco flourishes, and its courtyard far more breathtakingly beautiful than ever.
The new owners brought in a respected veteran chef, Katy Sparks, whose experience dates to the kitchens of The Quilted Giraffe and Mesa Grill, as well as having her own place, Quilty's, where she was awarded the Best New Chef Award from Food and Wine magazine.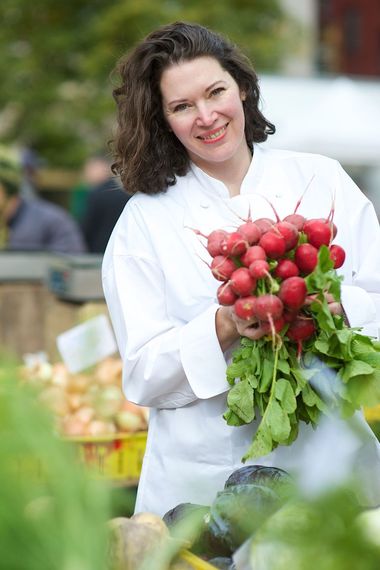 Her menu is carefully crafted to appeal to a very wide range of people -- New Yorkers, visitors from out of town and country, young professionals and wide-eyed kids. On a recent visit I sat in the Central Park Room (below) overlooking the courtyard, which was packed throughout a stunningly clear New York evening showing off a crescent moon.
You might begin with a smoked and cured fish plate ($20) of bluefish pate, Irish salmon, organic gravlax and more, or enjoy the array of ceviches (three for $24). Small plates include a delicious wood-roasted eggplant with pomegranate and torn fresh herbs and yogurt ($15), and a bowl of wood-roasted Maine mussels with almond, garlic, red chili and thyme breadcrumbs ($15).
There's a very good baked farro pasta with braised shiitakes, heirloom beans, asparagus and ricotta ($24), and Atlantic hake is baked and served atop golden, buttery potato puree with briny clams, a touch of fragrant saffron and ginger braised leeks ($34).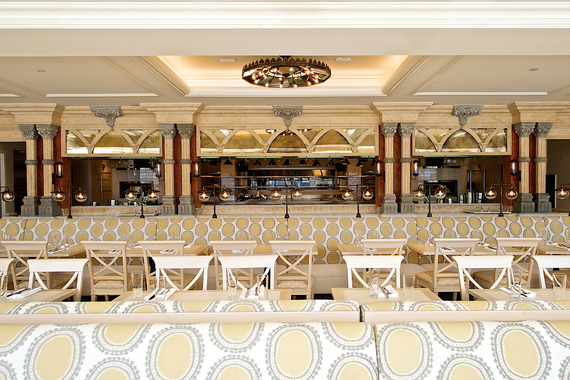 Marinated yellowfin tuna takes on wonderful sweet and sour nuances from a red onion marmalade, criminis and bacon, with arugula ($38).
Sparks marinates Vermont quail then serves them with stone-ground white grits, housemade chorizo and wood-roasted grapes ($30). There's much more and it's impeccably rendered from a fast-paced kitchen trying to keep up with the pace.
You'd expect a New York cheesecake and Tavern's is a fine, ricotta-based version (below) on a gingersnap crust and drizzled with honey and some deep red zinfandel syrup ($13). The brownie sundae, with fudge and popcorn, is huge and irresistible ($13), and, one of my favorite desserts, strawberry shortcake, was perfectly buttery and crumbly, scented with local lavender ($13).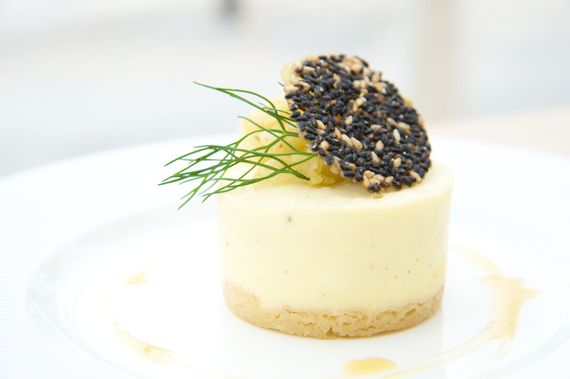 Prices, by the way, are extremely reasonable for such a splendid atmosphere, and, by comparison with what they were back in the 1990s, considerably less expensive.
This is food that makes people happy, and if it isn't challenging to the downtown foodie crowd, there really is no intent to do so. Tavern on the Green has been brought back to what it was, even if without the inspired madness of the past. Now, up there on the edge of Central Park, surrounded by maples and elms, across from the Sheep Meadow and in view, through the buildings, of the sun setting on the Hudson, it has a different kind of dreaminess, perhaps more innocent, and uniquely New York.
Popular in the Community