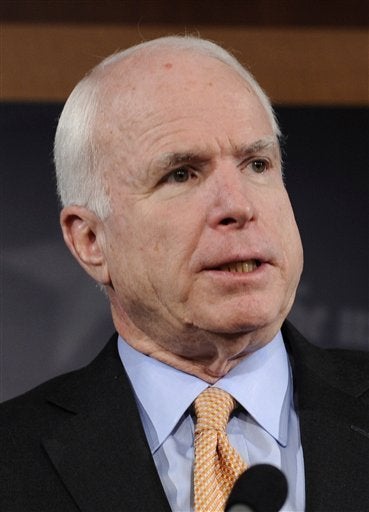 Largely under the radar, some of the major neoconservative figures who fashioned the rationale for the Iraq war have set up a shop for shaping future trends in American foreign policy.
And while the Foreign Policy Initiative does not have friends within the White House to whom it can push its agenda, it is not lacking for pull among senior elected officials, including Democrats.
FPI, whose founders and principals include Robert Kagan, Bill Kristol, and Dan Senor, will host a summit next Tuesday titled "Afghanistan: Planning for Success." Billed as a "half-day conference" to "discuss how the United States and our allies can succeed in Afghanistan," the event will feature appearances and discussion from Sen. John McCain (R-Ariz.), Rep. John M. McHugh (R-N.Y.) -- ranking member of the House Armed Services Committee -- and Rep. Jane Harman (D-Calif.), who chairs of the House Homeland Security Intelligence Subcommittee.
"I know these people and recognize where they're coming from," the Congresswoman said of her appearance at the event. "I'm coming from a different place and want to be sure that point of view is heard. My point of view will be extremely sympathetic to the Obama Administration position on Af/Pak."
Tuesday's affair is designed, per the group's website, to provide an open and frank discussion on the problems confronting the Obama administration in Afghanistan. And with the president expressing a policy to that war that has been received approvingly by the neo-con community, including McCain himself, it seems likely that the agenda will be as much analytical as aspirational.
Nevertheless, it is worthwhile to note just where "Washington's newest think tank" is coming from. Kagan and Kristol were both directors at the Project for the New American Century, one of the key organizational catalysts persuading George W. Bush to launch preemptive military action in Iraq.
Now with the Foreign Policy Initiative, the principals are charting a similar philosophy in the realm of international affairs. From its mission statement:
There are those who hope we can just return to normalcy--to pre-9/11 levels of defense spending and pre-9/11 tactics. They argue for a retreat from America's global commitments and a renewed focus on problems at home, an understandable if mistaken response to these difficult economic times.

In fact, strategic overreach is not the problem and retrenchment is not the solution.

[snip]

The Foreign Policy Initiative (FPI) is a newly formed, non-profit, non-partisan organization intending to qualify as a tax-exempt organization under Section 501(c)(3) of the U.S. Internal Revenue Code that promotes:

* continued U.S. engagement--diplomatic, economic, and military--in the world and rejection of policies that would lead us down the path to isolationism;
* robust support for America's democratic allies and opposition to rogue regimes that threaten American interests;
* the human rights of those oppressed by their governments, and U.S. leadership in working to spread political and economic freedom;
* a strong military with the defense budget needed to ensure that America is ready to confront the threats of the 21st century;
* international economic engagement as a key element of U.S. foreign policy in this time of great economic dislocation.
UPDATE: John Isaacs, at the progressive Council for a Livable World, offers his reaction.
The same folks that brought us the war in Iraq are now they are trying to bring us more wars. The same folks that helped screw up Afghanistan with the Bush administration are now offering their judgment on the same war... I would hope every article written about them in the future starts with, 'Robert Kagan, the man who got it terribly wrong in Iraq said...,' But I don't envision that happening.
Popular in the Community