News Corp. will divide its publishing arm from its media and entertainment divisions. Murdoch will serve as chairman of both companies and as CEO of the media and entertainment company. Chase Carey will remain as Murdoch's second in command and serve as president and COO of the broadcasting arm.
The deal was abruptly announced this week and came as a shock to those familiar with Murdoch's historic reluctance to part with any of his print titles. Though Murdoch's media empire, which started by owning a single newspaper in Australia, expanded over decades, the News Corp. chief has kept a firm hold on his print titles.
Skeptics wondered if the sudden announcement was a reaction to the devastating phone hacking scandal, which resulted in the closing of the 168-year-old News of the World tabloid and did grave damage to Murdoch's legacy and media empire. Murdoch firmly denied this notion during his interview with Cavuto. "No, it has nothing to do with it at all," Murdoch said. "This is not in reaction to [it]. This is looking forward as to what's best for our company and our shareholders."
"What brought me to [this decision] was, was after 58 years building a company...I realized the logic of it, and how all the companies would be better managed and would be a lot better in every way," Murdoch said.
Murdoch had not yet announced who will run the publishing company. When Cavuto asked if it Murdoch's sons could have an expanded role, the News Corp. chief included the possibility of his daughters having new roles as well. Ultimately though, Murdoch said his children would "have to earn it, and have to want it." He added that his son Lachlan is "happy running his own businesses in Australia." He did not elaborate on his son James, who headed News Corp. subsidiary News International and whose legacy and divisions were particularly damaged by the phone hacking scandal.
"We're not holding that position open for Lachlan or anyone else," he said.
"You're not going to see any print losses tolerated anywhere," he said — words that are sure to strike fear in the heart of employees at the New York Post, The Times and the Sunday Times, all of which have been unprofitable for decades.
Considering that Murdoch appeared on Fox Business moments after the Supreme Court upheld the individual mandate within Affordable Healthcare Act, Cavuto asked the News Corp. chief to react to the historic ruling. "I just worry about this entitlement culture," he said. "We've seen where its taken Greece...and France today so on a political level, I worry about it. But of course I'm for all health services being available if possible."
Before You Go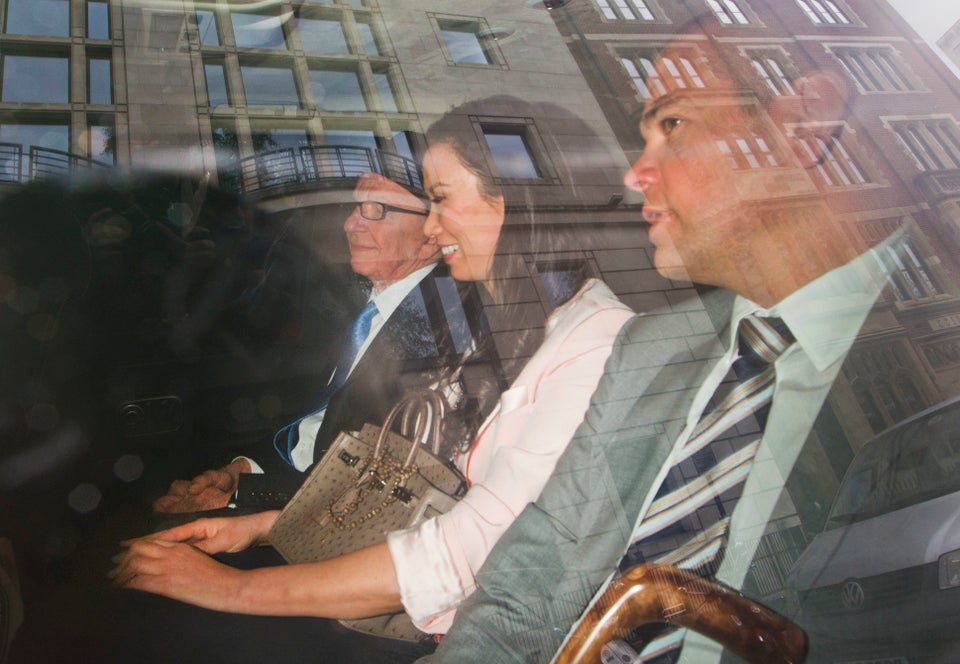 The Murdochs
Popular in the Community