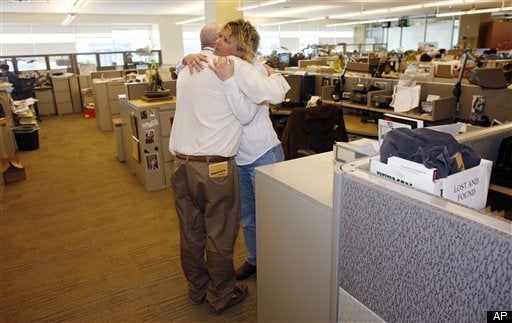 News Cycle calculates that, so far this year, "15,093 people have received their pink slips or have [opted] into a buyout package in the newspaper industry."
And December isn't done yet. The blog notes that more layoffs are expected at the Los Angeles Times this month, and New York Times layoffs loom as too few employees accepted voluntary buyout offers.
News Cycle breaks down the job losses by month:
November -- 293 people.

October -- 375 people.

September -- 347 people.

August -- 425 people.

July -- 2,505 people.

June -- 318 people.

May -- 1,084 people.

April -- 1,350 people.

March -- 3,943 people.

February -- 1,492 people.

January -- 2,256 people.
Ground Report's Rachel Sterne is able to find a silver lining in these numbers: since July, she notes, layoffs have slowed.
"Based on the News Cycle figures," Sterne writes, "the end of the first and second quarters in 2009 saw the most bloodshed. From August onward, numbers dropped significantly, and the rate of layoffs stayed flat."
Related
Popular in the Community