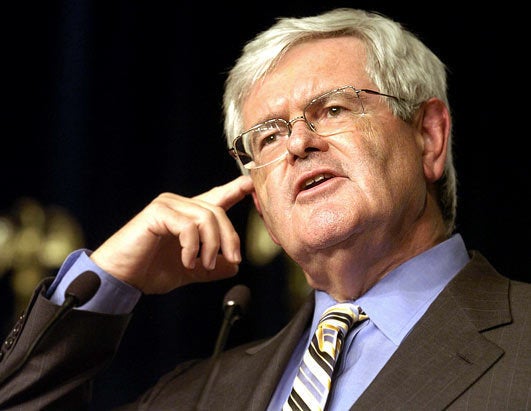 ATLANTA — Newt Gingrich is running for president.
The former House speaker disclosed his bid on Twitter and Facebook on Monday and urged followers to tune into Fox News on Wednesday.
"I will be on to talk about my run for president of the United States," Gingrich wrote after spending a year or more publicly laying the groundwork for a GOP presidential candidacy. "I have been humbled by all the encouragement you have given me to run."
The move was hardly a surprise; Gingrich has spent months raising money, assembling a campaign team and visiting early primary states. He also quietly opened a campaign headquarters in Atlanta, and had long been scheduled to address the Georgia Republican Party Convention on Friday in Macon, Ga. Aides say that will be his first speech as a full-fledged candidate.
Gingrich, 67, enters a Republican field that's far from fully formed; no less than a dozen Republicans are weighing bids and only a few have taken steps toward candidacies. It's a crop of candidates that has many in the Republican Party yearning for more options as they seek the strongest candidate to take on President Barack Obama in 2012.
Besides high name recognition, Gingrich brings to the race a slew of policy ideas, a network of grass-roots support and a political machine years in the making. But his personal baggage – he's on his third marriage – could hinder his chances as he seeks to woo conservatives who make up the core of the GOP primary electorate.
His entry into the race marks a comeback attempt more than a decade after leaving political office.
The conservative former Georgia congressman rose to power after leading the GOP to its first majority in the House in 40 years, spearheading the Republican revolution in the 1994 elections and pledging to adhere to his party's "Contract with America."
Once at the top of the House, he challenged the first-term Democratic president, Bill Clinton, at every turn. A spending fight between Gingrich and Clinton led to federal government shutdowns in 1995 and 1996, and Gingrich watched his popularity fall.
He faced charges of hypocrisy after revelations that he was carrying on an affair with a congressional aide at the same time he was criticizing Clinton's relationship with White House intern Monica Lewinsky. He divorced his second wife and married the aide, Callista Bisek; she now goes by her husband's surname.
In an interview earlier this year with a Christian broadcaster, Gingrich said his focus on his job contributed to his infidelity and the failure of his two previous marriages.
Ethics questions also dogged him as speaker.
Gingrich faced some 84 ethics complaints; they were leveled mostly by House Democrats who were in the minority and focused on what critics called his blurring of the lines between politics and his personal life. All but one of those complaints was dismissed with no penalty.
He paid $300,000 for the cost of investigating the final complaint – whether Gingrich's college course had violated federal tax law – as part of an agreement with House ethics investigators. Led by Republicans, the ethics committee never reached a conclusion about that allegation. And the IRS cleared the organizations connected with the course of any tax violations.
He stepped down from the House in 1999.
Since then, he's traveled the world speaking on issues from health care to foreign affairs, built a lucrative network of nonprofit and business ventures, and written a steady stream of books. All of that has made him one of the nation's most well-known Republicans, with a loyal following.
In recent months as he geared up for a run, Gingrich has lambasted Obama's federal health law and has criticized the Democrat's foreign policy as "clueless."
The twice-divorced Gingrich also has been working to make inroads with social conservatives critical to the GOP primary base, highlighting his conversion to Catholicism after marrying Callista.
She works with her husband on documentary films and has figured prominently in campaign appearances in the months since Gingrich made clear he was considering a run.
Although he has lived in northern Virginia for more than a decade, the Pennsylvania-born Gingrich has also been playing up his Georgia roots. He taught college in Georgia and was a longtime congressman from suburban Atlanta, helping build the Republican Party in the state dominated at the time by Democrats.
Calling all HuffPost superfans!
Sign up for membership to become a founding member and help shape HuffPost's next chapter