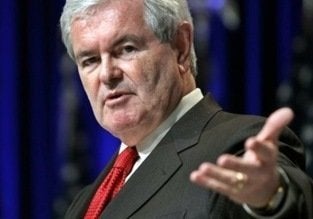 Gingrich described the Tea Party's sentiment towards Washington as "natural" and argued that people are entitled to the "pursuit of happiness."
The York Dispatch reports on Gingrich's remarks regarding the future of the conservative movement:
Gingrich said the movement is a "natural expression of frustration with Republicans and anger at Democrats," which is "more likely to end up as the militant wing of the Republican Party" than as an independent or third party.
The Dispatch also reports that while many of those attending the event held by the Manufacturers' Association of South Central Pennsylvania seemed to support Gingrich's conclusions, some members of the audience did not agree with his characterization of the Tea Party movement as potentially "militant."
Gingrich addressed a wide range of political and policy issues in his Wednesday night speech -- from unemployment to whether he'll run for president in 2012. Via the York Dispatch, here are some of the former House Speaker's other notable remarks:
"High schools are an expensive "baby sitting service" and that students who want to leave school should be allowed to enter the work force."

"Last year's extension of unemployment benefits was like a bribe to people to tolerate legislators' incompetence, he said."

"Newt Gingrich said he hasn't yet decided whether he'll run for president in 2012."
Popular in the Community