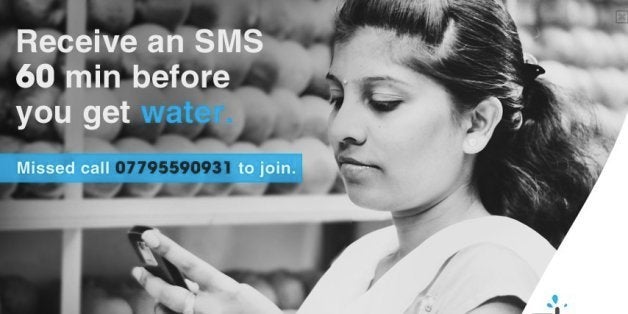 The proliferation of mobile-supported business models in India is substantial. Given its ubiquity amongst lower-income groups, mobile technology is recognized as a maximum impact tool, particularly for grassroots data collection. This "tech" model of social entrepreneurship has become the norm not only in India, but also in other emerging markets throughout Asia, Africa and South America.
Case in point: NextDrop, a social enterprise launched in 2011, is simplifying urban water collection in India. With its "Smart Grid 'Lite'" solution, the enterprise collects and shares water delivery information with city residents and water utilities. In this way, efficiency and transparency are improved upon.
NextDrop started as a pilot during an UC-Berkeley project competition in Hubli-Dharwad, twin cities in the Indian state of Karnataka, which have seen rapid urban growth in recent years. Main Street has made way for shopping malls and American fast food chains, but access to water is still a challenge. It is therefore unsurprising that NextDrop's Smart Water Supply Message Service has over 25,000 household subscribers paying a monthly fee of INR10 (USD0.16) to receive advance water alerts.
"At the basic level, we collect information. But that's just the beginning," Anu Sridharan, NextDrop co-founder and CEO, explains. "You gain access to lots of interesting bits of data. And what you do with that data – now, that's where it starts to get fun."
NextDrop's work is deceptively clear-cut. Though the medium of its work is mobile and the Internet, it is not inventing a new technology. Rather, NextDrop is using existing technology to collect data and understand customer behavior – an increasingly important proficiency to have when serving the bottom of the pyramid (BoP).
Though the BoP represents the fastest growing consumer segment worldwide, remarkably little is understood about its behavior and needs. It is this latter fact that gives few enterprises a competitive edge in emerging markets. And for social entrepreneurs, it is only when armed with this knowledge that real social change can be affected.
As new markets are being drawn, new opportunities are arising for enterprises to carve a niche beyond technology development and delivery. Is NextDrop's work, then, more an example of technology entrepreneurship or the "big data" influence on social entrepreneurship? The distinction may not seem important, but it can make all the difference to an enterprise's survival. Understanding its niche within a wider industry is critical to any enterprise's growth.
As the line between technology and data blur, what challenges do social enterprises like NextDrop face as they grow?
Before moving to Hubli-Dharwad in August 2011, Sridharan's experience of managing a social impact project in India from California was difficult, to say the least. "I don't think I did a very good job managing the pilot," she says candidly. "But it was the best we could do at the time. When it was time to make the crucial decision about NextDrop's future, I knew that I had to move to India to make it work."
Today, NextDrop has expanded its operations beyond Hubli-Dharwad to Bangalore, Karnataka's capital, where its monthly subscription charge is INR25 (USD0.41). On the enterprise's growth, Sridharan is proud of her "passionate" team and states, "I think we've really figured out how to provide quality content to our residential customers. Now, we're trying to figure out how to do the same for our utility customers."
NextDrop has received "very positive response" from its residential subscribers. Its service has freed up the most limited of all resources: time. In a June 2013 blog post, Sridharan shares the story of how grateful feedback from a female subscriber affirmed NextDrop's theory that the opportunity cost of urban water collection is too high.
Utilities have also responded well. The biggest challenge of working with them, and the highest barrier to entry, was getting appropriate approvals to do NextDrop's work. As in most other countries, bureaucratic processes are convoluted and time-consuming in India. But once the approvals went through, work has carried on "smoothly."
Investor interest in NextDrop, however, is more nuanced. Sridharan acknowledges that there has been some level of surprise that the enterprise is "still alive," and this has piqued greater general interest in its work. But this interest has not necessarily translated into more funding. "We have a lot of well wishers, but fewer investors." To date, The Knight Foundation is NextDrop's largest investor, and the enterprise will start working with a lead investor from Silicon Valley. Still, Sridharan hopes to attract more investor interest before closing the current round of funding.
NextDrop's current challenge is one of choice. Faced with "many different opportunities," Sridharan understands that the NextDrop team must determine what is best for the business now and fast. "I think most companies fail because they lack focus, so I want to make sure that doesn't happen to us."
Focus, which includes being cognizant of where the strength of opportunity lies, is critical for this enterprise to move beyond the typical startup phase. The scope for NextDrop's work is significant, and information – all that collected data – is the key to further growth.
Sridharan explains, "The same information asymmetries that exist in the water sector exist in other sectors as well, such as electricity and transportation. Once you have the customer base, that's really the majority of the work."