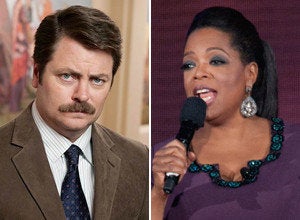 Ron Swanson is a man of great mystery: from his secret, jazz-playing alias Duke Silver to just how he eats all that red meat without dying, there's much the head of the Pawnee Parks Department hides from his staff. But there is no secret more deeply buried, or haunting, than the identity of his first ex-wife, Tammy.
Swanson, played to perfection by the now-internet sensation Nick Offerman, has been married to two women named Tammy, one of whom, played by Offerman's real-life wife Megan Mullally, is the evil yin to his sexual yang. But even Tammy Two is afraid of this first wife, who, so far, exists only in fleeting mention. But with season four in the process of being written, the search is on for the perfect actress to embody the character on camera. To Offerman, there's only one choice.
"We're going to find out who Ron's first ex-wife Tammy is, and I'm excited to find out why Tammy Two is scared sh*tless of Tammy," Offerman teased in a conversation with The Huffington Post. "We're trying to start a campaign to get Oprah to play Tammy One. I think Oprah would be the only, she's the only person we can think of that might be intimidating to Megan Mullally. It would be so good."
In asking The Huffington Post to start a campaign to get the talk show queen -- who, by the way, no longer has that daily TV show to use an excuse to avoid Mr. Swanson -- Offerman laid down the gauntlet on the casting.
"There's all kinds of ideas being thrown around. I can assure you if it's not Oprah, I will quit," he deadpanned.
In the event that Winfrey -- who once guested on "30 Rock" -- does decline, Offerman, who bestows Greg Daniels, Mike Schur and the rest of the show's writers with the loftiest of praise, has confidence there will be another treat in store.
"I can assure you, if it's not Oprah, whoever it will be, they will probably do something clever," he said. "There are a lot of very obvious choices and attributes that they set up for themselves, and my knowledge of these guys is it's something we won't see coming, is my guess."
"[Perhaps someone] who is a master of the Japanese Shuriken throwing star," Offerman suggested.
You heard Ron Swanson -- spread the word and help make viral the campaign to get Oprah on "Parks and Rec."
Popular in the Community