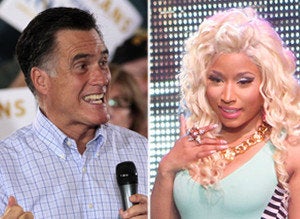 Today in mixtape politics: Nicki Minaj's appearance on Lil Wayne's new release, Dedication 4, includes a couplet that suggests she's voting for GOP presidential candidate Mitt Romney.
Here are the lyrics in question: "I'm a Republican voting for Mitt Romney / You lazy b----es is f---ing up the economy."
The original article continues below.
The lines seem simple enough, but much of the internet refuses to take Minaj at her word. That's partly the rapper's fault, as she is known for adopting multiple personalities (Roman, Barbie, etc.) and generally obfuscating for the fun of it. Some wonder if she was impersonating a Republican in the first line, which would make Republicans the target of the "lazy b----es" insult.
Vulture noted that Minaj has tweeted at Obama before, imploring him to go further in his healthcare reform efforts. "Even with Obama Care, too much involved," she tweeted. "Just give FREE health care to all. @barackobama What can we do?"
Rapper Talib Kweli, who is no stranger to incorporating politics into his songs, tweeted that Minaj is just hunting for publicity:
Minaj is hardly the first hip-hop figure to take a stance on the election. In an earlier interview with The Huffington Post, Minaj's sometimes collaborator 2 Chainz said that he could beat Romney if he wanted to ("he's just rich as sh-t, that's all").
Republican rappers are far and few between, though 50 Cent has compared himself to George W. Bush and LL Cool J attended the 2004 Republican National Convention.
HuffPost Entertainment reached out to Minaj's rep for comment.
Popular in the Community