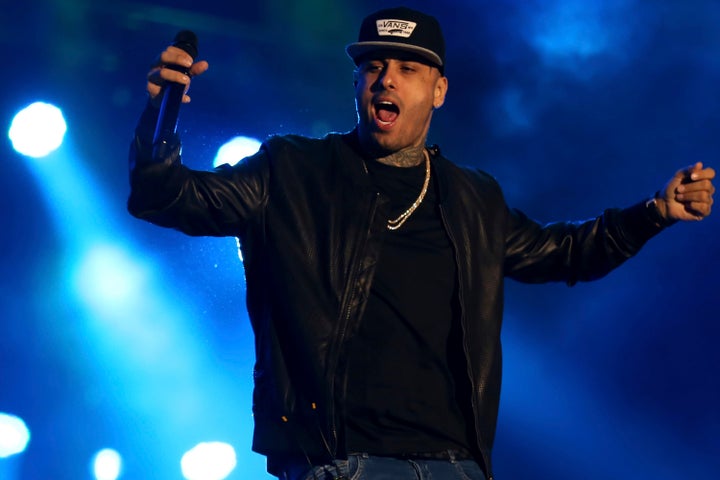 The Puerto Rican reggeaton star has certainly risen in recent years, after his career took a nosedive in the early 2000s thanks to a public feud with his mentor Daddy Yankee and substance abuse issues. In 2007, Nicky Jam, once one of reggaeton's most promising rising stars, moved to Colombia. There, he says, he found the fan base and confidence he needed to revive his career.
The Huffington Post caught up with Nicky Jam during the AT&T "Expresa Tu Pasión" concert in New York City on Sept. 13, and discussed the difference between Colombian and Puerto Rican reggaeton, the election and more. 
The #ExpresaTuPasion tour is about celebrating our roots during Hispanic Heritage Month. It's particularly important to highlight all the positive things happening in the Latino community during an election season filled with hateful rhetoric against Latinos and immigrants. What are your thoughts on the candidate that's best for Latinos? 
I'm voting for Clinton. Because anything that I see that's bad for our people or anybody that talks bad about our people, I'd be scared to vote for them. Probably people will think that what I'm saying is wrong but I think that whoever talks bad about my race [Editor's Note: Latino is an ethnicity, not a race] is not a person who I should vote for. So, I'm going for Clinton.
Anything that I see that's bad for our people or anybody that talks bad about our people, I'd be scared to vote for them."
Back when your career took a turn for the worse, you moved to Medellín, Colombia to revive it. Why did you choose Colombia?
Because it was the place where I had work. All my old songs were like classics for them, so I had a place where I could survive and pay my bills. 
What surprised you about the people or the music scene? 
I found that they would listen to anything and they don't have that mentality of old school, or nothing like that. Colombians, when they love an artist they love him whether you're up or down. So why wouldn't I stay in a place where they loved me when I was in my worse moment and they were saying I was a legend? I felt I was good, so I felt it was my home. I fell in love with the people, the culture. They made me feel like a Colombian.
I just think the music is more catchy, and the lyrics are more cotidianos (day-to-day). It talks about things that happen on a daily basis. Reggaeton from Puerto Rico is more about dancing music, reggaeton specifically. Now Puerto Ricans are starting to [focus more on lyrics], because they have the ability to do it.
I think it's beautiful that every country puts a little [grain] of sand of their own to the music. So it's awesome. 
You once told Billboard that one of the things you realized set you apart as a reggaeton artist was that you could sing. Can you elaborate on how your vocal skills shape your music?
I bring that to the table, because yea people were doing melody but not the way I'm doing it. You listen to a song by Nicky Jam and you don't think about reggaeton, you just think, 'I like that song.' I got old people listening to my music, young people listening to my music... they don't have that reggaeton thing, that taboo that there was back in the day. So I think that I'm doing a good job, that's what I wanted to do. I'm happy. 
I want to go into the English market, all the way. That's my goal, English is the next thing.
And you collaborated on "El Perdón" with Enrique Iglesias, who might be the most successful crossover artist of all time. Has he given you some pointers as to how to straddle those two cultures? 
A lot, especially when it comes to switching the songs from Spanish to English. He told me: "You gotta be careful so they don't lose the feeling and the lyrics. The way you express yourself." But if you think about it that way too, you'll probably be all scared. Just try to be you, people like that. People dig it. 
This interview was condensed for clarity. 
Calling all HuffPost superfans!
Sign up for membership to become a founding member and help shape HuffPost's next chapter
BEFORE YOU GO
PHOTO GALLERY
Latino Celebrities Explain Why They're With Hillary Clinton