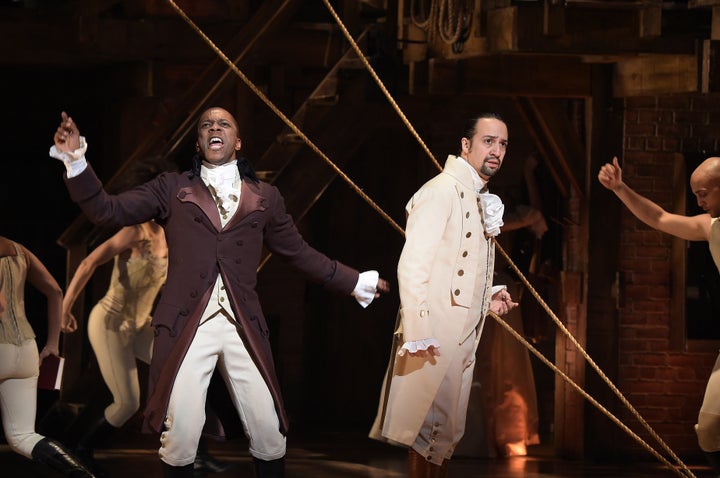 On Wednesday, a casting call for the Broadway juggernaut that is " Hamilton" drew criticism from members of the Actors' Equity theater union for specifying a need for "non-white" actors. To the union, and to many others in and outside of the theater world, the idea that the show would exclude white performers in its auditioning process is wrong: the auditions should be open for everyone.
To be clear: from a legal standpoint, this is really a question of semantics. According to the rules of professional theatre, the use of "Non-" anything is considered discrimination. What they should have done was specify what races they wanted, not what race they did not want. That was their mistake.
However, criticizing the show's poorly-worded casting call is very different than criticizing the show's desire for actors of color. Because that is how casting calls work. Casting directors want to fill a specific role, a character with a certain height, a certain age, a certain hair color or, yes, a certain race ― and then they make a casting call that spells out all the details so that they only have to see actors who would actually work for the part.
And that's not to say that the system is inherently OK just because it's always worked this way. There is, of course, a case to be made for the importance of colorblind casting, the practice of choosing actors for parts based solely on their ability and not on race or ethnicity. And if you think about it, "Hamilton" is perhaps as colorblind as castings come ― when else would black and Latino actors get to play the Founding Fathers?
But what makes "Hamilton" work so well is the fact that it's a commentary on America's past through the prism of America's present, its future. It works because the historically white, male founding fathers are being played by a predominantly non-white cast of blacks and Latinos (there are also plans to cast women in the roles of men).
Now, what would the musical look like if Alexander Hamilton wasn't played by Lin-Manuel Miranda, and Aaron Burr wasn't played by Leslie Odom, Jr, but instead the characters were played by two capable, talented white actors? The show would likely still be entertaining, but the context and the conversation would change. It's like suggesting that "For Colored Girls..." or "The Color Purple" have an all-white cast. It's a completely different show.
This isn't a case of reverse racism. This isn't a case of people of color excluding white people despite bemoaning their own lack of inclusion in media. That's the whole point. "Hamilton" has created a space on Broadway for black and brown performers that otherwise wouldn't exist. Opening up roles designed specifically to be played by performers of color means encroaching on that space.
And no. The campaign for a black Spider-Man or a black James Bond cannot be equated to this. You can't scream "double-standard!" and suggest that having a white Spider-Man is just as integral to his story as having Lin-Manuel Miranda play Hamilton. Whiteness is not tied down to Spider-Man's character or his ever-evolving mythology. Neither is James Bond's.
But "Hamilton" is a musical that lives and breathes hip-hop. Its music and diverse cast, juxtaposed with the story of a country just beginning to find its voice, perfectly reflect the complex racial history and identity of America. That's integral to the story. That's a non-negotiable.
What's fascinating is the fact that so often there are casting-calls that exclude actors of color, and very rarely is there anyone calling out the producers or writers as racist. Or, some casting calls will be demeaning to actors of color -- remember when "Straight Outta Compton" perpetuated racial stereotypes about black women when it asked for "light-skinned, long haired" girls to play hot video vixens and dark-skinned actresses to play "poor, not in good shape" slobs?
On Thursday, the producers of "Hamilton" conceded, stating that the casting call will be changed to "welcome people of all ethnicities to audition" for the show. It makes sense why people would want a cultural phenomenon like "Hamilton," not to specify only non-white actors for the casting of some of its most key roles. A chance to be a part of the musical would be both career and history-making.
It's amazing that "Hamilton" has managed to capture the hearts and minds of so many people, but it's also important to remember that, at its core, the show is exploring the ways in which race, ethnicity, and nationality intersect. Just like Beyonce's "Formation" was enjoyed by all when it dropped in February, there was still the implicit understanding that what made it so unique was its inherent, unapologetic blackness. "Hamilton" is most definitely an inclusive show, an inclusive experience. But the fact of the matter is, quite frankly, not everything is about white people.
NOTE: This article has been updated with additional details regarding the legal requirements for casting calls.
Support HuffPost
Every Voice Matters
Before You Go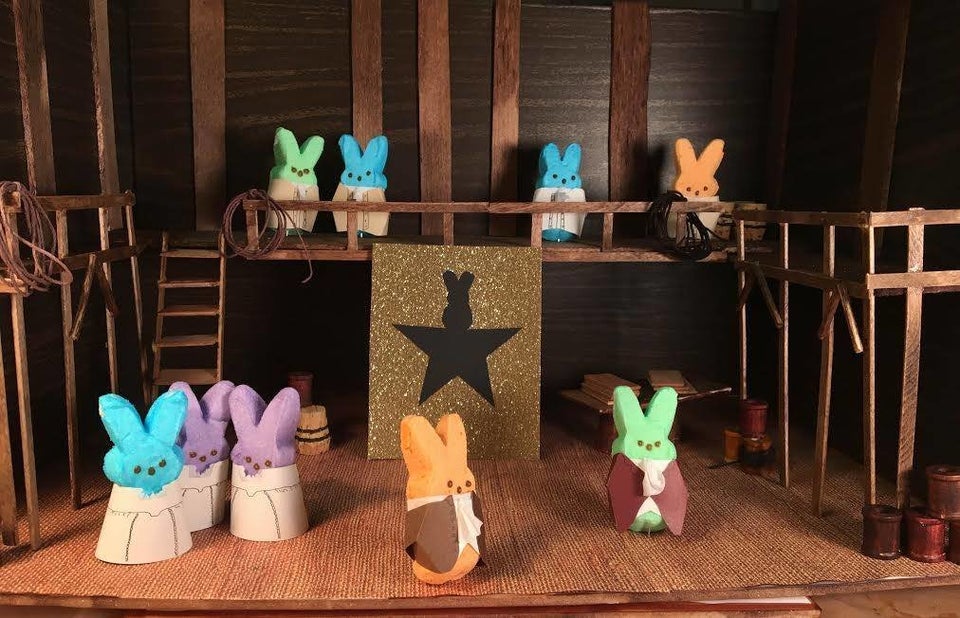 Peeps Re-create Hamilton Because We'll Never Get Tickets
Popular in the Community