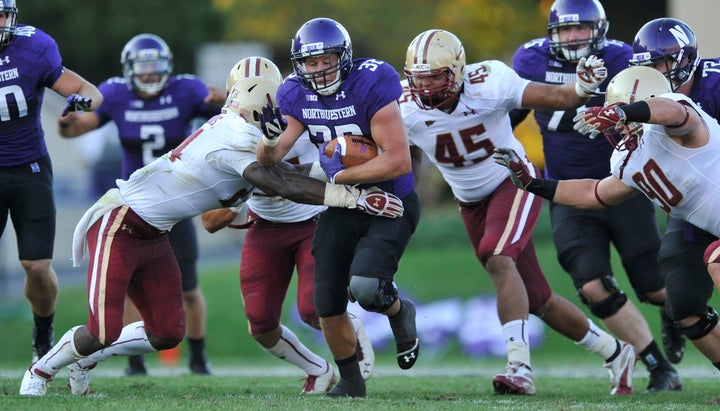 EVANSTON, Ill. -- When 2012's NCAA football schedules were unveiled, seven teams in the nation opened with three Bowl Championship Series automatic-qualifier opponents. Northwestern was one of those schools.
In the third week of the season on Saturday, one of those programs had a chance to stay undefeated: The Wildcats were that team.
With a school-record-tying five field goals from kicker Jeff Budzien, and a late touchdown from running back Mike Trumpy, Northwestern claimed that opportunity, leaving Ryan Field with a 22-13 victory over Boston College.
"I think we've got a hungry team," Head Coach Pat Fitzgerald said. "I think they've got a look in their eye right now that they're embracing improvement. We're in no way, shape or form where we want to be quite yet."
With 2:35 left in regulation, the Wildcats were clinging to a 15-13 fourth-quarter lead. Their stalwart running back, Venric Mark, exited the game with a lower back injury, and the Eagles' defense kept them out of the end zone all afternoon.
That's when Trumpy put any questions to rest, bursting through the heart of the Boston College defense for a decisive 27-yard touchdown run. After missing half of last season with a torn ACL, Fitzgerald was nothing but impressed with the junior's performance.
"It was Mike's turn to pick up the flag and go, and he did that," he said. "I'm really happy and really proud of him."
Northwestern (3-0) was the superior offensive force on Saturday, surpassing Boston College (1-2) on total plays (100 to 65) and total yards (560 to 316). But the Wildcats' rhythm came to a screeching halt inside the red zone. Three first-quarter trips netted 9 points, with Northwestern settling for Budzien field goals of 42, 20 and 29 yards.
Leading 9-3 with just over four minutes left in the first half, the Wildcats were poised to put some distance on the scoreboard. Facing fourth-and-1 at the Boston College 5-yard line, Fitzgerald opted to go for the first down. The move backfired, as quarterback Trevor Siemian botched the snap and the Eagles defense recovered, spoiling a 15-play drive.
Boston College made Northwestern pay for its transgressions, striking back with a 95-yard drive for the game's first touchdown. Eagles quarterback Chase Rettig capitalized on three Wildcats penalties, closing the drive on a 31-yard connection with Johnathan Coleman. But with 98 seconds left before halftime, the Wildcats responded with another productive drive of their own, riding the leg of Budzien to a 41-yard field goal and a 12-10 locker-room lead.
"This team has a different attitude than last year," Budzien said. "The leadership is the best I've ever been around. This team is 'never say die'."
Out of the break, Boston College immediately had the Northwestern defense on its heels, marching down to the Wildcats 5-yard line. But the Eagles lost their way on first-and-goal, thanks to a forced fumble by Wildcats senior defensive tackle Brian Arnfelt. Backed deep into its own territory, Northwestern pieced together a 19-play, 94-yard drive, but was again relegated to a 19-yard field goal by Budzien. On the ensuing drive, the Eagles mirrored the Wildcats' red-zone struggles, trimming the deficit to 15-13 a 34-yard field goal from kicker Nate Freese.
With about four minutes remaining in regulation, Boston College appeared to gain some key momentum. Linebacker Kevin Pierre-Louis ran a blindside blitz, startling Northwestern quarterback Kain Colter for a 10-yard sack that effectively knocked the offense out of field goal range.
"At the end of the day, we're 3-0," Colter said. "We haven't even really played our best football, so that's the encouraging thing. We can go out there and play a lot better. I can play a lot better, and that's something to look forward to."
But the Wildcats' special teams stepped up on the following play. Punter Brandon Williams changed the field position-picture, pinning the Eagles at their own 1-yard line. With little room to breathe and only three minutes left to work with, Rettig and the offense were unable to escape that hole. Northwestern's defense clamped down late, holding Boston College to a three-and-out drive that set the stage for Trumpy's turnaround.
"Nobody else in the conference played three BCS teams and we have," Fitzgerald said. "We knew that we had to improve up front on both sides of the ball for us to win these football games and get us where we needed to go. I don't think we're a finished product by any stretch of the imagination, but that was kind of priority number one."
PHOTO GALLERY
Northwestern 22, Boston College 13
Calling all HuffPost superfans!
Sign up for membership to become a founding member and help shape HuffPost's next chapter
BEFORE YOU GO