In 2012 while cataloging a photograph album complied by Carson Drauker (1895-1971) as part of an NEH-funded ephemera grant, we were first introduced to Bob, the beloved pet of Philadelphia commercial photographer William H. Rau (1855-1920). Work by Rau, whose photographic career spanned five decades, was well-represented in our holdings. We knew he served as photographer for the Pennsylvania and Lehigh Valley Railroads, documented various civic events in Philadelphia, and acquired images taken from around the world to supply his enormous lantern slide business, but Bob was not known to us. Draucker who worked in Rau's studio in the early 1920s, created a personal photo album with shots of friends and family and included this charming page honoring Bob and his owner.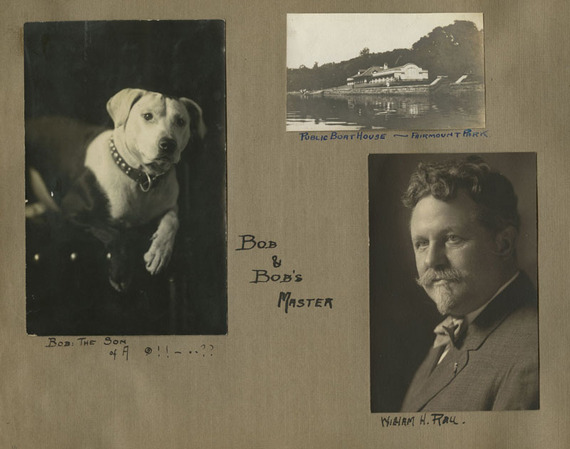 Page from Carson R. Draucker photograph album. Gelatin silver photographs, ca. 1912.
Later in 2012, the Library Company purchased some additional William Rau material at auction, including a number of delightful portraits of Bob. Bob allowed Rau or his associates to dress him up for photography shoots with the resulting images sometimes used to promote Rau's studio. A dapper Bob, for example, celebrated the holiday season with a glass of sherry while making an amusing eye-catching card for Rau.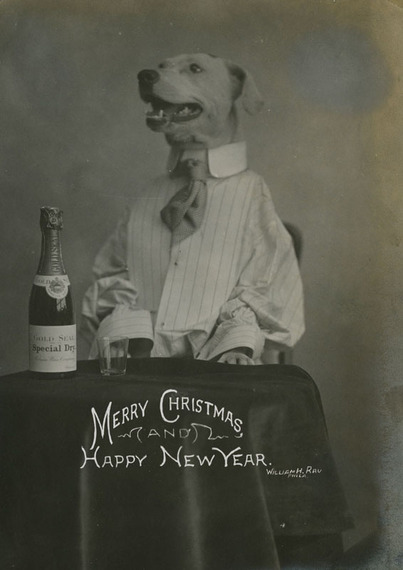 William Rau. Holiday card, gelatin silver photograph, ca. 1910.
Bob dressed up in a protective work apron and posed with a tin oil can on his head in another photograph. Bob also posed a number of times on the pedestal pictured here.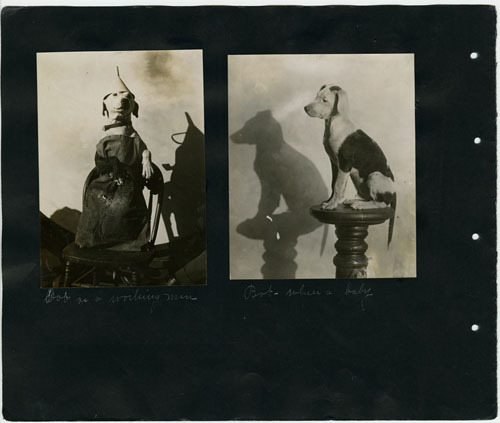 William Rau. Bob as a Working Man and Bob when a Baby,
gelatin silver photographs, ca. 1910.
A photograph of Bob on the pedestal taken from a slightly different angle was printed on postcard stock and used as by Rau as an advertisement for the many services offered by his studio. Another advertising postcard sadly announced the death of Bob at the youthful age of five. Superimposed over the same image of Bob that appeared in Drauker's album is Bob's memorial stone.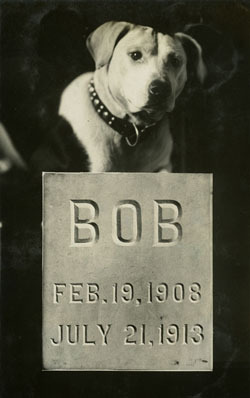 William Rau. Memorial for Bob, gelatin silver photograph advertising card, ca. 1913..
Bob was obviously a cherished companion whose memory will now live on in the Library Company of Philadelphia's collection.
Support HuffPost
The Stakes Have Never Been Higher
Related
Popular in the Community