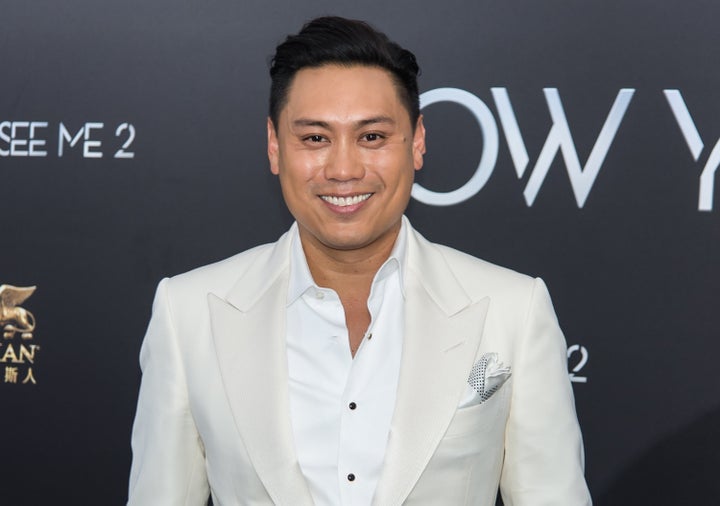 Over the past eight years of the director's career, six of his seven feature-film projects have been sequels or reboots. After "Now You See Me 2" opens this weekend, he'll have had enough. Mostly.
When the original movie's director, Louis Leterrier, bowed out, Chu joined the magic caper with most of the cast intact. Jesse Eisenberg, Woody Harrelson, Mark Ruffalo, Dave Franco, Michael Caine and Morgan Freeman reprised their roles from the 2013 hit, which took in an unexpected $352 million worldwide. Lizzy Caplan replaced a pregnant Isla Fisher, and Daniel Radcliffe came aboard as a villainous tech prodigy who sets the film's bonkers events in motion.
Chu, 36, had sworn off sequels before he was approached to helm "Now You See Me 2," but in a lengthy conversation with The Huffington Post earlier this week, he said he took the project because he was a "big fan" of the original. "I've never worked with a whole cast at that caliber," Chu said. "It's pretty amazing."
"Amazingly unconventional" would be an apt description for Chu's career. While Chu was in film school, Steven Spielberg saw a short he'd made and opted to mentor the young director. From there, a series of starts and stops plagued his early days in Hollywood. Circa 2003, Chu was set to launch his career with a contemporary "Bye Bye Birdie" update, going so far as to meet with several A-listers about the project, including Britney Spears. "Birdie" and several other films fell apart, and it wasn't until Chu landed the gig directing 2008's "Step Up 2: The Streets" that things took off. He has since given the world two Justin Bieber documentaries, a "G.I. Joe" sequel and a "Jem and the Holograms" movie that bombed. And boy, does he have stories from the front lines.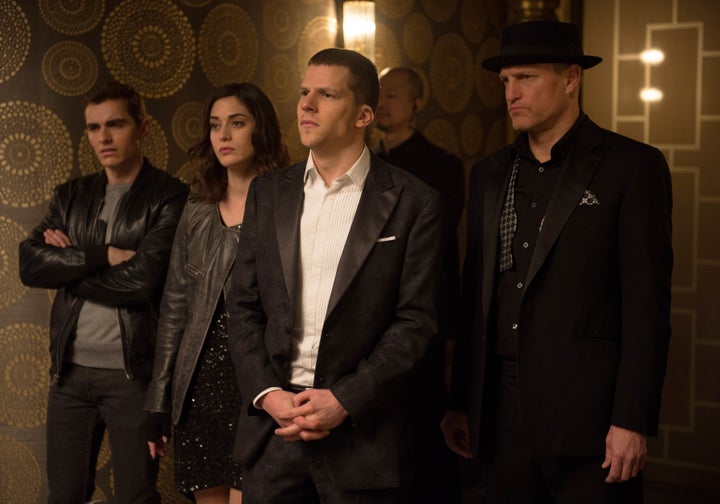 Everyone wants to talk about Justin Bieber.
Chu flew around the world to meet with the original "Now You See Me" cast. He went to Atlanta, where Jesse Eisenberg was shooting "Batman v Superman: Dawn of Justice." He ventured to London, where Mark Ruffalo was shooting "Avengers: Age of Ultron," and Berlin, where Woody Harrelson was making the final "Hunger Games" installment.
"It was intimidating because I'm the guy who did the Bieber movie," he said. "They never want to talk about 'G.I. Joe' -- they just go straight to Bieber."
When a pregnant Isla Fisher dropped out, Chu and screenwriter Ed Solomon concocted a role with Lizzy Caplan ("Mean Girls," "Masters of Sex") in mind. It didn't take much to convince her, and Caplan's rapport with the dudes on set, as Chu explains it, became a contest to see who could make the bawdiest quips. Caplan always won. "I had to cut out more dirty jokes and raunchy things than in any movie I'd ever done," Chu said, referring to the cast's improvisational takes.
Daniel Radcliffe, playing against type as a scoundrel who is no good at magic, did not have the American cast's penchant for ribaldry. "You put Daniel in a group of people who are completely crass, and he's very proper," Chu said. "He's like, 'Oh, my god, what movie am I in?' He made some good attempts."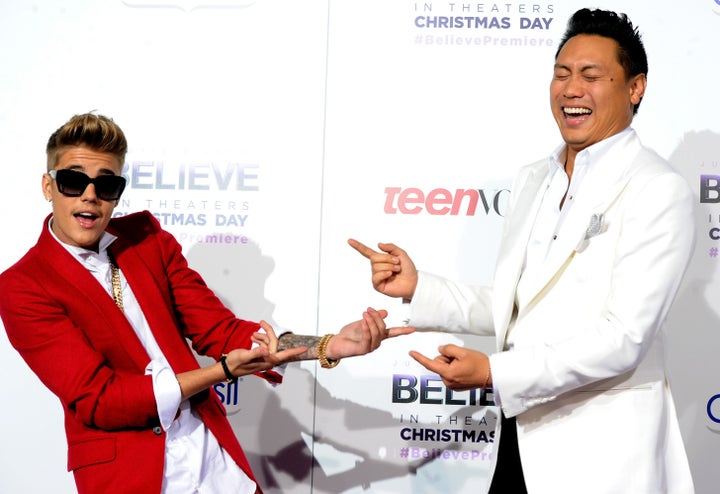 And why wouldn't they want to talk about Bieber?
Chu, who grew up watching Madonna's seminal "Truth or Dare," turned Bieber's burgeoning fame into the highest-grossing concert documentary of all time. After Chu directed two lucrative "Step Up" movies, Paramount Pictures approached him to make 2011's "Justin Bieber: Never Say Never." ("An Inconvenient Truth" and "Waiting for 'Superman'" director Davis Guggenheim, pegged in the industry as an unlikely contender for the job, was originally tapped to direct but dropped out.) Chu didn't know who Bieber was, but he found the 16-year-old's YouTube evolution "fascinating." But in making the movie, Chu realized Bieber hadn't matured enough to have a "perspective" on his stature. Cue a sequel.
"After doing the first one, we always talked about, 'What happens to the kids who this all happens to?' Chu said, referring to the unruly fame the befalls certain child stars. "Even today, Justin and I are always like, 'Well, let's tell more.' Let's follow what happens through time and we can really get in there, because the first one is the origin story and the second one is in this weird transitional period for him."
Does that mean a third Bieber doc is on the way? Chu smiled, responding, "We'll have to see. It's up to him whether he would allow access."
Chu, a celebrity-gossip hound who's found it hard to process the balance between Bieber's public fiascos and the media's prying eviscerations, saw the singer last month when he performed in Brooklyn. Chu went to a club afterward, not knowing Bieber would show up. When the singer spotted him in the crowd, he pulled him into the DJ booth.
"We had this great conversation," Chu recalled. "He was like, 'Jon, I think about you all the time. I want you to know I'm praying for you, and will you pray for me, as well?' It was a very mature, adult conversation. He was like, 'I'm in the best place of my life.' And he looked like it. He was having a good time, but he wasn't out of it or anything."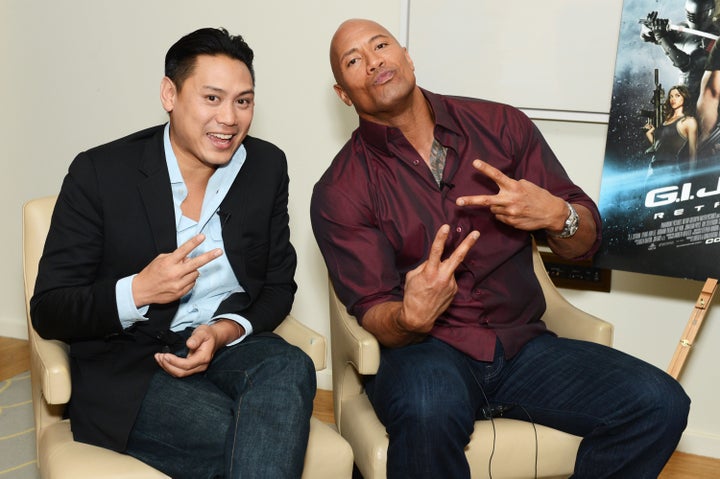 Beyond the Bieber mania, Chu has watched the star market evolve in real time.
After Spielberg saw a short Chu made in film school in 2002, the famed director helped him land an agent and set up meetings with studio execs. He brought him to the set of "The Terminal" to watch Spielberg in action. That led to a slew of projects that, for various reasons, never came to fruition, including a contemporary hip-hop reboot of the musical "Bye Bye Birdie," which was set up at Sony Pictures.
Chu made it far in the "Birdie" development process. Future "The Girl Next Door" and "The Kids Are All Right" scribe Stuart Blumberg wrote a draft of the script, to which Tina Fey later contributed. Chu storyboarded the project and made concept videos showcasing the movie's tone. Circa 2003, the studio encouraged him to meet with actresses to discuss the lead female role, a teenager who wins a contest to meet her favorite music star. Chu sat down with Kirsten Dunst, Katie Holmes, Lindsay Lohan and Britney Spears, among others, before Sony axed the project due to financial concerns. (Chu would love to cast Spears in one of his next movies, for the record.)
Chu had signed a pay-or-play deal, a contract negotiation that has grown increasingly rare. It ensures directors or stars receive their salary even if the studio drops the project. As more of his potential movies stalled, Chu lived off that money, until Disney hired him to direct 2008's "Step Up 2: The Streets." It was originally intended as a direct-to-DVD sequel, and Chu was reluctant. But his mother reminded him he had yet to make a movie, so he agreed, ripping apart a "dark" script that had a "crackhead mom," "drug deals" and hardly any dance numbers. Channing Tatum, who starred in the first "Step Up," wasn't quite the name brand he is now, but the studio knew they needed him to help usher the franchise forward. Chu got him to appear in the movie's opening sequence, and Tatum later volunteered to cameo in Chu's 2013 "G.I. Joe" sequel, despite Tatum's open disdain for the original. "Step Up 2" went on to gross $150.8 million worldwide.
Between the Bieber docs, another "Step Up" flick and the lucrative "G.I. Joe" follow-up, Chu's success was fermented. But it suffered a major setback with last year's "Jem and the Holograms," an adaptation of the 1980s animated series that met critical and commercial failure. Chu struggled with the reception at first, especially seeing the sometimes racist reactions on Twitter, where the noise unfolded in real time. He said he never got a full handle on what went wrong, but he realizes the movie's demographics -- it was marketed to 10- to 12-year-old girls, even though the show's audience was now in their 30s -- never added up.
Along the way, like many directors these days, he's turned down superhero movies, wanting to "experiment" with other genres. He wouldn't reveal which ones he was offered. And anyway, he considers "Now You See Me 2" and "G.I. Joe: Retalliation" superhero movies. (By the way, that comment he made last year about a Hasbro crossover featuring "Jem and the Holograms," "G.I. Joe" and "Transformers"? It was a joke, even though the remark is currently presented with complete seriousness on the "Jem" Wikipedia page.)
"If I'm lucky, I'll have many more failures and many more victories," Chu said. "That's if I get to do this for the rest of my life. I see this as a step in that direction, and I don't let that be the roadblock for me. I definitely had to go through my own thing with ['Jem']. ... My biggest thing was I didn't want the fear of that happening again to ruin my creative flow now because fear is the most poisonous thing to creativity."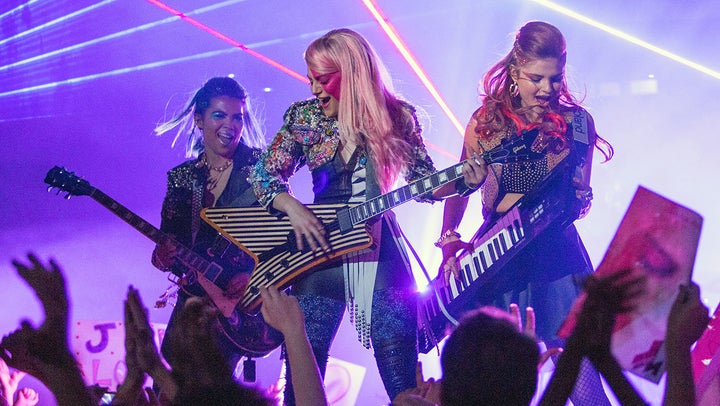 But now, it's on to originals.
Chu appreciates the challenge of stepping into another director's blueprint, but it's time to transition out of franchise properties. That hasn't stopped him from agreeing to make "Now You See Me 3," but the other projects Chu has his eyes on are ones that he can help to originate. He still wants to make a musical, and he said he has one in the works that we "may hear about soon." He's also attached to "Crazy Rich Asians," an adaptation of the well-received 2013 novel about a family of, well, crazy rich Asians.
Chu noted that he's never made an all-Asian project before. (He grew up in San Francisco, but his family came from China.) Amid all of the recent talk of Hollywood's diversity hurdles, he said he's never felt like an outcast, partly because his parents encouraged him as a kid not to dwell on racial disadvantages.
"Now that I'm in a position of more power, I can help build a stronger path or open more paths for people coming down because the need for more different voices is necessary," Chu said. "We need that in this day and age, especially as cinema is gong through these growing pains and figuring out where it lies on the big screen and the small screen. When I watch 'Master of None,' I'm like, 'Oh, my god, these are the voices we need." Those are very important things because they show up in my studio meetings. Whereas those conversations never happened, they're suddenly happening. And not just, 'Oh, throw in a black guy or an Asian guy.'" It's like, 'How can we make this substantial?'"
And what about the "sausage party" in "Now You See Me 2"? Was there no discussion about needing more than one substantive female character?
"We knew we needed Lizzy to own those scenes because it's a dude-fest there," Chu said. "We definitely made jokes about it on set, but I think I didn't fully realize the lack of females until we're literally sitting on set. But that's why Lizzy was great, because she shook that whole thing up. It's weird because sometimes you iinherit those things, and what are you going to do? Kick out Jesse and Dave and put in two other people? At some point, you have eight cast members already there, and what, you're going to add five more? I would think, if we ever got a chance and were lucky enough to do another one, there's definite moves that we can do in that direction."
Before You Go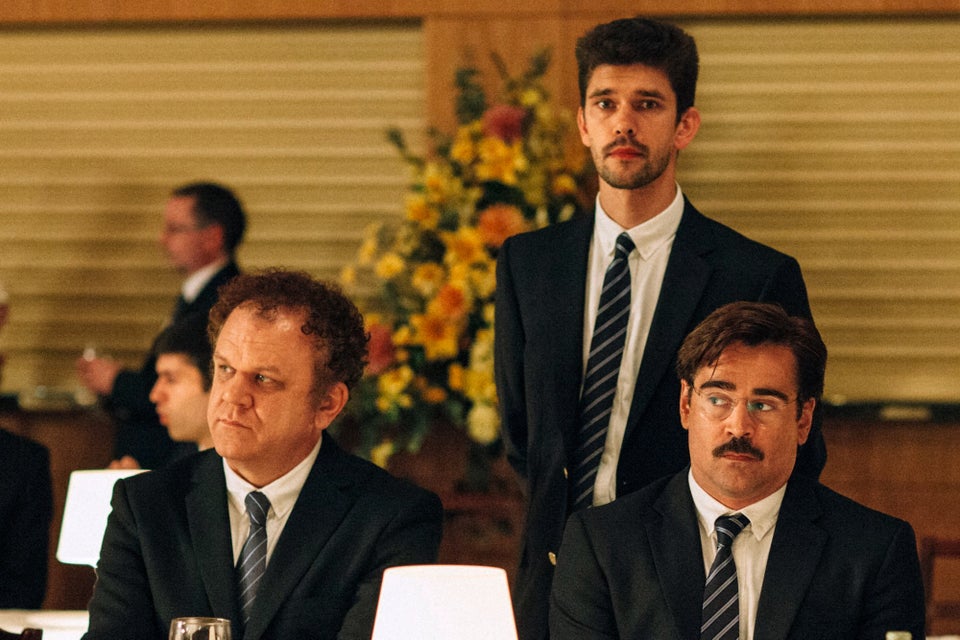 Summer Indie Movie Preview 2016
Popular in the Community