 Guns should not be the focus of public attention following the massacre of children at an elementary school in Connecticut, the top lobbyist for the National Rifle Association said Friday. The real problem, said Wayne LaPierre, the CEO and executive vice president of the organization, is the cultural glorification of gun violence, especially in video games.
"There exists in this country a callous, corrupt and corrupting shadow industry that sells, and sows violence against its own people," LaPierre said at a tense press conference one week after a gunman killed 26 at a Newtown, Conn., elementary school.
As examples, LaPierre singled out a handful of games available on the popular Xbox 360 and PlayStation systems: "Bulletstorm," "Grand Theft Auto," "Mortal Kombat" and "Splatterhouse" -- along with a little-known, Web-only low-tech game created a decade ago called "Kindergarten Killers."
In seeking to deflect attention from firearms to video games, LaPierre implied that virtual weapons were more of a danger to society than real ones -- a point that gun control advocates said is absurd, and social science researchers furiously rebuked.
"We haven't found any evidence to support the notion that exposure to violent video games is linked in any way to an increase in violent acts," said Christopher Ferguson, an associate professor of psychology and criminal justice at Texas A&M International University, who has conducted more than two dozen studies on video game and movie violence. "We've found that people can distinguish between a fictional universe and real life."
LaPierre also made at least one obvious factual mistake: There's nothing "shadow" about the video game industry.
In the past decade, the business of making and selling video games has expanded enormously. In 2011, the last full year available, U.S. gamers spent $17 billion on video games. Movie ticket sales notched $10 billion in sales.
In terms of cultural cache among the core demographic that each industry seeks to reach -- young people -- there's also no contest. Immersive, violent video games that allow players to annihilate entire armies in minutes in blood-splashed shooting rampages have won the financial loyalty of their primarily male teenage and young-adult audience in a big way.
The most popular recent title, "Call of Duty: Black Ops 2" racked up more than $1 billion in sales in its first two weeks on the market for Activision Blizzard Inc., the gamemaker. The movie "Natural Born Killers," in contrast, earned just $50 million at the U.S. box office in 1994, when it was released.
Adam Lanza, the Sandy Hook Elementary School shooter, spent hours each day playing games in the "Call of Duty" franchise, according to published reports. In the wake of the shootings, Activision Blizzard's share price dropped, on fears that the bad publicity would hurt sales. Activision's stock has declined 6.57 percent since the shootings, to $10.66.
Curiously, LaPierre didn't mention "Call of Duty," choosing instead smaller titles likely picked more for their names than their content.
"Mortal Kombat," for example, is a hand-to-hand fighting franchise long past its heyday of the 1990s. It is certainly violent. One "kill move," for example, allows a player to rip out his opponent's heart. But its characters mostly use feet and fists. After an acquisition, the franchise is now owned by Warner Bros. Interactive Entertainment Inc., a division of Time Warner. On its Web site, Warner Brothers Interactive doesn't mention "Mortal Kombat," promoting instead a slate of exclusively kid-oriented fare, such as "Looney Toons: Back in Action" and "Scooby-Doo: Mystery Mayhem."
Another title mentioned by LaPierre was "Splatterhouse," a 2010 release by the Japanese company Namco Bandai Games. While unquestionably in poor taste -- players hack up opponents with meat cleavers and chainsaws -- it, too, doesn't feature firearms.
An eager gamer may shoot virtual bullets galore, though, in the appropriately-titled "Bulletstorm," a sci-fi shooter released in 2011 by North Carolina-based Epic Games. It attracted controversy on release, not so much for the run-of-the-mill alien blasting, but for the frat-boy dialogue "saturated with references to male genitalia." One scoring combination is called a "gang bang."
The company is privately held and did not immediately return a request for comment.
"Grand Theft Auto," published by a division of Take-Two Interactive Software, is perhaps the game franchise most targeted by critics as celebrating violence and the criminal lifestyle. It does both quite well: players murder, steal, hijack cars with abandon and use sniper rifles to pick off police officers. (Also, weirdly, the game allows players to practice yoga, compete in triathlons, or play tennis.)
Take-Two shares have slipped 13.36 percent to $11.36 over the past five days.
Epic Games didn't respond to a request for comment. Take-Two referred a query to the Entertainment Software Association, a trade group. The organization did not reply to a request for comment.
According to lobbying disclosures, the trade group spent $1.25 million lobbying in the last quarter, with efforts mostly focused on combating piracy.
LaPierre singled out a low-tech title called "Kindergarten Killers" for special attention.
"It's been online for 10 years," said LaPierre. "How come my research department could find it and all of yours [the news media, presumably] either couldn't or didn't want anyone to know you had found it?"
The game allows a player to wage a gun battle against armed children, who, according to the game summary, took up arms after the player "accidentally" shot a teacher. According to Buzzfeed, it appeared first on Newgrounds in 2002, at the time a haven for intentionally shocking material that poked fun at Teletubbies and other pop culture icons. The concept is certainly offensive, but it lacks the realism and graphic violence that are a hallmark of today's sophisticated military-style games. It is tasteless, but also really lame.
LaPierre didn't take questions at the press conference, and didn't say whether he would support additional restrictions on the sale of video games. (Some titles are restricted to ages 18 and above). Indeed, his castigation of video games, Hollywood and the news media for glorifying violent behavior was prelude to his main proposal: sending armed guards into every U.S. school.
"If we truly cherish our kids more than our money or our celebrities, we must give them the greatest level of protection possible and the security that is only available with a properly trained -- armed -- good guy," he said.
There were two armed officers at Columbine High School during the assault by Eric Harris and Dylan Klebold in 1999 that left 15 dead and 23 wounded. They were outgunned by the assailants.
Related
Before You Go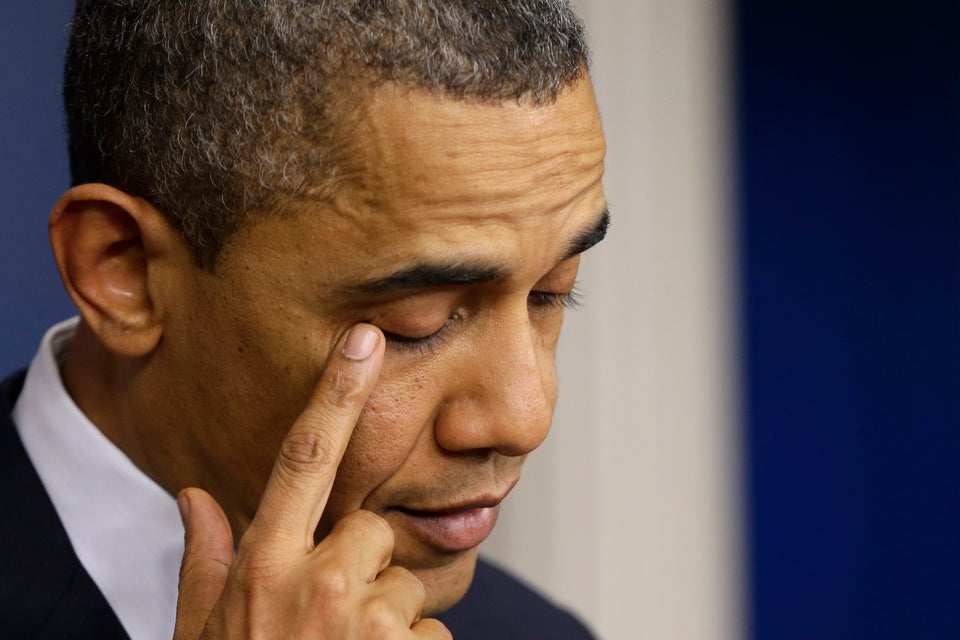 Five Years, 19 Mass Shootings, No Action
Popular in the Community