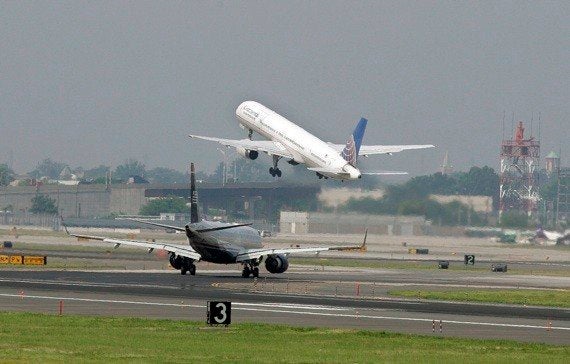 NEWARK, N.J. -- The five main New York City-area airports will be closed to arriving passenger flights beginning at noon on Saturday because of Hurricane Irene, aviation officials said.
The Port Authority of New York and New Jersey, which operates the airports and area bridges and tunnels, said Friday that many weekend departures already had been canceled in anticipation of the hurricane.
Hundreds of flights could be affected, Port Authority spokesman Steve Coleman said. The airports handle about 3,000 flights each day on average during the week, fewer on weekends, he said.
The suspension affects John F. Kennedy International and LaGuardia airports in New York City, Stewart International in the city's northern suburbs and Newark Liberty International and Teterboro in New Jersey. It applies to domestic and international flights.
Kennedy, LaGuardia and Newark are among the busiest airports in the nation. Together, all five airports serve 1.2 million flights and 104 million passengers a year.
The Port Authority said Friday it was taking the action to avoid stranding passengers at the airports when the region's mass transit systems won't be running because of the hurricane threat.
"People would get in and not be able to get anywhere," Coleman said. "We don't want people stranded at the airports."
He said a decision about whether to ground all flights likely would come Saturday afternoon from the Federal Aviation Administration.
REAL LIFE. REAL NEWS. REAL VOICES.
Help us tell more of the stories that matter from voices that too often remain unheard.