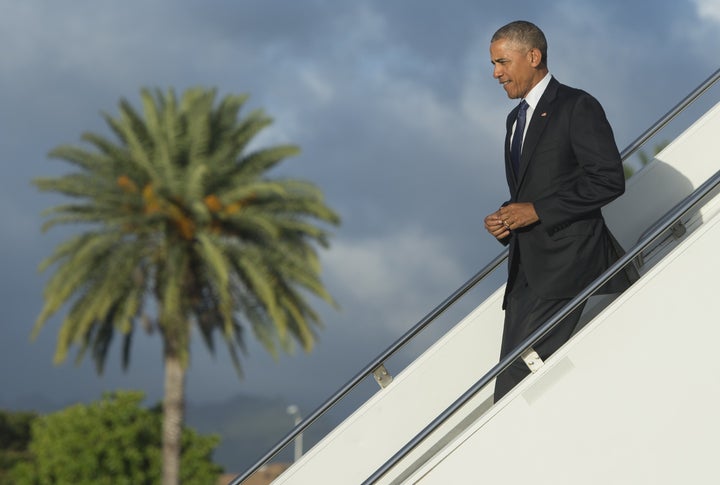 WASHINGTON ― President Barack Obama on Thursday will announce $40 million in programs to help island nations and other communities vulnerable to climate change.
Obama addressed the Pacific Island Conference of Leaders and the World Conservation Congress in Honolulu on Wednesday night. On Thursday, he is speaking from the remote coral reef Midway Atoll, where he will announce programs to both help nations react to climate-related changes and relocate people when it becomes necessary.
After the Midway visit, Obama is heading to China to attend the G20 summit this weekend ― where he and Chinese President Xi Jinping are expected to formally join the climate agreement reached in Paris last year. 
The Pacific announcement on Thursday "shows the administration's ongoing commitment to not only working with the large emitters ― the world's largest, in the case of China ― but also importance of working with some of the smallest and most vulnerable in the world," a White House official, speaking on background ahead of the announcements, told The Huffington Post.
The new programs include a new USAID Climate Ready Program, which will direct $9 million toward helping governments develop policies that "promote resilience, enhance access to climate finance, and improve national capacity to manage and monitor adaptation programs." Those countries include Micronesia, Fiji, Kiribati, Nauru, Palau, Papua New Guinea, the Republic of the Marshall Islands, Samoa, Solomon Islands, Tonga, Tuvalu and Vanuatu.
The U.S. also said it would direct up to $5 million to Pacific regional organizations through the Institutional Strengthening in Pacific Island Countries to Adapt to Climate Change (ISACC) program, and $15 million toward disaster-risk reduction initiatives in the region.
The White House's Council on Environmental Quality will also co-host a "Symposium on Climate Displacement, Migration, and Relocation" in December 2016 in Hawaii.  
The White House official said the efforts signal that the Obama administration is prioritizing helping countries adapt to climate shifts already underway, rather than just focusing on efforts to cut emissions driving the problem. "These announcements are a sign that we are not only not shying away from that conversation, but we're actively embracing it," said the official. 
The official said that the symposium discussion will also focus on climate relocation and adaptation needs in the U.S., where Alaskan native villages and coastal Louisiana communities are already working on relocation due to erosion and sea level rise. "We will be talking about our issues as well," he said.
"I think there's both a realization of what's happening, and the pace at which climate change is forcing these conversations. That grows every year, and every month as we see the impact of climate change," said the official. "I think the goal that we set out last year in Paris to attempt to limit climate change to well less than 2 degrees in terms of temperatures rises ― even in that world there will be major relocations and dislocations."
The announcement "builds on the deep partnership that President Obama forged with island leaders when they worked together on the historic Paris agreement last year," said Brian Deese, senior adviser to the president, in a statement. "As the President told Pacific Island leaders last night, their leadership was a key part of reaching a global climate agreement, and our partnership going forward will be a key part of winning the fight against climate change."
Calling all HuffPost superfans!
Sign up for membership to become a founding member and help shape HuffPost's next chapter
BEFORE YOU GO
PHOTO GALLERY
How Climate Change Could Affect The Housing Market