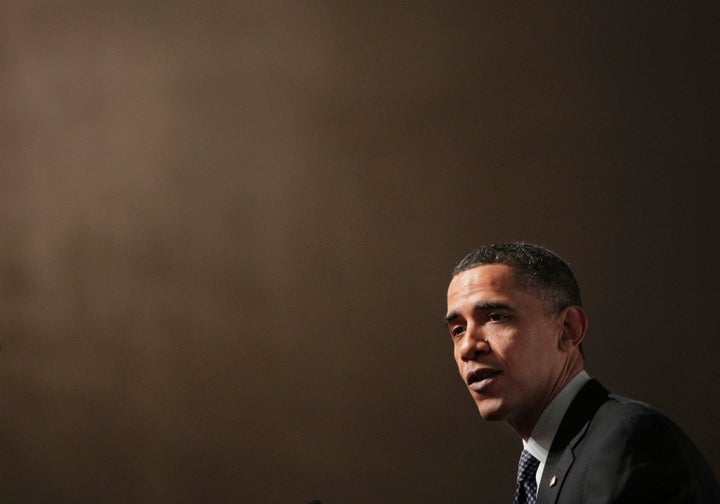 WASHINGTON -- President Barack Obama said he thinks the courts will decide "fairly soon" whether to end the Defense of Marriage Act, hinting that he believes the courts will agree with his administration that the law is unconstitutional.
"The position that my administration has taken, I think, will have a significant influence on the court as it examines the constitutionality of this law," he said Wednesday at a roundtable with latino news outlets. "Once that law is put down -- and I don't know what the ruling would be -- addressing these bi-national issues could flow from that decision."
The president announced in February that his administration would no longer defend the Defense of Marriage Act, which bans gay marriage at a federal level, because he believes the law is unconstitutional.
HuffPost Latino Voices asked Obama at the roundtable how his administration would address bi-national couples, gay and lesbian men and women who want to petition for legal status for their foreign-born partners. Under the Defense of Marriage Act, these men and women are barred from doing so, even if they are legally allowed to marry in their state.
The law also bars gay and lesbian men and women from federal benefits for marriage and allows states to block them from getting married. Obama said he cannot comment on how the current cases against DOMA will be decided, but said he believes the law should be repealed.
"I can't comment on where the case is going to go, I can only say what I believe, and that is that DOMA doesn't make sense, it's unfair, I don't think it meets the demands of our constitution," he said.
Obama said he supports ending the Defense of Marriage Act through Congress, but thinks the likelihood of passing such a repeal is unlikely because of heavy opposition from the Republican-controlled House of Representatives.
"The likelihood of us being able to get the votes in the House of Representatives for a DOMA repeal are very low at this point," he said. "Truthfully, the recourse through the courts is probably going to be the best approach."
Still, there is some possibility for reprieve for bi-national couples. The Obama administration announced in August it would close some deportation cases based on family ties to the United States, including whether the man or woman is in a long-term, committed partnership or marriage. Senior administration officials confirmed that gay and lesbian immigrants would be included in this policy.

Popular in the Community