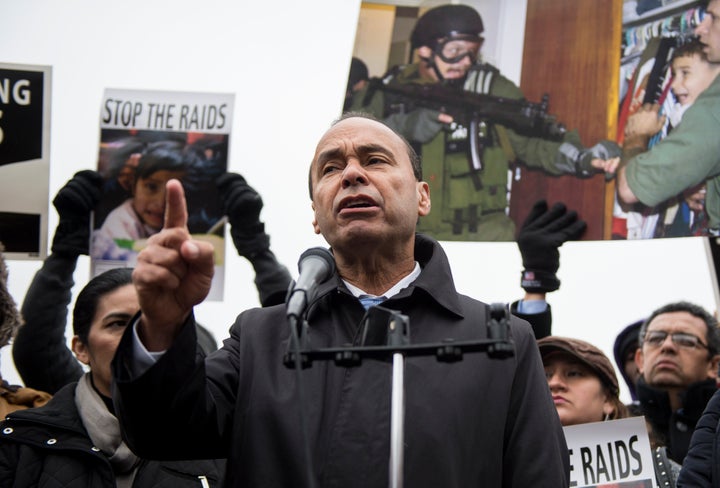 WASHINGTON -- When President Barack Obama comes to Congress on Tuesday for the State of the Union, he'll be facing a bit of insurrection within his own party.
A number of Democrats on the Hill are outraged with the administration's recent deportation raids on women and children, and drew the White House's attention enough for a visit from one his advisers the day of the big speech.
It's a conflict that threatens to break wide open as the Democratic presidential candidates have, likewise, grown critical of the president. And it's one that lawmakers expect to eventually win.
Senate Minority Leader Harry Reid (D-Nev.) told reporters in an afternoon press conference Tuesday that he had spoken to Homeland Security Secretary Jeh Johnson at 12:30 p.m., and "he understands the concern we have and I think we're moving forward to a resolution of this."
"I think you're going to find a pause in these deportations," Reid said.
Reid's office later said he meant that he hoped there would be a pause, and White House and Department of Homeland Security officials did not respond to requests for comment on whether the administration will stop the raids, which have so far picked up at least 121 individuals who had a removal order from a judge and entered the U.S. after May 1, 2014. Earlier Tuesday, when White House Counsel Neil Eggleston came to the Capitol to talk to House Democrats, he made no mention of a change in policy, according to members who attended.
Still, Reid's remarks highlight a growing tension on Capitol Hill between Obama and Democrats over deportation, an old wound that has reopened in light of the raids.
More than three-quarters of the House Democratic caucus -- 146 of the 188 total -- signed onto a letter Tuesday condemning recent efforts to expel certain mothers and children. Legislators, led Democratic Reps. Luis Gutierrez of Illinois and Zoe Lofgren and Lucille Roybal-Allard of California, argued in the letter that the raids "should be immediately suspended until we can ensure no mother or child will be sent back to a country where they would face persecution, torture or death."
The administration says it is simply following the deportation priority guidelines that many Democrats applauded: focusing on criminals, national security threats and recent border-crossers.
To some pro-immigration reform Democrats, though, the raids harken back to when Obama was called the "deporter-in-chief" over high removal numbers in the first years of his presidency. Since then, the president proposed and fought for measures that would allow certain undocumented parents and young people who came to the U.S. as children to remain in the country, and regained a reputation as a champion of undocumented immigrants.
His administration's response to a 2014 surge in the number of apprehensions of mothers and children has damaged some of that goodwill. And those apprehensions are on the rise again.
Gutierrez said the news of the raids was "perplexing" because he and other Democrats have spent more than a year explaining the administration's policies to the undocumented population and saying they did not need to be afraid.
"Just when there was a sense of trust that we were on the right foot, this leak came out on Christmas Eve," he said at a press conference. "It's really been destructive to the relationship between the White House and not just the members of the House of Representatives ... but the people in general in the community."
Democratic presidential candidates have joined the calls for deportation raids to stop, with former Secretary of State Hillary Clinton, Sen. Bernie Sanders (I-Vt.) and former Maryland Gov. Martin O'Malley urging the administration to change course.
Critics of the raids argue that the women and children in question should be lower priority than criminals, and deserve protection given the poor conditions in their home countries. The signatories of the letter are asking for temporary protected status eligibility to be extended to people from Honduras, El Salvador and Guatemala, which would allow many of the families to avoid deportation. In the letter, Democratic members said the administration's overall response to problems in Central America seems to have an "emphasis on deterrence rather than the need for a regional refugee solution."
"At this point, our policy will remain the same," Press Secretary Josh Earnest said on Monday when asked if the administration was considering temporary protected status.
The Board of Immigration Appeals stopped the deportation of 12 families who were picked up in the initial raids after attorneys filed for stays of removal to appeal their removal decisions, according to Lindsay Harris of the American Immigration Council and CARA Project, which is assisting the families. Attorneys argue this shows that many of the women and children do have a case for relief, even if they failed to file an appeal previously because they were unsure how or didn't have representation.
House Judiciary Committee Chairman Bob Goodlatte (R-Va.), a top Republican on immigration matters, wrote to Attorney General Loretta Lynch on Monday saying the "stays appear to be an abuse of authority and an affront to the rule of law." He urged Lynch to rescind the stays so the families could be deported.
The Obama Administration's Controversial Use Of Family Immigrant Detention
Popular in the Community