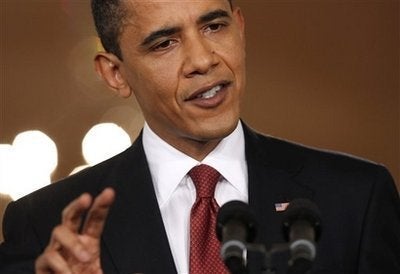 For the first time since his inauguration, President Barack Obama is flexing his electoral muscle, urging supporters to organize and vote for New York Democratic congressional candidate Scott Murphy.
In an email signed by the president and sent to DNC and Organize for America activists in and around the state's 20th congressional district, Obama touts Murphy as having the "kind of experience and background" needed in Washington.
"Today I'm announcing my support for Scott Murphy, candidate for New York's 20th Congressional District," the email reads. "He's created jobs by building and growing small businesses while bringing people together to address difficult challenges. He supports the economic recovery plan we've put in place, and I know we can count on him as an ally for change.
"To restore our economy and build a foundation for lasting prosperity, I'll need Scott's help. This week, Scott needs yours. Sign up and pitch in to elect Scott Murphy to Congress."
The email, which should reach more than 50,000 people, represents the first time the president has extended his vast political capital in an electoral context. Obama offered limited assistance for Jim Martin's runoff election in Georgia, but that took place during the presidential transition. Prior to the Murphy email, Organize for America has utilized its expansive list of followers to organize in support of the president's stimulus package and budget.
Murphy, a longtime Democratic hand and businessman, is in a tight race with Republican candidate Jim Tedisco to take over the seat vacated by New York Senator Kirsten Gillibrand. The special election in the Republican-leaning district will take place on Tuesday, March 31. Polls show the Murphy campaign closing the gap after trailing by more than double digits just weeks ago.
Hoping to Murphy candidate over the finish line, the Democratic National Committee is also planning on donating $5,000 to his campaign, a source with knowledge of the race told the Huffington Post.
Below is the Obama email in full.
FIRSTNAME,

I'm writing to you now because you have the opportunity to make a big impact on my efforts to bring about a lasting economic recovery.

Today I'm announcing my support for Scott Murphy, candidate for New York's 20th Congressional District.

On Tuesday, March 31st -- just one week away -- voters will have the chance to send Scott to Congress, where we'll work together to get our economy moving in the right direction.

Volunteer this week and help in the final push to send Scott Murphy to Congress.

Scott has the kind of experience and background we desperately need right now in Washington.

He's created jobs by building and growing small businesses while bringing people together to address difficult challenges. He supports the economic recovery plan we've put in place, and I know we can count on him as an ally for change.

To restore our economy and build a foundation for lasting prosperity, I'll need Scott's help. This week, Scott needs yours.

Sign up and pitch in to elect Scott Murphy to Congress:

What you do now can make all the difference as we work in the coming weeks and months to lead our country in a new direction.

Thank you,

President Barack Obama
Popular in the Community