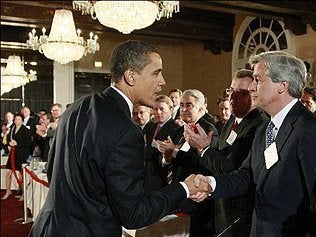 As you may have heard, the White House is responding to the loss of a single Senate seat with an elaborate display of panicked populism that basically involved Robert Gibbs repeating the phrase "anger and frustration of the American people" as many times as possible.
Against that backdrop, I imagine you'd love to know who President Barack Obama is lunching with today at the White House. According to today's pool report, it's a gaggle of real lunch-pail types!
--Mort Zuckerman, Boston Properties
--Ed Rust, State Farm Insurance
--Shelly Lazarus, Ogilvy & Mather Worldwide
--Jim Hackett, Anadarko Petroleum
--Jamie Dimon, JPMorgan
--Rex Tillerson, ExxonMobil
Just a ho-hum bunch of everyday Americans, straight up jawin' about kitchen table budgets and junk!
Popular in the Community