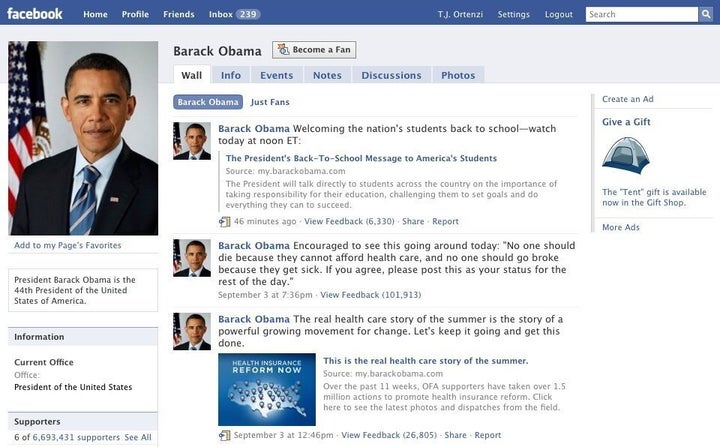 ARLINGTON, Va. (AP) - President Barack Obama went forward with a controversial speech to students nationwide Tuesday, preceding it by advising young people at a suburban Virginia school to "be careful what you post on Facebook."
"Whatever you do," he told them, "it will be pulled up later in your life."
Wakefield High School in suburban Arlington, Va., was the host school for Obama's talk, which has gotten poor reviews in advance from conservative groups and individuals accusing him of stepping too far into local education.
Obama, accompanied by Education Secretary Arne Duncan, met with some 40 students gathered in a school library before giving the speech that was to be carried on ESPN and on the White House Web site to young people restarting school across the country.
"When I was your age," Obama added, "I was a little bit of a goof-off. My main goal was to get on the varsity basketball team and have fun."
The uproar over his speech followed him across the Potomac River, as his motorcade was greeted by a small band of protesters. One carried a sign exclaiming: "Mr. President, stay away from our kids."
During his meeting inside with students, one young person asked why the country doesn't have universal health insurance. "I think we need it. I think we can do it," Obama replied.
The president said the country can afford to insure all Americans and that doing so will save money in the long run.
Repeating remarks he prepared for the address to students across the country, Obama said young people should "stay focused, find something you're passionate about."
Obama is not the first president to give such a school-opening talk, but his plans seemed to almost immediately get plunged in controversy. Critics accused him of overstepping his authority, and school districts in some areas decided not to provide their students access to his midday speech.
Duncan acknowledged again Tuesday that some prepared guidance for school officials included a suggestion that students could compose essays stating how they could help support Obama and his causes -- an idea the education secretary acknowledged was wrongheaded.
In conversation with the Wakefield students, Obama said that not having a father at home "forced me to grow up faster."
One young person asked the president whom he would choose to dine with if he could make only one such selection.
"Ghandi," Obama replied. "He's somebody I find a lot of inspiration in. He inspired Dr. (Martin Luther) King" with his message of nonviolence.
"He ended up doing so much and changed the world just by the power of his ethics," Obama said of the inspirational leader Mahatma Ghandi. At another point, Obama told the students that "a lot of people are counting on me."
Obama proceeded later with the speech the White House had released a day early, virtually unchanged. The school he chose as the setting for his talk -- Wakefield -- is the most economically and racially diverse school in Arlington County, according to the Department of Education. Nearly 40 percent of graduating seniors pass an Advanced Placement test. That's more than twice the national average.
"There is no excuse for not trying" he said in the speech. He said students must be individually responsible for their education, and that it's important to work hard, pay attention in school and complete assignments.
"Whatever you resolve to do, I want you to commit to it," Obama said. "The truth is, being successful is hard. You won't love every subject that you study. You won't click with every teacher that you have."
Duncan earlier Tuesday said the administration thinks it's critically important that something be done quickly to improve graduation rates in the United States, saying the performance of the younger generation can have a make-or-break impact on the ability of the United States to achieve things in the increasingly competitive global economy.
Obama makes no reference in his prepared remarks to the uproar surrounding his speech. Nor does he make an appeal for support for tough causes such as his health care overhaul. He uses the talk to tell kids about his at-times clumsy ways as a child and to urge them to set goals and work hard to achieve them.
"I think it is a very good speech," Loudoun County, Va., school superintendent Edgar Hatrick told WTOP News in Washington, "but it's just not on the first day of school very convenient for everybody to stop in the middle of lunch and to stop everything else they're doing and hear the live broadcast."
Pittsburgh Public Schools Superintendent Mark Roosevelt told KDKA Radio: "If the president wants to speak to the students of America and talk about the importance of academic achievement and working hard, that is a wonderful thing and ought not to be the subject of debate."
Duncan, in an interview Tuesday on MSNBC, said the controversy wasn't merited, but he also acknowledged that guidance the administration sent to schools about how kids could participate Tuesday could have been better worded.
In his talk, Obama says: "At the end of the day, we can have the most dedicated teachers, the most supportive parents and the best schools in the world, and none of it will matter unless all of you fulfill your responsibilities."
Some conservatives had called on schools and parents to boycott the address, saying Obama was using the opportunity to promote a political agenda. Schools don't have to show the speech. And some districts have decided not to, partly in response to concerns from parents.

Related
Popular in the Community