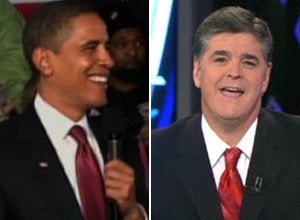 HANNITY RESPONDS, UPDATE BELOW
At his economic town hall in Elkhart, Indiana Monday morning, President Obama was confronted by an audience member who believes he ought to have a beer with Sean Hannity.
"I'm one of those that thinks you need to have a beer with Sean Hannity," said Tara, who had asked Obama a question about his Cabinet picks' tax issues.
"I didn't know that he had invited me for a beer," Obama said after responding to her question. "I will take that under advisement. Generally, his opinion of me does not seem to be very high, but I'm always good for a beer."
"Obama mentioned me at this event today," Hannity said on his radio show this afternoon. "It seems like he's opened the door that he wants to meet with me."

"Now if he does, I would go on your behalf," Hannity added.