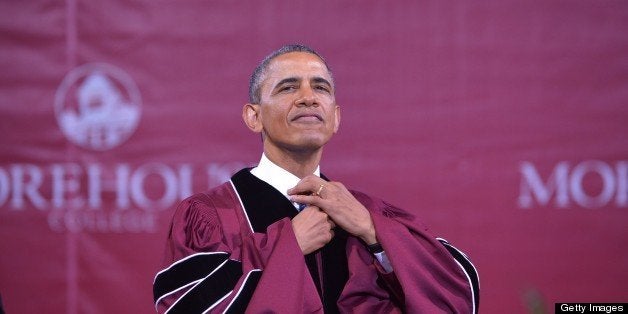 By John Hope Bryant, chairman, Operation HOPE, and Ambassador Andrew J. Young, chairman, Andrew J. Young Foundation
It's hard to evaluate the impact of a commencement speech.
George Marshall (1944) announced the Marshall Plan at Harvard University and changed the world in 20 minutes.
Tom Mboya, as a 29 year-old young African (Kenyan) leader in 1959, at Howard University helped inspire the American sit-ins by his presence alone. Walter Young was in that graduating class from Howard University's dental school.
Jimmy Carter gave the Morehouse commencement as governor of Georgia, and said as he received his honorary degree in 1975, that he expected he would be the first Morehouse man as president (of the United States), but "I promise you I will not be the last."
Obama by his own appearance, as President of the United States, in front of 10,000 graduates, family and alumni on a rainy day in Georgia fulfilled that promise, but may have also inspired a new generation of leaders to return to, and to rebuild their own communities; and their own families too. The president did a good job connecting to this new generation of young people.
In today's complicated political and economic environment, nothing truly significant can happen in just one generation. Obama lit a fire for generations to come.
Together we have done enough commencements to realize that the challenge of any commencement is singular -- to connect with the graduates. Which is a difficult assignment in 20-30 minutes, when people are mainly interested in receiving their diplomas.
Meanwhile, while the president spoke 'father-to-surrogate-son' at Morehouse, a day later, Valerie Jarrett, the president's right hand, spoke 'sister-to-sister' at Clark Atlanta University's commencement. Both were more warmly embraced than any commencement speaker of recent times, and succeeded in sharing the soul struggles of their youth, without unnecessarily trumpeting their obvious success. Showing up and reflecting both their plight and their promise inspired a generation of young leaders to deal with the challenges of the future.
The president reached back to the mantra of Dr. Martin Luther King Jr. and Dr. Benjamin Mays, and identified it with his own life.
Every Morehouse man thrives on a quote passed down from Dr. Mays, to King to even Mayor Maynard Jackson, and echoed on this day by President Obama to these Morehouse Men"... a tiny little minute, just 60 seconds in it. I didn't choose it, I can't refuse it -- it's up to me to use it."
He was quoting and constantly locking himself into the Morehouse legacy of Benjamin Mays and Martin Luther King Jr. The president skillfully attached himself to these great men, through his talk with these 400 young black Morehouse men.
What some ultra-liberals call pandering was actually the educational model that produced Bob Johnson of JET, Lerone Bennett of Ebony, and others from Dr. King's graduating class. If that's pandering, it worked pretty well for the last century, and we probably need a lot more of it.
As one of the authors here (Young) was a senior aide and strategist to Dr. King in the civil rights movement, a movement that helped to "redeem the soul of a nation" and change America too, we can speak with some moral authority here. We can say without reservation that this generation of young black men were not victims coming out the south -- but were raised as change agents. We were never brought up to believe that the government was our savior. At most the government was our partner for change.
In 1964, when Dr. King and Andrew Young left President Lyndon Johnson late one night, after hearing the president explain why he could not introduce voting rights legislation, Johnson concluded with the phrase, "The president doesn't have as much power as you think." When they left, Dr. King was not discouraged. When Young said what do you think, Martin (King) said "I think we have to go get this president some power." This was mid-December, and by Jan. 2, 1965, they were marching in Selma. By the end of the march, Johnson was introducing the very voting rights act that he previously said he had no to power to do. It was this Morehouse tradition that President Obama was laying claim to: a challenge to young leaders, not to wait for government, but to help the president get some power in the midst of the challenges of our time.
The president does not give the people power. The people give the president power.
Benjamin Mays, president of Morehouse for almost 30 years, understood that tradition better than anybody. He said -- and I quote -- "It will not be sufficient for Morehouse College, for any college, for that matter, to produce clever graduates -- but rather honest men, men who can be trusted in public and private life -- men who are sensitive to the wrongs, the sufferings, and the injustices of society and who are willing to accept responsibility for correcting (those) ills."
The president went on to quote the Morehouse creed:
"I understand there's a common fraternity creed here at Morehouse: 'Excuses are tools of the incompetent used to build bridges to nowhere and monuments of nothingness.' Well, we've got no time for excuses. Not because the bitter legacy of slavery and segregation have vanished entirely; they have not. Not because racism and discrimination no longer exist; we know those are still out there. It's just that in today's hyperconnected, hypercompetitive world, with millions of young people from China and India and Brazil -- many of whom started with a whole lot less than all of you did -- all of them entering the global workforce alongside you, nobody is going to give you anything that you have not earned. (Applause.)"
"Nobody cares how tough your upbringing was. Nobody cares if you suffered some discrimination. And moreover, you have to remember that whatever you've gone through, it pales in comparison to the hardships previous generations endured -- and they overcame them. And if they overcame them, you can overcome them, too (Applause.). "

"You now hail from a lineage and legacy of immeasurably strong men -- men who bore tremendous burdens and still laid the stones for the path on which we now walk. You wear the mantle of Frederick Douglass and Booker T. Washington, and Ralph Bunche and Langston Hughes, and George Washington Carver and Ralph Abernathy and Thurgood Marshall, and, yes, Dr. Martin Luther King Jr. These men were many things to many people. And they knew full well the role that racism played in their lives. But when it came to their own accomplishments and sense of purpose, they had no time for excuses."
I'm afraid the critics of the speech have not read the speech, and have merely been critical of the way the speech was reported by the media. Because many of the people who have been critical are just too smart to have missed the brilliant clarion call of this message, and this speech. But whatever they think, there were nearly 10,000 who sat out in the rain, and they met every challenge by the president with constant standing ovations.
The president did not come as Commander In Chief, he came as Father In Chief. And clearly, anyone who understands these demanding times knows that the challenges of family life we face today are more critical to the future of this nation than the present confusion that dominates the Congress. Not that these are not important, but none of the problems the president and our nation faces can be solved in one generation. And the president is wisely marshaling a new generation of men to take on the challenges of the future.
He was recruiting his successors to continue to do battle in this promised land. Remember Rudyard Kipling's "If": "If you can keep your head when all about you are losing theirs and blaming it on you, if you can trust yourself when all men doubt you, yet make allowance for their doubting too.......then you'll be a man my son."
At the 2013, Morehouse Commencement, President Barack Obama by his presence and example, has shown himself to be the man of our times. He has kept his head when everyone around him has been losing theirs, and blaming all our problems on him.
Calling all HuffPost superfans!
Sign up for membership to become a founding member and help shape HuffPost's next chapter