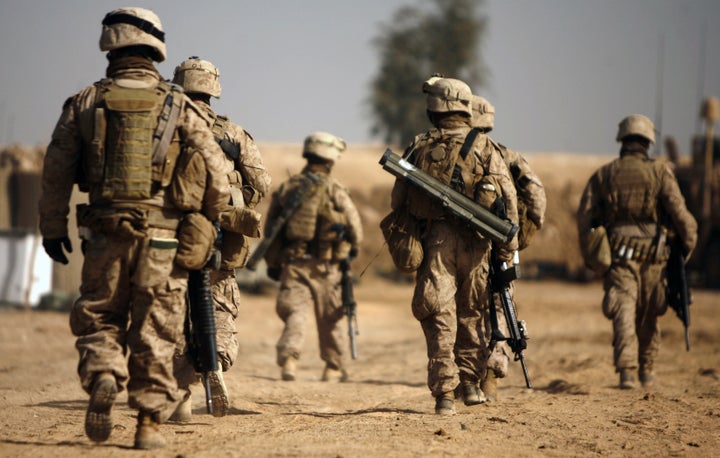 Members of Congress with any inclination to balk at President Obama's massive emergency war-funding request have found their case strengthened by two recent reports that question many of the administration's key premises and assumptions.
Just for starters, there's the lack of an exit strategy, signs of a slipping timeframe for troop drawdowns and the mixed results thus far of the troop "surge." There's also the matter of seemingly unrealistic goals for training Afghan security forces, poor planning of infrastructure projects, pervasive corruption within the Afghan government and the lack of contracting oversight. Finally there's the concern that some of the individual funding requests seem inflated, in certain areas the Pentagon isn't spending the money it already has and billions of dollars in requests don't appear to genuinely qualify as emergency spending -- the only thing Obama vowed he would ever use an emergency spending bill for again.
The Senate is expected to vote on the budget request this week, and possibly even as early as Monday. The House is expected to vote after the Memorial Day break.
The supplemental is primarily intended to pay for the 30,000-troop surge that Obama announced in December, after he had already submitted his Fiscal Year 2010 budget. The defense-related parts of Obama's supplemental consist of $33 billion for the Pentagon and $4.5 billion in war-related foreign aid. Of that $37.5 billion total, $32 billion would go specifically to Afghanistan, with the rest going to Iraq, Pakistan and to defray the Pentagon's increased fuel costs.
This added budget would bring total Department of Defense spending on the Afghan war this fiscal year to $99 billion -- eclipsing the $61 billion for Iraq. Troop strength would weak at 98,000 by the fall.
In his December announcement, Obama declared that the troop surge would enable the U.S. to "seize the initiative, while building the Afghan capacity that can allow for a responsible transition of our forces out of Afghanistan." He said troops would then start coming home in July 2011.
But noting recent comments by Pentagon officials to the effect that future evaluations will determine when the drawdown actually begins, the Congressional Research Service report raises serious doubts about Obama's promised timeframe and stops just short of urging Congress to assert its oversight responsibilities and demand some concessions -- or at least more information -- from the administration.
"Members of Congress may be concerned about the timing of the initial evaluation, the length of the new campaign, and the long-term future of U.S. military involvement," the report states. The supplemental, it suggests, "may provide another vehicle for looking at ways to increase congressional participation in decision making about the extent and nature of the U.S. military commitment."
So far, the report notes, the surge has not exactly been a roaring success: "The first operation using the additional U.S. troops was the re-taking of Marjah, a town of 85,000, in Helmand Province in southern Afghanistan launched on February 13, 2010. While DOD considers Marjah to be free of Taliban, recent press reports suggest a mixed picture."
The CRS report breaks down the $30 billion the Pentagon wants for Afghanistan this way: $19 billion would go to "operations" -- amounting to a whopping $875,000 per troop; $3.3 billion would be for "force protection"; $2.6 billion would go to the training of Afghan security forces; $2 billion would pay for higher fuel costs; $1.3 billion would fund for military intelligence; and $1.2 billion would be spent on what the Pentagon labels "Non-DOD Classified," but which the CRS identifies as "national intelligence." There's also another $1.7 billion to replace worn-out equipment; another $500 million for military construction; and another $400 million to "defeat" improvised explosive devices.
If the $875,000-per-troop figure sounds high, that's because it probably is. CRS concludes that the Pentagon may be inflating that figure by a factor of two -- and notes that Congress might, if it wished, choose to put aside some of the $19 billion for operations into a contingency fund until the Pentagon can better explain why it's needed.
As for the $2.6 billion extra to train Afghan security forces -- which would bring total spending for training up to a whopping $9.2 billion this fiscal year, up 63 percent from last year -- CRS questions whether the Pentagon really needs all those additional funds and what it could accomplish with them. Specifically, there's the matter of "whether there is sufficient oversight given persistent training problems, recent contracting disputes, and possible shortages in trainers".
The answer, of course, is that there is not. As CRS explains:
DOD and the State Department have experienced a myriad of problems in carrying out this training. For the Afghan Army, problems include attrition rates of about 20%, deficiencies in leadership, frequent absenteeism that can reduce units to 50% of their strength, limited logistical capabilities, and questionable behavior. For the police, training has been hampered by illiteracy, corruption, and the targeting and killing of police recruits and police by insurgents.

Summarizing an April Senate hearing on Afghan police training, the CRS report cites the following problems, which have also been widely noted elsewhere:
* Difficulties in coordinating DOD, State Department, and NATO coalition training;

* Persistent problems in relying on private contractors including poor performance and bad behavior, unauthorized use of firearms and inadequate vetting, and shortages of contractor personnel; and

* Lack of sufficient personnel to manage contracts and insufficient contract oversight including invalid invoices as well as inadequate performance.

So, to gauge whether sufficient trainers are available and whether the current ramp-up is realistic, members of Congress "may want to know":
* How many trainers are needed for initial and follow-on training to meet the higher targets funded in the FY2010 supplemental request for Afghanistan?

* How is that requirement to be met in terms of the number of U.S. military personnel, coalition partner teams, and contractor personnel?

* How many of those trainers are currently in-country, scheduled to arrive, pledged but not yet available, or still to be hired?

* How would DOD's funding change if these personnel are not available as anticipated?

CRS notes that unless Pentagon spending on training Afghan security forces nearly triples in the second half of the fiscal year -- to nearly $1 billion a month - it won't actually be able to spend all the money Obama is asking for.
Writ large, the supplemental request doesn't violate Obama's promise last April that the supplemental request he was submitting then would be his "last planned war supplemental".
He was quite worked up about that principle at the time, declaring:
After 7 years of war, the American people deserve an honest accounting of the cost of our involvement in our ongoing military operations.

We must break that recent tradition and include future military costs in the regular budget so that we have an honest, more accurate, and fiscally responsible estimate of Federal spending. And we should not label military costs as emergency funds so as to avoid our responsibility to abide by the spending limitations set forth by the Congress. After years of budget gimmicks and wasteful spending, it is time to end the era of irresponsibility in Washington. In this request, we are honest about the costs we will bear as a Nation, and we will use our resources wisely and responsibly to meet the threats of our time and keep our Nation safe and secure.
And indeed, unlike President Bush, Obama did include anticipated war costs in his main FY2010 budget request. Dramatically changing military plans, as he did in December's surge announcement, does reasonably qualify as an emergency for budgeting purposes.
But the CRS report strongly implies that certain specific elements of the supplemental don't rise to that level, noting:
Some of DOD's request, however, including the $1 billion for training in the Iraqi Security Forces Fund (ISFF), the $2 billion to offset fuel increases, and the $1.7 billion for reset or replacement of war-worn equipment is less clearly related to the new deployments, and some could argue should be considered as part of DOD's regular FY2011 appropriation request.

Interestingly enough, the Pentagon says that $1 billion for the Iraqi security forces is necessary in part to make up for Iraqi budget cuts due to lower oil prices. "Revenue shortfalls due to low oil prices caused severe challenges in equipping forces across the Government of Iraq," the Pentagon explained.
At the same time, the Pentagon is asking for $2 billion more due to higher fuel costs because of the rising price of oil
The inherent contradiction notwithstanding, neither request arguably qualifies as an emergency; that's what contingency funds are for.
And maybe there's nothing too unexpected about having to spend money to replace worn-out equipment, either, CRS notes:
Another request that could be considered more loosely tied to the additional 30,000 troops is the $1.7 billion for reset, to replace war-worn equipment, particularly losses. Some might argue that the effect of the additional combat operations on equipment in Afghanistan is likely to be gradual particularly with the phasing-in of troops over the course of the year making it particularly difficult to predict the need to replace war-worn equipment. Others would argue that replacement needs from the additional deployment of troops can be estimated based on past experience. As in the case of the [Afghan security forces], DOD also has a substantial backlog of war-related procurement that remains to be spent.

The supplemental would add $521 million more for military construction, bringing this fiscal year's total to $1.9 billion -- double last year's already sizable level. That, CRS concludes, "raises questions about whether DOD is building facilities to support the temporary stationing of warfighting troops or creating permanent bases in Afghanistan." And that's significant because the latter is statutorily forbidden.
"A fundamental issue for Congress, expressed in legislation over a number of years, is whether spending on construction signals a long-term, indefinite U.S. troop commitment to Afghanistan," the report states. And some of the projects proposed in the supplemental could fall into that category. Among the examples CRS cites:
* Another $248 million on top of the $1.3 billion already invested in Bagram Air Base.
* Another $181 million on top of the $767 million appropriated for Kandahar Air Base.
* Another $299 million on top of the $595 million for Forward Operating Base Tombstone/Bastion.
And CRS once again questions whether the Pentagon could really spend the money it's asking for. If the supplemental is approved as submitted, monthly spending would have to increase six-fold from the current spending rate. As a result, CRS concludes that perhaps that part of the supplemental request should be shifted to the Pentagon's Fiscal Year 2011 request, allowing Congress at that point to consider "additional evidence about current spending rates and the prospects for the Afghan war."
The CRS report does raise several issues related to reconstruction, but here the real expert is Arnold Fields, the Special Inspector General for Afghanistan Reconstruction. And Fields, in congressional testimony last week, raised a slew of issues related to all the money the U.S. is pouring into that venture. As he points out:
The new funding requests would bring U.S. support for the reconstruction of Afghanistan to $71 billion, far surpassing what the United States provided to rebuild Europe after World War II and significantly more than it has spent in Iraq over the last eight years.

Fields painted a picture of money flowing out of U.S. coffers and ending up who knows where:
Reviews of infrastructure contracts have found serious construction problems resulting, in part, from a lack of quality assurance on the part of both implementing agencies and contractors. Agencies continue to suffer from a shortage of qualified contracting officials to provide sufficient oversight for the billions of dollars spent in Afghanistan. In addition, U.S. agencies lack a full picture of all completed, underway, and planned projects in Afghanistan.

He raised concerns about inadequate planning and sustainability:
Experience in Iraq taught us that reconstruction projects often fail because they cannot be sustained. For example, if we build a facility--be it an electric plant, a health clinic or a garrison--we must consider whether it is the kind of facility that Afghans want and whether Afghans are going to be able to operate and maintain it once it is complete.

On every trip, Afghan officials have complained to me about the failure of the United States and the international donor community to consult fully with them about their priorities. ..

Experience in Iraq should have taught us that we cannot build sustainable infrastructure or programs unless we have the support of the people we say we are trying to help. ...

This reality impacts every reconstruction project. For example, our audit of the Kabul Power Plant found that the Afghan government does not have the ability to pay for the diesel to fuel the plant.

And as for the State Department's commitment to increase the amount of economic assistance it delivers through the Afghan government and other local organizations, Fields warned that "it is vital that Afghans be held accountable for U.S. funds channeled through Afghan institutions." But that's more than a bit problematic in a country with extraordinarily pervasive corruption.
Fields laid out the challenge:
In a nation-wide survey completed in two months ago by the International Security Assistance Force - ISAF -- 83 percent of Afghans said that government corruption affected their daily lives. A recent poll by the United Nations Office on Drugs and Crime concluded that Afghans paid about $2.5 billion in bribes to government officials and members of the police force in 2009. That amounts to about 25 percent of Afghanistan's GDP and is almost as much as is generated by the illicit drug trade. Corruption robs the poor, leads to misallocation of resources, destroys trust in government, and threatens to undermine the entire reconstruction effort.
Meanwhile, as HuffPost's Ryan Grim reported on Friday, Sen. Tom Coburn (R-Okla.) is working to persuade his colleagues to vote against the supplemental if it isn't paid for, "threatening to rebuild a left-right coalition that nearly took down the last war funding measure Democrats pushed through Congress."
On the House side, Speaker Nancy Pelosi has warned that getting it passed will be a "heavy lift."
*************************
Popular in the Community