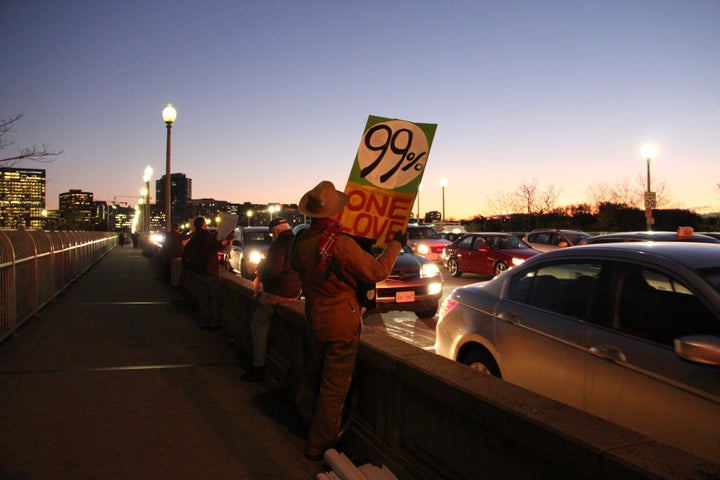 WASHINGTON -- Demonstrators marching through the streets of Washington, D.C., on Thursday afternoon said the arrests and evictions at other Occupy Wall Street protests are only serving to make them more energized.
The protesters, in coordination with other demonstrations nationwide, were on the move Nov. 17 to mark the Occupy Wall Street movement becoming two months old and to show they would not be intimidated. In other cities, including New York and Oakland, Calif., protesters have been evicted from their camps and clashed, sometimes violently, with police.
Around 175 marchers affiliated with groups like Occupy DC, Occupy Washington D.C., Our DC and the Service Employees International Union traveled on foot from McPherson Square to the Francis Scott Key Bridge. The interaction with their police escorts was calm. After settling in near the bridge, some began chatting and laughing with the cops.
But despite the peaceful relationship between D.C. protesters and police, some said the confrontation in other cities is pushing more people to join the protest in Washington.
"Honestly, I had held back. I had my hesitation up until this week," said Carson Bear, an American University student. "And then I kept seeing all of these news stories about people being held back by the police and treated so unfairly. I realized this is so much bigger than us."
Bear said she felt sick seeing protesters clash with police and decided it was worth joining up, even if she faced possible arrest.
Commander Jeff Herold of the D.C. Metropolitan Police Department told protesters that the department wanted to avoid arresting anyone for blocking traffic on the bridge. Before the march began, Herold discussed the proposed route and the number of police who would be patrolling with protesters in McPherson Square.
Chris Golembeski has protested with Occupy DC before, driven in part by his personal concerns about student debt. But he said the recent chaotic events in New York and elsewhere have further inspired him. Golembeski, who is originally from Brooklyn but goes to school in the District, noted that he plans to visit the Occupy Wall Street demonstration in Manhattan next week.
"I think that people see people getting pepper-sprayed, getting beaten, and it doesn't make them afraid -- it makes them want to come out and fight more for their fellow citizens," he said. "That's the effect it had on me."
Brenden Kerr, a Northern Virginia resident, said he's been active in protests this week specifically because of what has happened in New York. Kerr listed a number of grievances, including the late-night timing of the raid on the Zuccotti Park encampment, the decision to shut down the New York subway and what he called "underhanded moves" to prevent journalists from covering the raid.
"[New York Mayor Michael Bloomberg] says he's doing it for the reporters' safety. Has he never heard of a war correspondent before?" Kerr said. "People who take up the job of journalism, some of them are willing to risk their lives to get the story. And he's deciding for them, 'No, no, no, I'm going to keep you safe.' It's a total lie!"
As the Washington protest wound through Georgetown, one of the most affluent areas of the city, some people stood outside the neighborhood's upscale shops taking photos on their cellphones; some raised their fists in solidarity. Multiple cars on M Street and the Key Bridge honked in apparent approval.
The march was not without its critics yelling at protesters to "get a job." A few yelled from their cars, while a couple sparked face-to-face debates with marchers.
But ultimately traffic was unobstructed, and the demonstration concluded around 5:30 p.m. without incident.
Protesters told The Huffington Post that they were encouraged about what lies ahead for their movement.
"Even if every single Occupy camp gets evicted in the U.S., this movement will not and should not die, and it'll only get stronger," Golembeski said.

Calling all HuffPost superfans!
Sign up for membership to become a founding member and help shape HuffPost's next chapter