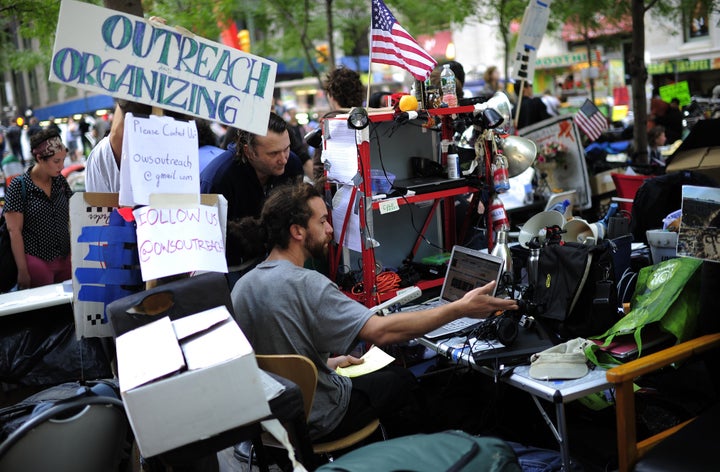 As Occupy Wall Street protests have swelled their ranks, organizers from the occupations realized they had a problem. No matter how many people participated in the now-famous People's Microphone -- the call-and-response method of public speaking -- not everyone could hear it.
In New York City, coders and programmers aligned with OWS invented a solution: The Shouty App. Shouty is a smartphone application started by Nathan Hamblen, a platform engineer at Meetup.com. It aims to supplement the People's Mic so people too far away from the speaker, or who can't be there in person, can still hear what's said.
"It works by turning a phone or a laptop into a streaming media server that you can connect to via WiFi and stream what's being said as if it were an Internet radio station over Shoutcast or Icecast," Andrew Gwozdziewycz, who works with Hamblen, told HuffPost.
The People's Mic is one of the inventions Occupy Wall Street protesters have developed to get around local ordinances forbidding the use of amplification. Shouty, now available in a beta version, is just one example of what programmers have developed on the fly in a matter of days to help advance the Occupy cause.
Despite a dearth of media coverage early on, and with hardly any start-up money, the Occupy Wall Street movement has shown they are not only bypassing major media corporations to spread their message across the globe, but they may also be incubating new tools for future mass demonstrations.
Gwozdziewycz helped organize a hackathon, a gathering of programmers trying to develop technological tools quickly. The first hackathons were held a week ago, and designers have continued to work on new solutions like Shouty. Gwozdziewycz said another app being planned would help people find rides to an Occupation or protest.
Another app programmers have provided to OWS is the I'm Getting Arrested app, which alerts legal support and family via text messaging when a protester is getting arrested.
"A couple of other people were interested in providing simple, decentralized applications like a basic electronic bulletin board, which can be used without the need for an upstream Internet connection," Gwozdziewycz said. "That way, all you need to do is plug in a wireless router and then anyone with a WiFi-enabled phone can communicate with anyone else in the park, or wherever else the thing is deployed to."
Matt Ewing, an organizer of the San Francisco hackathon, was drawn to Occupy Wall Street and decided to stage an event in his hometown. He said he was inspired by how the movement could shift the national conversation so quickly.
"San Francisco has so many talented and creative folks, it made sense to organize [a hackathon] here to take advantage of that," Ewing said.
Ewing began getting out the word about the hackathon on Oct. 12. In two days he had gathered 40 programmers and designers in a space in San Francisco's SoMa neighborhood, the epicenter of the city's tech scene.
In the most basic sense, Devin Balkind believes the Occupy Wall Street movement is not much different than open source technology, the kind that is developed collaboratively rather than out of a singular business strategy.
"This is all a convergence of social conversation that needed to happen," Balkind, another hackathon organizer, told HuffPost.
Recently, hackathons have happened in San Francisco, Washington, D.C., and New York. As compared to traditional hackathons, the organizers say they've been off to a relatively slow start. But more people are becoming interested as the word spreads to donate what talents they have.
"People are just trying to solve the problems," Balkind said. "Corporations are about to get hit very hard on a variety of fronts ... [New technology is] not going to come from a plan or business strategy. It'll be, 'Okay, what does this person actually need right now?'"
Of the dozen projects from the coordinated hackathons nationwide, half came from the San Francisco session. Among them are Occupy Design, a website that provides open source infographics for Occupiers looking for streamlined ways to depict their concerns, and Occupy The Hub, a site for aggregating video feeds, tweets and live chats to provide one-stop coverage of what's going on in the Occupy San Francisco movement.
"Protest organizers requested a way to communicate that didn't require the Internet to stay in touch," Ewing noted. From that idea sprang OccupySMS, a program that allows one person to send a text message quickly and easily to a huge mass of people -- a godsend for organizers trying to coordinate instantly with thousands of demonstrators winding their way though city streets.
Benish A. Shah, vice-president of Strategic Digital Media at the Global Executive Board, said with this sort of innovation, the Occupiers won't necessarily need major media companies to get the word out.
"The people following this are going to go online and find the information and find it from other sources," Shah insisted.
Before a video of police pepper-spraying protesters in New York circulated on the Web, the larger media outlets paid little attention to the growing movement. With seemingly every protester armed with a camera, police clashes have been well documented and uploaded to YouTube. Hackathon organizers have been working on a tool called "CopWatch" to track police brutality.
Hackathon organizers tell HuffPost they're keeping a list of what comes out of the events, available online.
With additional reporting by HuffPost's Aaron Sankin in San Francisco, Calif.
Related On The Huffington Post:
Popular in the Community