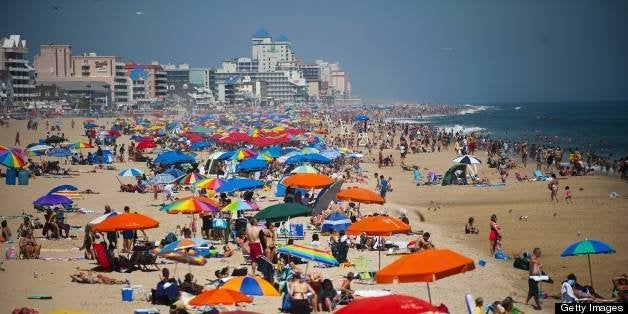 After $1.1 million in Superstorm Sandy clean-up work, Ocean City is ready for Memorial Day weekend and beyond, said Mayor Richard Meehan.
Even the damaged century-old Ocean City Inlet Fishing Pier, which was featured prominently in national TV storm coverage, will be opening Friday. Meehan will mark the occasion by making the first cast from the 489-foot structure.
"People from all over the country watched as that angry ocean tore apart that pier. Now, it's back in business," the mayor said.
Bay Shore Development Co, the franchisee, began planning repairs right after Sandy and worked through the winter to restore nearly one-quarter of the pier torn away by waves.
"It's a real sign of recovery," said Meehan. "The pier is going to be strong. Ocean City is going to be strong."
Meehan said the boadwalk and ocean-front structures were largely spared the wrath of Sandy and the bayside, damaged by the storm surge, was restored over the winter.
"Our beach replenishment program saved the day," he said. "The average person who comes to Ocean City today, they're not going to see any remnants of Sandy."
Ocean City might seem a bit more crowded this summer. A survey of New Jersey residents by AAA Mid-Atlantic indicated that 8 percent of beachgoers will visit Ocean City if their favorite local beaches are unable to open.
"We have the room," Meehan joked.
Ocean City is calling this season "Lucky Summer of '13," with free weekend laser shows and fireworks and weeknight concerts and movies.
The weekend of May 30 will be a celebration of the Ravens' Super Bowl victory. Players and coaches will appear at Baltimore Ravens Beach Bash and there will be a parade.
The Ocean City Air Show will run the weekend of June 8 and the Dew Tour, featuring BMX and surfing, will be June 20-23.
"We will have free events six nights a week," said Meehan.
For Memorial Day weekend, the Maryland Transportation Authority is recommending off-peak travel: Thursday, Friday, Sunday and Monday, before 10 a.m. and after 10 p.m. On Saturday, the best times are before 7 a.m and after 5 p.m.
The state has several platforms to dispense traffic information:
--For Bay Bridge conditions, 877-229-7726, or baybridge.com for cameras
--For statewide conditions: call 511 or go to MD511.org
--To see traffic cameras statewide: chart.state.md.us
--On Twitter: @TheMDTA and @MDSHA.
--On Facebook: TheMDTA and MarylandStateHighwayAdministration
--For toll rates: mdta.maryland.gov ___
(c)2013 The Baltimore Sun
Distributed by MCT Information Services