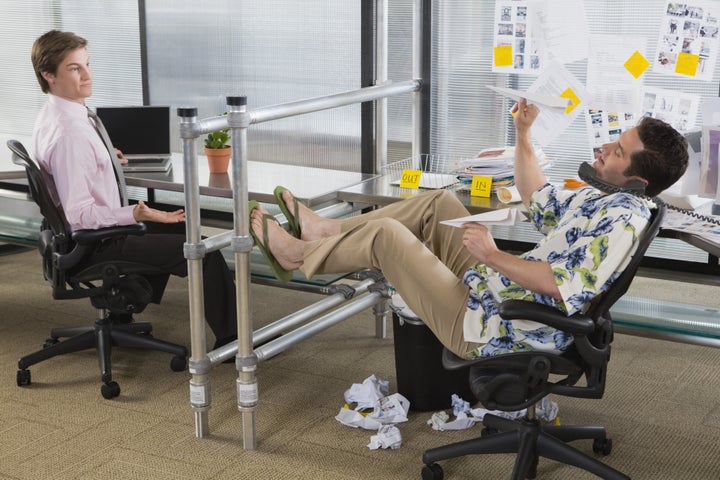 When you go to work, you have to do your job. But no one can force you to be happy about it.
An April 29 ruling from the country's top authority on labor issues says that employers cannot require employees to be constantly positive at work.
The case stems from an issue with T-Mobile's employee handbook. The document included a clause about positivity, reading, in part, "[e]mployees are expected to maintain a positive work environment by communicating in a manner that is conducive to effective working relationships with internal and external customers, clients, co-workers, and management."
The Communications Workers of America, the union that represents T-Mobile workers, brought this issue, and others, before the National Labor Relations Board three years ago.
The NLRB's ruling last week said that requiring employees to maintain a "positive work environment" is too restrictive, as the workplace can sometimes get contentious. You can't keep your employees from arguing.
The key here is recognizing that being positive at work is good for business, but what's good for business is not always good for labor.
The NLRB says that workers have a right to express negativity at work because they have a right to be unhappy with their jobs.
Ultimately, this is about protecting employees' right to organize, says the NLRB. Organizing usually requires controversy, and often negative reactions to a person's job situation.
If they are truly happy at work, positivity can be good for both the employee and the employer. Positivity and optimism increase productivity. When people are happy at work, they do their jobs better and employers see less burnout and less turnover.
In a December 2015 post in the Harvard Business Review, management researchers Emma Seppälä and Kim Cameron wrote: "[A] positive workplace is more successful over time because it increases positive emotions and well-being. This, in turn, improves people's relationships with each other and amplifies their abilities and their creativity."
Employers aren't allowed to prevent workers from organizing, thus, they also aren't allowed to prevent workers from airing their displeasure. Here's what the NLRB ruling says:
Because labor disputes and union organizing efforts frequently involve controversy, criticism of the employer, arguments, and less-than-"positive" statements about terms and conditions of employment, employees reading the rule here would reasonably steer clear of a range of potentially controversial but protected communication in the workplace for fear of running afoul of the rule.
But promoting positivity at work and demanding it are two different things. Actually making employees happier at work is good management. Certain fixtures of startup culture that promote happiness at work -- ping pong tables in the lobby, free snacks all day, lots of vacation, and even extended parental leave -- are benefits that are totally allowed.
However, requiring that employees act positive, regardless of working conditions, isn't allowed. If employers want positivity in the workplace, fine. But they have to create the kind of environment that leads their employees to be happy, rather than simply decreeing that no one is allowed to have an argument at work.
Related