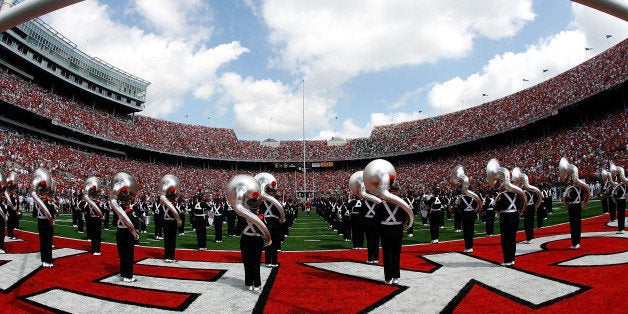 Ohio State University stands by the firing of Jonathan Waters, the marching band director ousted from his job after an investigation revealed a number of sexualized hazing incidents that the school faults him for not stopping.
A two-month investigation by the university uncovered traditions of students applying sexual and harassing nicknames to new band members and requiring them to simulate sex acts on Waters' watch. Groping among undergraduates was also found.
The university doesn't plan to budge at this point, and a spokesman told The Huffington Post it "stands on the findings of the investigation."
"As the report indicates, the former director was not forthcoming or truthful with university personnel on multiple occasions," university spokesman Gary Lewis Jr. said Tuesday. "For example, the former director denied ever having yelled at students, or directed profanity at students. [An] audio tape previously released shows the former director having done both in one instance."
The university's basis for the firing and subsequent hard-line support of the decision was that Waters had opportunities for at least 18 months to stop the demeaning behavior or report it to other university officials, according to documents provided by OSU. Waters became director in 2012 but had been involved with the band in some role since 1995, according to the Dispatch.
The university's Office of University Compliance launched an investigation following a May 22 report of a female band member who was assaulted in October, and after a parent expressed concern to the university about the band's culture. Two days after the investigation report was completed, on July 24, Waters was fired.
The investigation found a multitude of alleged sexualized hazing and harassment for new members, which the school concluded Waters "knew or reasonably should have known" about, though he "failed to take action to eliminate the harassment, prevent its recurrence, and address its effects."
OSU's marching band required one physical challenge of new band members: "to either place a condom on a banana, place a banana in his or her mouth and place a condom on it, or place a banana between a graduate assistant's legs and place a condom on the banana."
Band members had to perform another challenge called "Find Mr. Big," in which they searched for a hidden dildo on a bus.
Waters said he was aware of some of the events where the alleged hazing took place, but did not know of any sexual content or behavior associated with them, according to the report, and he insisted he told the marching band such behavior needed to stop.
There were also numerous nicknames given to new members revealed in the report. Each had a meaning behind the name, including:
"Squirt": Given to a new female member who had to sit on laps, including her younger brother's, and pretend to orgasm.
"Thumper": Given to a female member who had to stomp her foot while pretending to orgasm.
"Jewoobs": Given to a Jewish student with large breasts, who had to rub her chest together with a female nicknamed "Tiggles."
"Captain Dildo": Given to a male student chanting, "Haaaay, we want some pusssaay."
"ERV" ("E" Row Vibrator): Given to a female student pretending to be a vibrating sex toy.
Other nicknames included:
"Barker"
"Pat Fenis"
"Ballsacagawea"
"Fleshlight"
"Jizzy"
"Mushroom Stamp"
"Sugar Bush"
"Swoob"
"Taint Brush"
"Testicles"
"Tits Mcgee"
"Triple Crown"
"Twat Thumper"
"Twinkle Dick"
The investigation report said the marching band's alumni network, which is now calling for Waters' reinstatement, publishes an annual directory that includes nicknames for some members. The alumni network did not respond to emails from HuffPost sent to various email addresses it previously listed. It had also taken down its "Contact Us" page.
Two witnesses told university investigators that nicknames were used by Waters, sometimes when he was upset. "Waters denied using the nicknames," the report said. "He confirmed that some nicknames were shared with the entire Band on Fesler night, but said there is no 'official sharing.'"
Waters told investigators about half of the nicknames probably are "questionable" and said the sexual nicknames are not appropriate. His nickname, Waters told investigators, recalling his time in the early '90s as a new band member, was "Clark Kent" because he sang the "Superman" theme song.
"When asked why he then tolerates such sexual nicknames, Waters replied, 'Good point,'" the report stated.
"During his second interview," the report said, "Waters stated that the culture is evolving and that changing the culture is still a process. He stated that he would not describe the culture as sexualized and that sexual harassment is not a part of the culture. He also said that sexual innuendo is found in much of what college students do."
Waters considers the investigation one-sided.
Ohio State is also currently under a Title IX investigation by the U.S. Department of Education's Office for Civil Rights, a proactive review that the department has said is not done at random. OSU spokesman Lewis told HuffPost that so far "no major concerns or findings have been identified" with the university's procedures by the Education Department.
Music professor and Director of University Bands Russel Mikkelson and Associate Director of University Bands Scott Jones were appointed this week as interim leaders of the marching band.
Popular in the Community