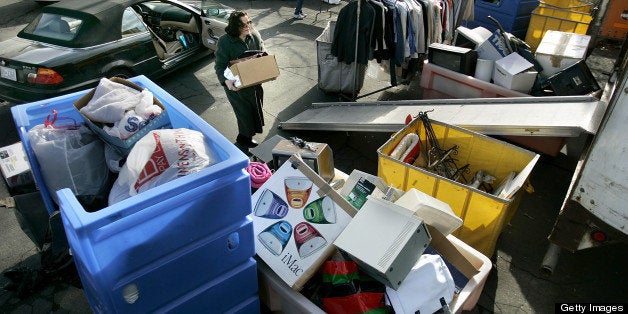 Earth Day used to be simple: Plant a tree. Pick up litter. Turn off the lights when you leave the room. Recycle.
Back in 1970, when the first Earth Day encouraged people to be mindful of these small acts, it was considered ample progress. The same cannot be said today. With Earth Day marking its 43rd outing today, the environmental movement has become an increasingly complex landscape -- one filled with the intricacies of climate change, carbon offsets and emissions guidelines.
This, of course, is good news. But one result of the increased focus on these big-picture global issues is that the success or failure of the environmental movement can often seem far removed from everyday life. We expect our politicians to address global climate change and we expect corporations to pursue eco-friendly initiatives. But when the challenges we face are so immense and global in nature, it becomes increasingly difficult for us to feel we can make a real impact merely by small, individual acts like recycling a number 2 plastic container or replacing the light bulbs in our homes with energy efficient ones.
To be clear, we need big thinkers and major changes on this issue. But we also need to remember that small acts of environmentalism can still make a difference -- a very large difference. Consider this: since January 2012, people who donated used clothing and household goods to Goodwill have helped divert more than three billion pounds of usable goods from landfills. In the process of these donations, they have also helped to create jobs and other employment opportunities for people in need of work. How's that for small acts making a difference?
In addition, Goodwill has a partnership with Dell known as Dell Reconnect, which allows people to donate electronics donations knowing they are good for people and the planet. People can simply drop off used electronics (any brand in any condition) at a participating Goodwill location, and the trained staff will inspect the equipment and either reuse, refurbish or recycle it. More than 253 million pounds of computer electronics have been responsibly recycled since the partnership began in 2004.
So, yes, on Earth Day and throughout Earth Week, we should all think big and call on our leaders in Washington and in statehouses to make a serious commitment to meaningful environmental leadership. But we cannot let the big be the enemy of the small.
In 2010, Goodwill Industries International launched the Donate Movement, a corporate social responsibility platform and public awareness movement that encourages consumers to think of donating used goods as just as essential to environmental responsibility as recycling paper and plastics. Via the Donate Movement microsite, individuals can track exactly how much of a difference one jacket, one old laptop, or one used bike can make. The Donate Movement microsite also offers consumers a step-by-step guide on how to organize a donation drive at a campus, school or other location, gives bloggers the opportunity to raise awareness by joining the Donate Movement network, and provides resources on where to bring used goods for donation.
This Earth Day, whether you choose to make your impact by recycling, reusing or donating (hopefully all three!), don't forget the importance of thinking small.
REAL LIFE. REAL NEWS. REAL VOICES.
Help us tell more of the stories that matter from voices that too often remain unheard.