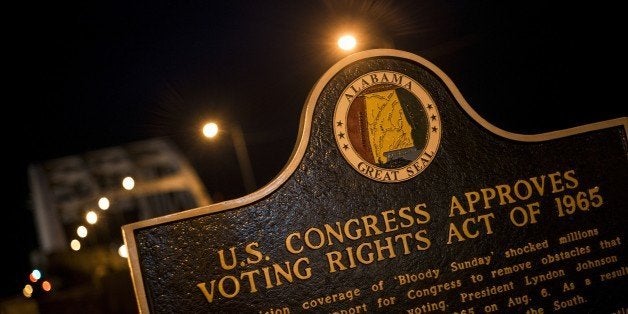 This week, hundreds of people from across the country will gather in Selma, Alabama to honor the 50th anniversary of the March on Selma. Originally led by Dr. Martin Luther King Jr. in the heart of the Jim Crow South, civil rights leaders and activists were unwavering in their pursuit of voting rights, even in the face of extreme violence that culminated in the events of Bloody Sunday. Their persistence paid off in August of 1965 when the Voting Rights Act was signed into law forbidding racial discrimination in voting. But the activities in Selma this week are more than just a commemoration, they are a fight back against the steady erosion of voting rights that has been occurring in states over the past few years.
Today, voting rights are in crisis in nearly half of all states in the country. In the 2010 elections Republicans gained control of many state legislatures in the South and Midwest and were quick to pass legislation restricting the right to vote. While voters were previously able to rely on the protection of the Voting Rights Act to prevent such assaults on their rights, a key portion of the Act was struck down by the Supreme Court in 2013.
It is time for us to continue in the footsteps of the great civil rights leaders that came before us. As a labor movement, we need to start pressuring Congress along with our allies to immediately pass a Voting Rights Act that will close all the loopholes that allow restrictive legislation to be possible. We need to emulate states like Maryland where politicians are working to restore voting rights for the formerly incarcerated. And that's just the beginning.
Our focus needs to be on registering new people to vote and equipping people with the knowledge they need about the voting laws in their state. Voting access isn't just significant every four years. It matters every single year when there are elections at the county and state level, on school boards and city councils. Those elections are just as important as national elections because it's the local elected officials that make the rules to the game. The right to vote is one of the cornerstones of a great democracy. Only through voting will working Americans be able to elect candidates who will fight on their behalf to protect jobs and raise wages.
We cannot stay complacent or silent in the face of restrictive voting laws. The best way for us to commemorate the 50th Anniversary of Selma is to recreate the energy that forced Congress to pass the Voting Rights Act in the first place.
Popular in the Community