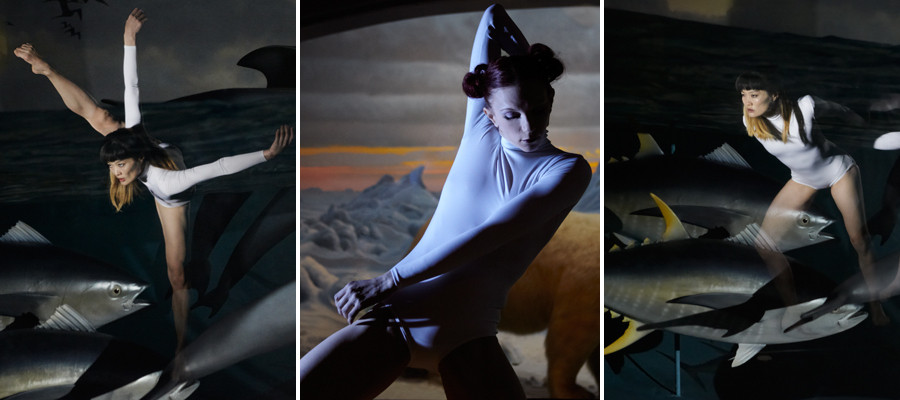 "I know scientists are frustrated," Karole Armitage, the famed dancer and choreographer, explained over the phone. "They've been giving the facts for more than 25 years and it hasn't changed behavior."
Armitage is talking about climate change, and for good reason. She's currently staging a site-specific dance performance at New York's sprawling American Museum of Natural History, a work that is not-so-subtly aimed at raising awareness of our planet's shifting reality. Titled "On the Nature of Things," the work was created in collaboration with Stanford University biologist and MacArthur Genius Paul Ehrlich, perhaps better known to mainstream audiences as the man who wrote The Population Bomb.
Together, the two icons -- one popularly referred to as a "punk ballerina," the other a stringent cultural activist who happens to spend most of his time in laboratories -- hope to demonstrate that the simple act of presenting scientific facts has done little to change the way humans interact with their environment. We need a new method of presenting climate change as an issue we can't ignore, they attest. And that method should include art.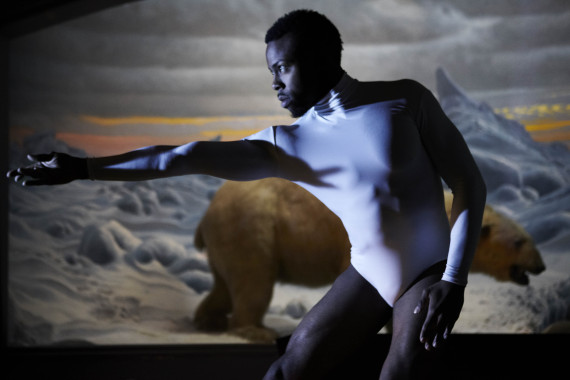 In "On the Nature of Things," running in the museum's Milstein Hall of Ocean Life for three days this week, Armitage provides the choreography and Ehrlich the poetic narration, subsumed into a musical experience courtesy of composers like John Luther Adams, Philip Glass, Michael Gordon, Henryk Górecki, and Arvo Pärt. As Armitage explained to HuffPost, the 60-minute performance takes place across the Hall of Ocean Life, involving over 30 dancers moving in line with Ehrlich's words. Said text is adapted from Ehrlich's well known essay, "On Closing the Culture Gap."
"Scientists today believe that such critical information must be disseminated and quickly acted upon to avoid catastrophe," Ehrlich writes. "But that is not happening, as indicated by the 'much talk, little action' status of climate change. The central need is clearly not for more natural science research (although in many areas it would be very helpful). Rather, the social sciences and humanities need to be reorganized and refocused -- 'rebooted' -- to provide better understanding of human behaviors and how they can be altered."
"The movements [in 'On the Nature of Things'] are never literal in relation to the text," Armitage outlines. The dancers come from the Armitage Gone! Dance Company, the Manhattan Youth Ballet and other dance communities in NYC. "They are meant to evoke the perils and harmony and chaos of our world, which comes through in the music and body language... Our job was about balancing a very non-judgmental, objective text with the dance and the music."
Armitage and Ehrlich have been family friends for decades; her father worked on Ehrlich's doctoral committee years ago. Armitage, a self-professed lover of nature who's long pondered the human emotions wrapped up in climate change discussions, was therefore familiar with the biologist's writing. After reading his 2010 essay, she came to the realization that his work would be the perfect springboard for a dance project that melded science and art.
The process of moving from idea to action was arduous. Although Ehrlich considers the Museum of Natural History his home turf, Armitage was tasked with convincing the institution's experts that her concept -- a performance that explores climate change and other urgent scientific topics of our time -- was a good fit. "I met with scientist [and museum curator] Rob DeSalle because he had to vouch for the way the science was presented, to make sure it was meaningful, from a scientific standpoint. The project was vetted by all kinds of people. It's a big institution and they make sure things are done right."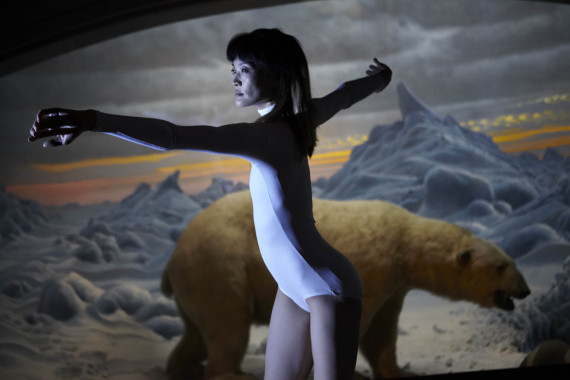 In a separate phone interview, Ehrlich expounded on these other urgent scientific topics. As the co-founder of the Millennium Alliance for Humanity and the Biosphere (MAHB), he's hyperaware of the constellation of problems global scientists -- be they natural or social -- face everyday.
"Slowly but surely climate change is becoming an issue we take more seriously. But there are equally serious issues, like toxicity of chemicals, lack of biodiversity, the potential for nuclear wars over resources, and so on. They are important, but they're not connected for us. Two hugely important drivers of climate change are overpopulation and overconsumption, which is helped by inequities of all kinds... the treatment of women and minorities. These issues are not tied together, but they need to be."
Ehrlich and Armitage both agree that these issues can be presented together in art. "Arts understates its potential in keeping society going," he explained. He cited Uncle Tom's Cabin and the first photograph of the Earth from space as perfect examples of the power of visualizing issues in new ways. "All of us have problems visualizing huge problems, so if you can make it emotional..." he mused. "For example, during WWII, listening to that era's music gives you a sense of the patriotism then. We need a 'Marines' Hymn' for the environment."
"Art is often a portrait of being alive in your time," Armitage added. "Climate change is part of our time."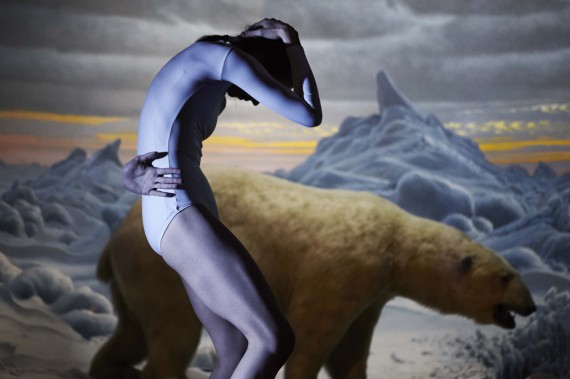 A recent article in the Washington Post reiterates the importance of Armitage and Ehrlich's work. According to recent Gallup data cited there, the number of people who remain worried about global warming has not changed since 1989. Meanwhile, the Environmental Protection Agency warns that Earth's average temperature has risen by 1.4°F over the past century, and is projected to rise another 2 to 11.5°F over the next hundred years. With these increases, the EPA states, more extreme climate events can be expected.
Even more timely, a number of scientists banded together earlier this week to demand that the museums of science and natural history cut ties with the fossil fuel industry and "funders of climate science obfuscation," directly referencing David Koch and his support for both the Smithsonian Institution's National Museum of Natural History and the American Museum of Natural History (AMNH).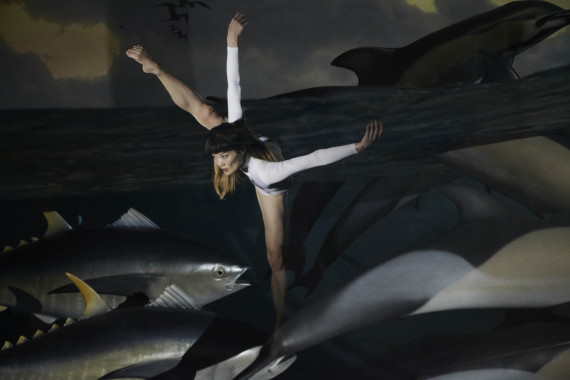 Both Armitage and Ehrlich are aware that the audiences coming to see "On the Nature of Things" this week are likely already versed in the world of climate change. "Yes, sometimes I feel like we're preaching to the converted," Armitage confessed. "It's true. But I'm hopeful, because through dance and science, we're drawing people who would never come to together otherwise. As with any grassroots movement, there can be swells of momentum, but there are also small steps. This is a small step."
Ehrlich in particular believes in the power of bottom-up change. He says he was perhaps more critical in the past, but has since realized that in talking to a group of 1,000 interested individuals, he's able to to turn three or four of them into activists, and that small conversion is meaningful. "In 1989, if you had asked me or any number of people what the chances were of the Soviet Union disappearing, we'd have all said close to zero. But look what happened, it disappeared," he proclaimed. "There's always the hope that when the time is right society can change dramatically... Our performance is going to do a little bit for that."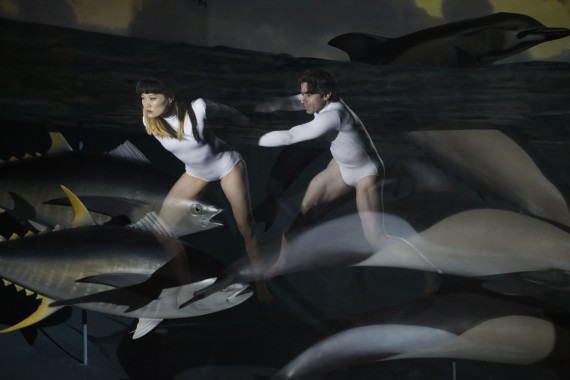 Megumi Eda, Cristian Laverde König
"On the Nature of Things: A New Work by Karole Armitage" takes place at the American Museum of Natural History's Milstein Hall of Ocean Life from March 25-27, 2015. See more information here. All photos by Julieta Cervantes.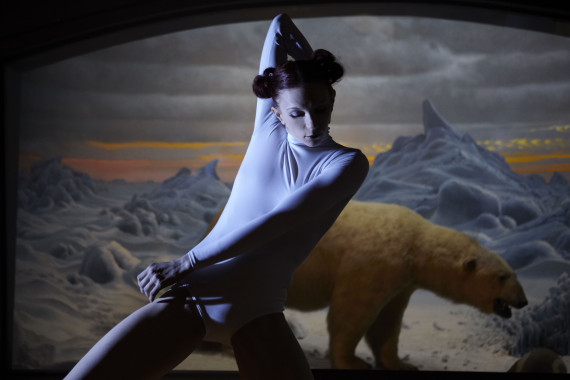 Related
Before You Go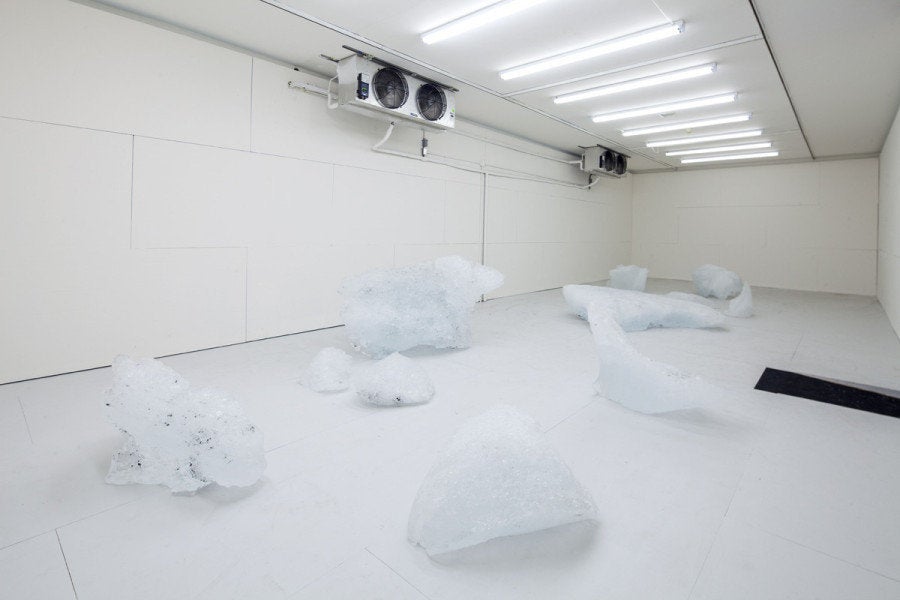 Green Artists Making Climate Change A Priority