World Food Day (Oct. 16) reminds us of America's most urgent foreign policy objective: fighting hunger. Lack of food is the greatest threat to international peace and stability.
Fighting hunger must be a top priority for government leaders and the public on World Food Day and beyond.
Today there are four nations (Nigeria, South Sudan, Yemen, Somalia) threatened by famine because of war. Around 20 million people are at risk of starvation. The hunger crisis goes even further.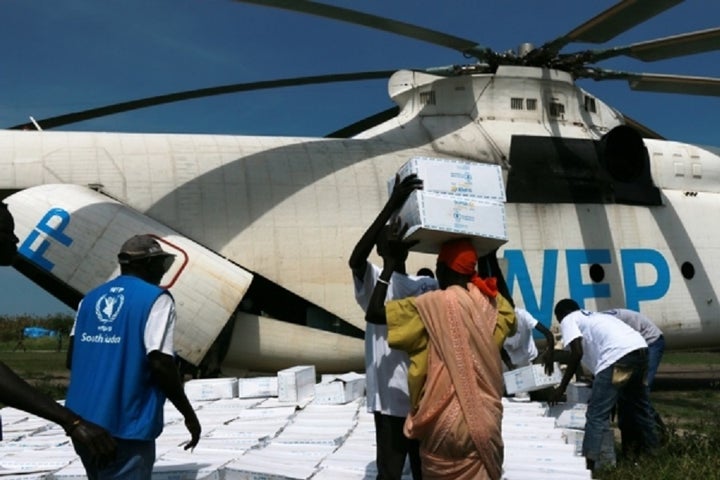 Countless other nations, including Syria and Iraq, are also facing severe hunger emergencies because of conflict. These nations need peace and disarmament, and food to bolster any agreement that ends the fighting. The U.S. Famine Warning System says this year that 45 nations need emergency food assistance.
Yemen, Syria, Afghanistan and the Boko Haram affected areas of Africa have high hunger rates which contribute to the desperation and chaos that allows terrorism to thrive there.
The impact of climate change has caused drought and other disasters, forcing people to migrate. The UN Food and Agriculture Organization is emphasizing the need to create economic opportunities for those left displaced and hungry by the effects of poverty and climate change.
What we are seeing today is the worst hunger crisis since the WWII era.
It was 70 years ago this month that President Harry Truman addressed the nation on the hunger threat facing Europe. Even after the fighting had stopped, hunger continued to threaten the war-torn nations. As former Secretary of State George Marshall said, "Hunger and insecurity are the worst enemies of peace." America had to help.
The public responded first by starting the Friendship Train, which traveled coast to coast in 1947 collecting food donations for Europe. At holiday meals a "silent guest" was given a place at the table leading to donations of food packages to the hungry overseas.
The World Food Program USA and Kindworks, D.C.-area charities, are bringing back the Silent Guest fundraiser for this year because of the severity of the famine threat.
World Food Day should inspire us to support agriculture, the key to ending world hunger. Sean Callahan, the CEO of Catholic Relief Services, explains:
We've seen that investments in agriculture are paying off. The farmers we work with around the world don't want a handout. They want a hand-up. Through simple solutions, we can give them the jumpstart they need to feed their families and, eventually, their communities.
Small children in developing countries desperately need food because hunger in the first 1,000 days of life can cause lasting physical and mental damage, or death. The world must ensure every infant has access to basic nutrition so they have a chance for life.
School age children must have access to food and education. A global school lunch program should remain the goal of the United States through the USDA's McGovern-Dole program. As UN World Food Program director David Beasley said after a recent McGovern-Dole donation:
School meals are a powerful incentive for families to send their children to school and for countries to build a better future through education.
But many more children could be fed. The Congress should expand McGovern-Dole and other food aid programs when making the federal budget. It is imperative that Congress increase food aid funding especially when hunger threatens so many nations.
During World War II, President Roosevelt stated the four freedoms necessary for true world peace, including freedom from want. We still have many people that need liberation from hunger. They should be the focus of this World Food Day.
Actions you take can make a difference in feeding the hungry at home and abroad on World Food Day.