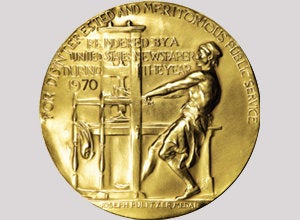 For the first time, the venerable Pulitzer Prize board this year allowed entries from "online-only" news sites for its 14 journalism awards (there was no separate category). At my magazine, Editor & Publisher, we have charted the response ever since, revealing the names of some of the sites that entered early on and the rules.
Now the Pulitzer Prizes for 2009 have been awarded, and no online-only outlet got a single win, or even a finalist nod. A mainly online site at the St. Petersburg Times, PolitiFact, did get a prize, and in a growing trend, half of the 14 winners had significant multimedia content.
We reported exclusively late yesterday that indeed, the board received 65 entries from online sites (from 37 separate sites) but 21 were rejected outright-- a rather high number.
The explanation from Pulitzer chief Sig Gissler was that these sites were not "primarily" presenters of original content, but more focused on aggregating. So they were dismissed.
That means that if a certain site broke the biggest and most significant story of the year, but didn't do mainly original reporting, it would not even be considered. Apparently.
Gissler told us that he felt the online sites got a fair shake and were considered as equals in all categories--at least the ones that weren't disqualified. "They have made a successful step forward for the Pulitzer Prizes," he declared. Blogs can be considered for the commentary and criticism prizes, but still must come from sites with mainly original reporting.
It's not known if any objections to the rules were raised by the six jurors who came from online-only sites, such as ProPublica and MinnPost.com, or if any changes will come down. Stay tuned. But I noted THAT in a tweet last night from Joan Walsh, editor of Salon, that it seems that her online magazine did not enter this year -- nothing from Mark Benjamin? -- and that she is considering trying next year.
*
Greg Mitchell is editor of Editor & Publisher. His new book is "Why Obama Won."