SANTA CRUZ -- Will Hanvey and Martin Pollock paid their way from England to surf with fellow wounded veterans this week in Santa Cruz.
The British Army officers had participated in a similar event at Avila Beach in October. While their first trip to California was free, the two opted to pay for their second trip here in Santa Cruz.
"Even when things aren't great, it lifts you back up and puts you on the path you want to be on," said Hanvey, from Worcestershire, England.
Hanvey and Pollock, both injured veterans, surfed with eight other wounded soldiers Tuesday at the Main Beach in Santa Cruz. Part of a week-long trip hosted by Operation Surf, the multiple surf excursions aim to help the active duty military heroes heal in the water, despite a chilly 49 degrees.
The eight veterans participating for their first time, came from Brooke Army Medical Center in Fort Sam Houston, Texas. Their trip expenses are funded by Operation Comfort, based in San Antonio, Texas.
Operation Surf is part of San Luis Obispo-based Amazing Surf Adventures, headed by surfer Van Curaza of Pismo Beach. The group developed an adaptive surfing program and began helping injured veterans learn to surf in 2006, said vice president Amanda Kline.
The organization decided to host the event in Santa Cruz because of the community's strong ties to surfing, Kline said. Local surfers including Brent Edwards, Richard Schmidt and Vince Broglio are lending a hand this week.
"Santa Cruz has been amazing," said Carolyn O'Connell, a staff member of Operation Surf. "Everyone's just opened their arms and hearts."
This week's events kicked off with a hearty hello.
"We had a very large welcome Sunday with a big, long motorcade," Kline said. "It was really cool."
In addition to scoping out Santa Cruz, each veteran is paired with a personal surf instructor.
"The individual surf instructor is committed to that student for the whole week -- they even go to meals together," O'Connell said. "After one day, they're just crazy about (surfing). They love it."
Kelly Roberts, an instructor who has worked with the organization since 2003, said she's constantly struck by everyone's courage out on the water. Despite multiple veterans being amputees, the participants did handstands and other tricks out on the water Tuesday morning.
"Even though these guys are injured doesn't mean they're not capable," Roberts said. "These guys have been through so much. They're dead inside, but when they come out here, they just light up."
And Operation Surf has impacted Hanvey's life in other ways as well. He's staying in San Luis Obispo for seven weeks, where he's interning with one of the photographers he met through the organization. After the internship is over, he hopes to get a visa and move to California.
"That's the kind of family this is," Hanvey said.
Follow Sentinel reporter Bonnie Horgos on Twitter at Twitter.com/bhorgos
Operation Surf Farewell Party
What: Operation Surf is welcoming the public to dine with active duty military heroes and hear about the participants' week surfing in Santa Cruz.
Where: Pono Hawaiian Grill, 120 Union St., Santa Cruz
Details: www.operationsurf.com ___
(c)2013 the Santa Cruz Sentinel (Scotts Valley, Calif.)
Distributed by MCT Information Services
Related
Before You Go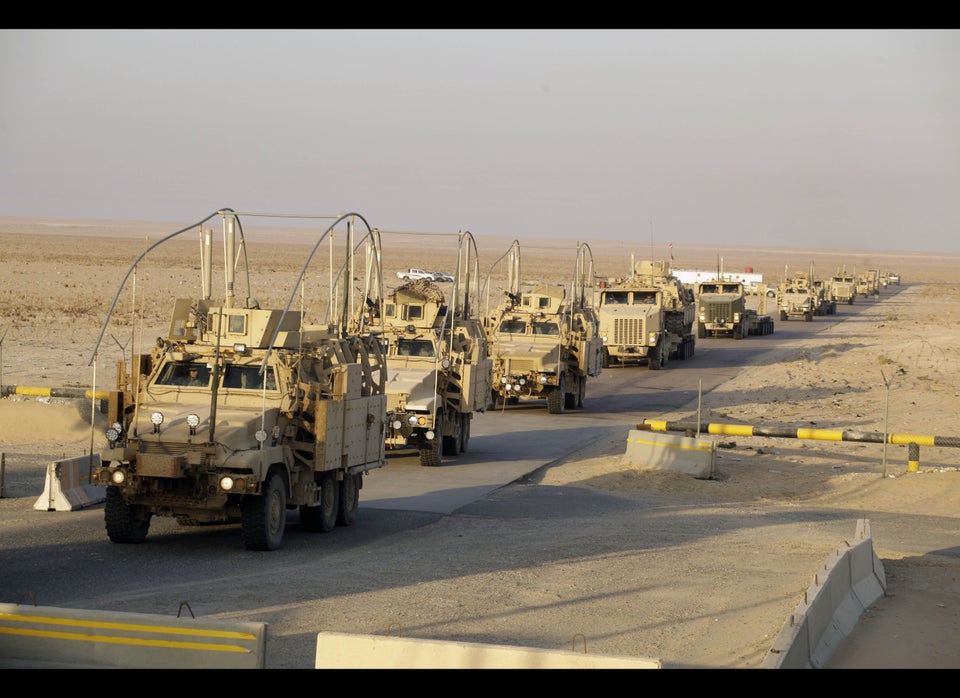 Troops Leave Iraq, 2011
Popular in the Community