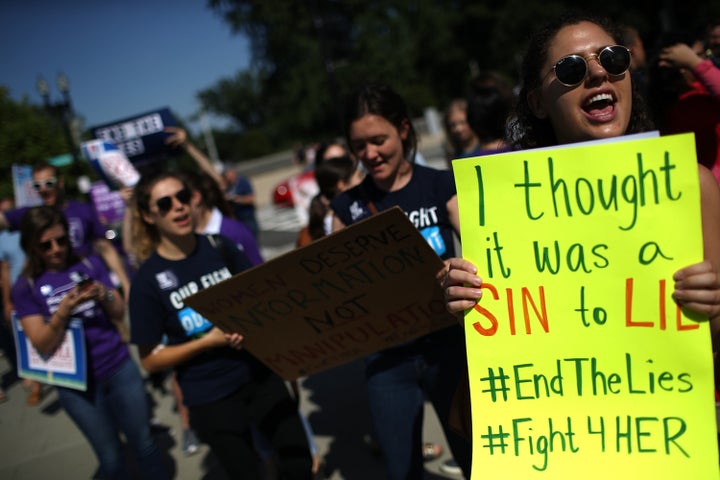 On Tuesday, the Supreme Court ruled that "crisis pregnancy centers," the faux-clinics that exist to try to dissuade pregnant women from having abortions, can continue to pose as real medical facilities.
In 2015, the California legislature responded to evidence of such deception by enacting the FACT Act, which requires unlicensed pregnancy centers to post a sign on their premises informing patients that they are not licensed and do not employ licensed medical professionals. The FACT Act also requires licensed clinics to post a sign or hand out a notice informing patients that they may qualify for low-cost state programs that provide coverage for contraception, abortion and prenatal care. Crisis pregnancy centers challenged the law, claiming it violated their right to free speech under the First Amendment.
On Tuesday, in a 5-4 decision, the Supreme Court majority held that both provisions of the FACT Act are likely unconstitutional. In a decision that broadly protects free speech, the majority asserted a default rule: Government-mandated disclosures, like the signs required by the FACT Act, are "content-based" speech, because they require speakers to convey a specified message. As such, courts must find them presumptively unconstitutional.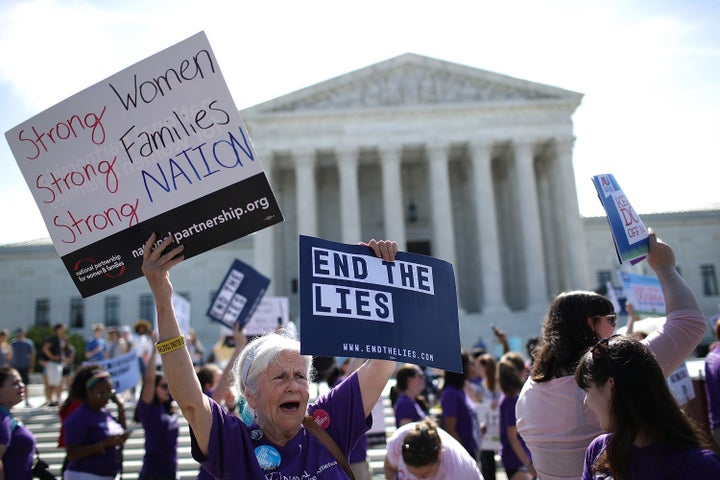 In the case decided Tuesday, known as National Institute of Family and Life Advocates v. Becerra, the court struck down the signage requirement for licensed clinics because it believed that its use of the word abortion was "controversial," and that mandating that CPCs hang the sign was not a permissible regulation of professional conduct. Accordingly, it was found to be unconstitutional compelled speech.
The court treated the unlicensed sign requirement differently, even while striking it down. It held that although such a law might not presumptively violate free speech, California had not shown why it was necessary in this case. California, the court said, failed to provide sufficient evidence that patients were visiting unlicensed clinics under the impression that they provided medical care.
Underpinning the court's decision as a whole was a concern that certain speakers or types of speech might be targeted for improper regulation because of their viewpoints ― whether religious, philosophical or ethical. In short, while strongly protecting free speech rights, the court allowed for some regulation of professionals who provide services to the public.
That means Tuesday's decision leaves room for a state to regulate CPCs if it can demonstrate that regulation is justified because they're deceiving patients ― and as long as it doesn't single out unpopular views or speakers. Although disclosure requirements about a clinic's license (or lack thereof) cannot be overly burdensome on speech, the court did not say they are presumptively unconstitutional.
Tuesday's decision also has implications for legal challenges to state abortion restrictions ― specifically, those that mandate what abortion providers must say to their patients.
"Tuesday's decision has implications for legal challenges to state abortion restrictions ― specifically, those that mandate what abortion providers must say to their patients."
This matters because a number of states have laws that single out medical professionals providing abortions and require them to say specific things to their patients, with some states even mandating that doctors lie to the women in their care.
A current lawsuit in Mississippi challenges a state requirement that abortion providers tell patients that breast cancer is a risk associated with abortion, even though numerous major medical organizations, like the American Cancer Society, have concluded that having an abortion does not increase a woman's risk of breast cancer. Other lawsuits have challenged state laws that force abortion providers to display and verbally describe ultrasound images of the embryo or fetus in detail to a patient, and to do so in the middle of the ultrasound procedure, while the woman is on an examination table and partially disrobed, even if she turns away and objects. These laws turn a medical professional into a mouthpiece for a state's political message disapproving of abortion, and can shame and demean women who have made the decision to end a pregnancy.
As Justice Stephen Breyer wrote in his dissent on Tuesday, "the rule of law embodies evenhandedness, and 'what is sauce for the goose is normally sauce for the gander'" ― which means that laws like Mississippi's should be subject to the same close scrutiny that the court applied to the FACT Act. These laws clearly target certain types of speakers, a red flag under the First Amendment, according to the majority opinion in Tuesday's decision. They also concern the issue of abortion, which the NIFLA opinion recognizes as "controversial," providing another reason for courts to look more carefully at government-mandated speech. If a state can't compel CPCs to post signs about abortion, it also can't compel doctors to lie to their patients about abortion.
"If a state can't compel crisis pregnancy centers to post signs about abortion, it also can't compel doctors to lie to their patients about abortion."
The NIFLA court distinguishes its ruling from an earlier Supreme Court decision that approved a state law requiring physicians to provide certain state-mandated information to patients seeking abortion services. But this earlier decision, as well as NIFLA itself, are clear on one thing: The government cannot require medical professionals to mislead women in an attempt to convince them to continue a pregnancy, as the Mississippi law about nonexistent breast cancer links does. And the ultrasound laws that a number of states have passed force medical providers to speak the states' anti-abortion message in ways that can harm patients. Under NIFLA, such laws cannot be constitutional. Let evenhandedness rule.
Julie Rikelman is the senior director of the U.S. Litigation Program at the Center for Reproductive Rights. She has successfully challenged abortion restrictions in state and federal courts throughout the country, including at the U.S. Supreme Court. Amy Myrick is a staff attorney for judicial strategy at the Center for Reproductive Rights. She works on innovative strategies to advance reproductive rights jurisprudence, inside and outside the courts.
Popular in the Community