 This past Sunday one worship service was not enough for the members of St. John the Evangelist Episcopal Church and the dozens of other congregations that are members of the San Francisco Organizing Project (SFOP). By 3 o'clock in the afternoon the Revs. Richard Smith and Gloria del Castillo stood before nearly 500 people who packed into their sanctuary -- not just Christians, but Jews, Muslims and people of other faiths as well. They were there to demand, from the core of their faith traditions, fair and just treatment for 11 million aspiring Americans who live in the United States.
They are not alone. This event is being repeated in unique ways in cities across the state and the nation to launch PICO's Campaign for Citizenship. People of faith, many of whom are recent immigrants themselves, are standing up like never before for the needs of the undocumented.
It's about time. The practice of hospitality, especially to strangers (the Bible's term for outsiders or people not of your tribe, clan or national group), is one of the most central teachings of the Jewish and Christian scriptures.
Writing to the his people after the destruction of Jerusalem by the Babylonian empire, the Prophet Zechariah (whose name means, "YHWH has remembered") envisions the restoration of his people and the city itself. He explains why their community collapsed and their city fell under imperial power.
This is what the Lord Almighty said: 'Administer true justice; show mercy and compassion to one another. Do not oppress the widow or the fatherless, the foreigner or the poor. Do not plot evil against each other.'

But they refused to pay attention; stubbornly they turned their backs and covered their ears. They made their hearts as hard as flint and would not listen (Zechariah 7:9-12).
The Bible portrays God as undocumented, standing with the undocumented foreigner and stranger, unwilling to be domesticated by any national or imperial agenda.* God stands outside of Egyptian, Babylonian, Persian, Greek and Roman imperial narratives and calls people to a humanity beyond these divisions. Even when God's people have ignored this calling, the ideal of a community whose care and compassion goes beyond their national borders is impossible to avoid in the Bible.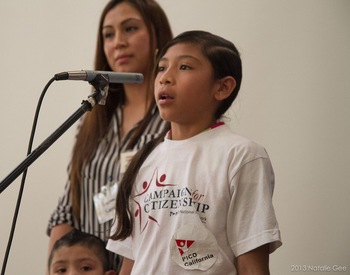 Stories of families separated by deportation brought tears to our eyes: children watching their parents arrested while racist epithets are spat at them, children longing to see their parents who have been sent to a country they haven't lived in for more than a decade, college students unable to get the education every person deserves, families barely surviving on unjust wages.
These stories, and thousands more, combined with the calling of our sacred texts, has moved people of faith into action for immigration reform.
Five Essential Elements for Any Immigration Reform Bill
While a broad consensus is growing among both Democrats and Republicans that immigration reform is urgently needed, the details of what that reform would look like are far from settled. PICO congregations have announced five elements that are essential in any immigration reform bill.
Seven years: The path to citizenship should be direct and take no longer than seven years. The current backlog of immigration cases should be processed expeditiously.
Citizenship for 11 million: All 11 million undocumented immigrants should be able to come out of the shadows to receive legal residency and begin moving down the path to becoming citizens without unnecessary obstacles.
Freedom of movement: People approved for the first phase of legal residency should be able to work, drive, attend school and travel out-of-country for family or educational purposes.
Cost savings from ending needless detention and deportation: As we bring people in from the shadows and maintain border security, we should be able to reduce the enormous sums spent detaining and deporting hundreds of thousands of immigrants who pose no danger to the community.
No permanent underclass: Policies designed to increase the opportunity for immigrants to legally enter the United States should reunite families, protect labor rights and avoid creating a class of residents without access to a path to citizenship.
Rep. Luis Gutierrez of Illinois' 4th District was on hand to inspire and encourage the crowd and remind them of what is at stake.
"I want you to know that today, 250 to 300 American-citizen children will have their mom or dad taken away from them. Two hundred and fifty today and every day until we get this done!'
Gutierrez recalled a similar gathering two years ago when, after hearing the testimonies, Nancy Pelosi said, "It is un-American to be destroying these families!"
"It was un-American two years ago, it is still un-American today. And it's time that the Congress of the United States take American action in defense of American families," Gutierrez declared to wild applause.
The political landscape does appear to be shifting. This past Tuesday, Tea Party icon, Rand Paul, indicated that he wants to overhaul the country's immigration system to allow currently undocumented immigrants to obtain legal status. Citizenship is goal further down the line for Congressional leaders like Paul, but clergy and faith leaders around the country are insisting our current system is not only un-American, it is unholy and legal status alone does not go far enough. To maintain a permanent underclass in order to satisfy the needs of the middle and upper class violates not only our commitment to this country's democratic ideals, it violates our consciences. Unless the goal is citizenship, a permanent underclass is what we will have.
Next week, the march for immigrant justice continues with another action by the Los Angeles PICO affiliate, LA Voice. On Wednesday, March 27, on the steps of Los Angeles City Hall, hundreds of people from over 40 congregations across the Los Angeles region will gather with Congresswoman Judy Chu in the midst of Passover and Holy Week, to speak from our prophetic traditions about the importance of caring for every person in our midst.
Faith leaders will continue to raise our voices, speaking truth to power, until "justice roll[s] on like a river and righteousness like a never-failing stream" (Amos 5:24)!
Image: Alexandra Guzman tells her story at the Campaign for Citizenship Faith Community Forum at St. John the Evangelist Episcopal Church as her mom, Paloma Sanchez Guzman, and her 4-year old brother, Daniel look on. (Photo credit: Natalie Gee)
Related
Popular in the Community