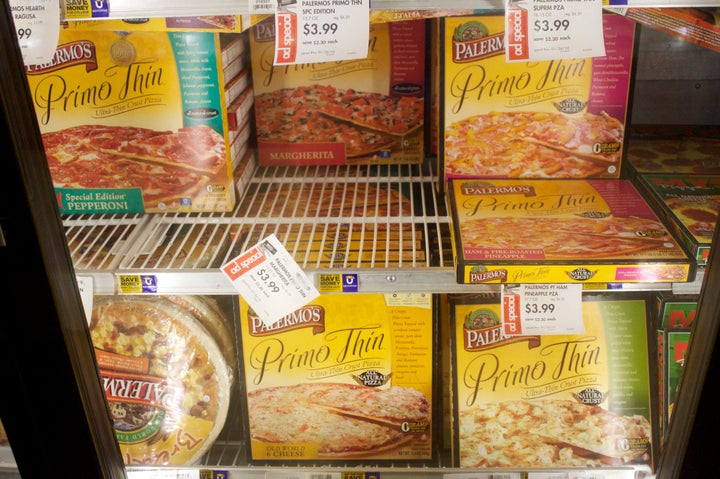 More than 125 workers at a Milwaukee pizza plant have been on strike for nearly two weeks, claiming workplace dangers, problems in obtaining overtime pay and threats made about their jobs after they tried to organize a union.
The workers at Palermo's Pizza, which supplies frozen pies to grocery stores, also claim that management threatened them with an immigration audit in order to scuttle the union. Most of the employees are Hispanic.
"I've done this stuff for a long time," said community activist Pepe Oulihan, a board member of Voces de la Frontera, a Milwaukee-based workers' center and immigrant rights group. "People are taken advantage of a lot of times … People start to get tired of it; they can't take it anymore so they start to kick back."
The workers launched their unionization effort last fall and on May 29 filed a petition to form a union with the National Labor Relations Board. Citing a company intimidation campaign after Palermo's learned the workers were trying to unionize, the employees walked out on June 1 and have been on strike since.
The election to determine whether the Palermo Workers Union will represent the roughly 450 workers at the factory is set for July 6.
The workers say their decision to unionize was inspired in part by safety concerns. The factory in western Milwaukee has been cited twice over the past four years by the Occupational Safety and Hazards Administration and fined $7,000, according to data from the government agency's website.
But Chris Dresselhuys, a marketing director for Palermo's, downplayed his company's prior OSHA violations and suggested to The Huffington Post that the unionization campaign was based on a series of falsehoods.
"This is a manufactured controversy on the part of Voces de la Frontera to try to subvert immigration law," Dresselhuys said. "They've taken advantage of our employees who are in an unfortunate situation."
"Voces has lied to them and told them that unionization of the plant will make them immune to immigration law ... to advance [its] own agenda and achieve [its] own goals," he added.
Union organizers, however, claim the company launched an intimidation campaign after learning that workers were forming a union.
On May 29, the day that employees filed the petition to form a union, 37 Palermo's workers received a company letter stating that Immigration and Customs Enforcement had conducted an audit and required employees to reverify their immigration status within 28 days or they could possibly lose their jobs, Voces claimed. When employees arrived at the factory that day, they were told to train temporary workers, according to an unfair labor practice charge filed against Palermo's.
Three days later, Palermo's sent another letter to workers, indicating that employees now had 10 days to reverify their immigration status, Voces said. Jeff Stillings, a Milwaukee-based ICE supervisory special agent, told a labor representative his agency was unaware of any deadline that Palermo's faced for reverify employees' immigration status, according to an unfair labor practice charge filed for the Palermo Workers Union.
One worker who signed the petition claimed she was told by a manager on June 6 that she could no longer work at Palermo's because she had "bought" her immigration papers -- which she denies, according to evidence that Voces plans to present to the NLRB as part of the unfair labor practice charge. "He then told me that I could keep working for the temp agency but not directly with the company," Rosa Mercado Acosta told Voces.
Even if a majority of workers vote against forming a union on July 6, Palermo's might be forced to recognize the bargaining unit, depending on the merit of the unfair labor charges filed, said Irving Gottschalk, regional director of the NLRB's Milwaukee office, which is handling the case. If the evidence shows that a majority of the plant's workers would have supported unionization in the absence of the company's alleged unlawful conduct, the NLRB could issue a bargaining order forcing the company to recognize the Palermo Workers Union, Gottschalk said.
Labor groups in the greater Milwaukee area, including members of the AFL-CIO and United Steelworkers, are supporting the strike. A coalition of community groups has set up a strike fund and called for a boycott of Palermo's, with the slogan "No Justice, No Piece." A march and rally on Monday drew Occupy Milwaukee members, student activists and clergy.

"These workers deserve all the credit in the world for reminding us that workers today still need unions, still want unions, still want to be able to join together to solve workplace problems," said Elizabeth Bunn, an organizing director for the AFL-CIO.
CORRECTION: This story has been updated. An earlier version indicated that Pepe Oulihan is an organizer with Voces de la Frontera. He is a board member of Voces de la Frontera and a community activist.
Popular in the Community