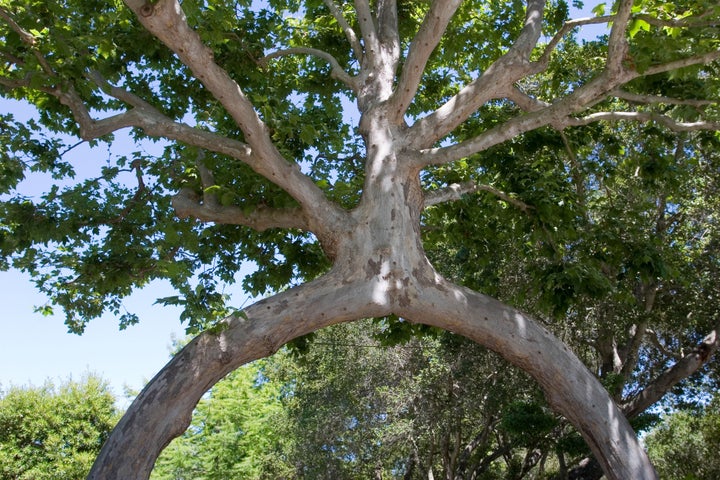 By Vivien Sansour and Jacob Wheeler
Following in the footsteps of their ancestors and obeying the wisdom of nature, Palestinian olive farmers and their families wait for the first rainfall to signal the new harvest season. The people and the olive wait for the first drop of water from a changing autumn sky and gather mats, ladders, buckets and picnic gear to set off for the fields.
The beginning of olive harvest season is also a way that people usher in autumn. This is the time in the Mediterranean climate when the weather begins to cool while still maintaining a warm breeze. Traveling around Palestine between the middle of October until mid-November, one notices the terraces and fields filled with families gathered to pick and picnic under the shades of their olive groves. If someone did not know it was olive-picking season, they might think the whole country had decided to leave their jobs and go on a national picnic. Indeed, many people do take days off work during this time, and schools organize olive-picking field trips where students join farmers in the fields. In fact, Vivien adds that, based on her own interviews, the average "nuclear" family consumes "at least" 40 liters of olive oil per year.
Olives are not only a primary source of sustenance for Palestinians, it represents one quarter of all their agricultural exports and their spiritual bond with the land, as families routinely name the trees in their olive grove.
Largely forgotten amidst a political debate that too often focuses on rocks and bulldozers, fear, hatred and historical trauma, the Israeli military occupation has prevented many West Bank farmers from harvesting the olive trees their grandfathers and great-grandfathers planted, and caring for the land they know and love like their own children. Nearly 60 percent of the arable land in the West Bank is used for growing olive trees, employing over 100,000 Palestinians, making it by far the most lucrative agricultural industry for an aspiring nation that suffers from a crushing unemployment rate of 30 percent.
"They planted so we ate," Palestine Fair Trade Association founder Nasser Abufarha quotes a local proverb. "Now we plant so they eat. Past generations planted these trees that we're eating from and are supporting our lives, and we plant trees for our future generations to support their lives."
Every year the Palestinian Ministry of Agriculture declares the first day of the olive harvest. Opening day this year was Wednesday, October 10, but many people had already gone to their fields to handpick olives for pickling and making famous Palestinian delicacies such as immalah, mouth-watering sun-dried, salted black olives. In farming villages under the auspices of the Palestine Fair Trade Association in the northern West Bank, this year's harvest is witnessing new developments. With the help of Canaan Fair Trade, farmers are setting up new stainless steel tanks in their local presses, and cooperatives are pressing their olives collectively for the first time as a quality control measure.
"We need to make sure that extra virgin olive oil is not mixed with virgin olive oil, and this is the best way to do it," explains Um Hikmat, a farmer from the village of Deir Ballout. "When we press collectively, then everyone will be equally concerned for the quality of the oil."
This is good news not just for Palestinian farmers who receive a higher premium for selling extra virgin olive oil, but also for American consumers who buy this uniquely flavorful olive oil. This added step guarantees superior value in their imported bottles.
Farmers in Palestine struggle every year to reach their olive groves due to political restrictions and Israeli settlement activities. Five hundred thousand more have been uprooted or bulldozed since 2001. According to Baha Hilo, coordinator of the Joint Advocacy Initiative, each of those trees would have yielded nine kilograms of olives over a 30-year period, meaning an enormous loss of sustenance and income for olive farmers.
The inaccessible and destroyed olive trees represent more than just a resource loss. The destruction of their sacred tree by Israeli settlers and the Israeli military is a spiritual affront too for Palestinians. "One farmer told us, 'When they were destroying my trees, it was like somebody uprooting my heart from my lungs,'" adds Hilo.
But most Palestinian olive farmers are determined to keep the joy of the harvest alive through what Um Hikmat calls, "the faith that each season brings with it the goodness, the hope and the assurance of perseverance."