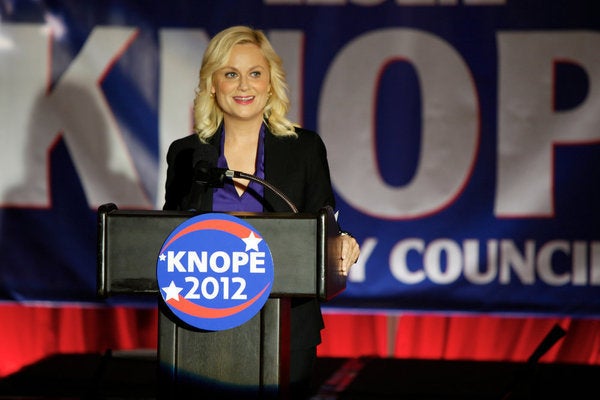 One of my favorite shows is Parks and Recreation. I recently had the chance to sit down, drink iced tea and talk with staff writer, Aisha Muharrar. Aisha penned several of my favorite episodes, including "Born and Raised" and "Operation Ann" this season. Here are ten things that you should know about Aisha, who is both insanely talented and a much more patient iced tea drinker than me.
1. Even when she was just a kid, Aisha knew she wanted to be a writer. While in high school, she wrote a non-fiction book entitled More than a Label. Aisha attended Harvard, where she majored in English and wrote for The Harvard Lampoon to hone her comedy writing skills. (An avid fan of The Simpsons growing up, she was aware that this was where many of The Simpsons' writers first got their start.)
2. She loved The WB shows (Felicity, Buffy, Dawson's Creek) as a teenager and felt that the marketing was perfectly targeted towards her, especially with each show containing strong female characters. Two of her favorite shows of all time are Friends and Seinfeld, and she has always loved watching TV.
3. Aisha's first big break came when she interviewed with Bill Oakley and Josh Weinstein, two writer/producers who ran The Simpsons during seasons seven and eight. While she had initially interviewed with them to be their assistant, the job never materialized. However, the two were willing to read her writing. They were so impressed with her work that they offered her the chance to write for Sit Down, Shut Up! While the show didn't last long, it led to Aisha landing an agent and being sent out on her first staffing season. She met with different shows, but the best fit came when she met Greg Daniels and Michael Schur of Parks and Recreation.

4. Her days at Parks and Rec consist mainly of brainstorming, reworking stories and pitching with the writing staff. (Multiple episodes are being worked on at any given time.) After brainstorming sessions with the other writers on the show, one writer will outline the idea into a story. Most of the time, the same person will write the episode, but due to the order of episodes, directors, etc., it's not set in stone. Once the story outline is complete, the staff reviews the outline and pitches on jokes together. The writer will then go home for about a week to write the episode. Once the draft is complete, the writer returns to the room and the staff pitches again on jokes and evaluates the story. (There's a lot of reworking as a group.)
5. During table reads and rehearsals, the actors on Parks and Rec will often bring something extra that then gets incorporated into the final drafts of scripts. The actors also improvise on set, though even when they're making up their own jokes, they're always committed to the story. (All of the actors know their characters incredibly well.)
6. While I tried to get Aisha to admit her favorite Parks and Rec character, she said she enjoys writing for them all. She loves writing stories for Leslie and hearing her lines read aloud by Amy Poehler. She loves the broad, physical humor that can be infused into Andy stories, and while Ann is typically the straight-woman, she finds a lot of fun in having her deliver in weird and crazy ways. (Her favorite character to write just depends on her mood.) She considers Ron Swanson (my personal favorite) to be very succinct and clear in the way he talks, and it's actually a very specific style of writing just for him. Much of his dialogue is information he already knows and believes to be true, so a lot of his lines are comparable to him delivering his own personal mantras.
7. Aisha recently acted in, wrote and produced a short called "Black Best Friend" on Funny or Die. (It's very funny and worth checking out, especially if you're a fan of Casey Wilson.)
8. While she's drawn to TV comedy, Aisha also embraces more understated content. She loves the films of Nicole Holofcener (Please Give, Friends with Money), who has also directed episodes of Parks and Recreation. Working on a smaller, more character-driven movie is something she'd like to do in the near future.
9. Aisha has ambitions to direct. One day, she would also love to create her own show and serve as showrunner.
10. She regards Michael Schur (showrunner/exec producer) as the ideal boss. Not only does she consider him incredibly smart, she says he's consistently the funniest person in the room. She finds him very encouraging and supportive, and instead of killing a joke, he's always able to take whatever the concept is and build it into something that works for the show. One thing Aisha said about Michael Schur that really stuck with me: "He really just loves to laugh and keep the laughter going."
Calling all HuffPost superfans!
Sign up for membership to become a founding member and help shape HuffPost's next chapter